Want to go to a dog friendly cafe for lunch with your pooch? Cafe Bones in Leichhardt in an outdoor cafe in a dog park. The menu has sandwiches, pies, drinks, ice creams and sweets and is the perfect place to enjoy the outdoor and sunshine with your four legged friend!
I had had Cafe Bones on the "to eat" list for a long time. It was back in the Mochi days as she was a cafe dog through and through and behaved like a little human patiently sitting on a chair or a lap. But at Cafe Bones your dog doesn't have to be a cafe dog, there they can walk around and play with other dogs. When Ahana and Saagar suggest catching up there we are all excited to go.
The last time we met their dog Jamun he was not that much larger than Teddy. Now at 11 months he is several times Teddy's size (33 kilos to Teddy's 4 kilos) but the two still play as if they are the same size.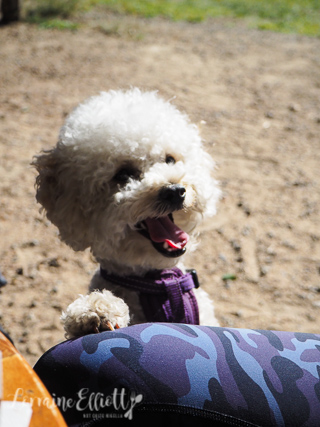 Cafe Bones is located in Hawthorne Canal Reserve and parking inside the reserve can be a challenge. On this sunny Sunday it's busy with dogs of all sizes and people. They all come up to greet us and take a sniff and there's an elegantly sleek saluki to a tiny chihuahua being pulled in a wagon.
To eat in at a table you check in through the app and then choose a table. They have a specials menu with soups and quiches and more substantial items. We line up to get our food and then they call us when it is ready.
The iced coffee and chai latte are good, especially the iced coffee on this first sunny weekend of winter. We also try the sandwiches. The first we try is the free range ham, sun dried tomato, tasty cheese and spinach which is nice.
However I prefer the oven roasted chicken breast, pesto, sun dried tomato and baby spinach sandwich served as warm, toasted quarters.
We also try the Big Dog BLT with free range bacon, lettuce and tomato with chilli jam and aioli on a Turkish loaf and it's very tasty.
But of course this is as much a day for dogs as it is for humans so Teddy and Jamun each get a Puppaccino. It's a milk drink sprinkled with liver treats on top which they eagerly lap up. This is followed by a run with the dogs in the main reserve of the park and by the end, we're all a bit exhausted.
So tell me Dear Reader, do you have a favourite dog friendly cafe? Are you a dog or cat person?
If you want to follow the adventures of Teddy, you can follow his Instagram account MrTeddyEliott!
Cafe Bones
1 Canal Rd, Leichhardt NSW 2040
Monday to Friday 7am–6pm
Saturday & Sunday 7:30am–6pm
Phone: (02) 8086 2433