"In life you have to have a purpose," says Flavio of Marta in Rushcutters Bay. Ever since the Covid-19 restrictions first hit, he and his team have pivoted creating a weekend bakery as a supplement to the dining restaurant experience. And this involves getting up at 2am to create the dazzling array of baked goods.
If you follow Marta.sydney on Instagram (and you should) every Saturday and Sunday you'll be tempted by an array of pizzettas, luscious pastries, bread, mille foglie, maritozzi and their incredible sfogliatelle filled with prosciutto and house made ricotta.
"Basically when everything was announced I thought what can we do to make cash flow come into the restaurant. Obviously takeaway wouldn't be enough to subsidise to keep everyone employed. We always baked and the bakery is a collection of everything that we always baked for the last 8 years. It was 8 years of recipes from Poppolo to Marta," says Flavio.
"I'm just warning you, I've already unzipped my pants" warns Monica, in preparation for the feast. She and Flavio are friends and they converse rapidly in Italian ordering an array of pastries and baked goods. These can be either takeaway and there are also some tables that which you can sit down and eat these at.
First to come out are the suppli and the mozzarella en carrozza. The breaded and fried mozzarella have two fillings: one with prosciutto and the other with truffle. The truffle mozzarella is a particular favourite but both are delicious.
Nothing compares to a classic suppli with tomato, parmesan and perfectly cooked rice. Cacio e Pepe fans will also love the suppli stuffed with the cacio e pepe pasta, pecorino and black pepper which is wonderfully strong and cheese and pepper.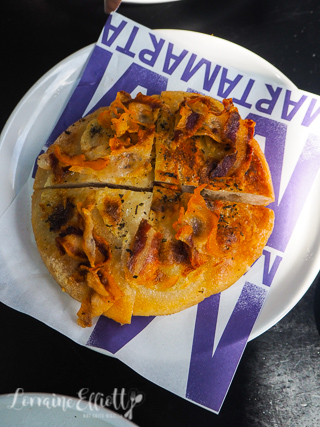 The pizzetta is generously topped with pancetta that is crispy and salty as well as slices of potato. It's spongy with big pockets of bubbles and it comes with a side of olive oil to dip each corner in.
There are a couple of varieties of frittata available and we choose the boscaiola with pasta, peas, mushroom and ham and plenty of pecorino on top. It's pure comfort food.
I also spy a Tiella or octopus pie with black olives and tomato and take this home. It takes me straight back to summer holidays in Italy.
Then there is the Er Zozzone, a popular late night snack or the Italian version of a kebab. Flavio explains that carts of these are often traffic obstacles due to their popularity around 2am-4am. This one has a sausage patty, halved artichoke hearts and melted provolone cheese on a Rosetta roll . Despite all I've eaten I want to order another.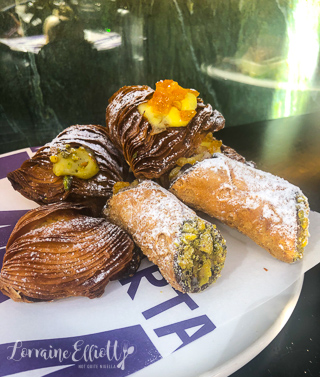 My favourite sweets were always going to be the sfogliatelle. I've made sfogliatelle pastries once and swore never again so I appreciate the effort in making these. The mini lobster tails are filled either with pistachio custard or vanilla custard with candied orange. There's also a miniature one filled with baked ricotta. They sell 150 sfogliatelles on the weekend and they come in 7 varieties including ricotta, sour cherry, pistachio, lemon and Nutella (which sells out immediately). Savoury sfogliatelles are filled with prosciutto with herb ricotta or ham with stracchino cheese and basil.
Then I also buy half a dozen of their savoury sfogliatelle filled with prosciutto and house made herbed ricotta. The pastry is wonderfully crisp and gorgeous against the soft ricotta and fine leaves of prosciutto. Even if you pop these in the fridge, they're still crisp the next day and you can also rebake them before eating.
I also choose a Delizia cake in coffee flavour which is like a tiramisu without the mascarpone from the Amalfi Coast of Italy. It is also one of the bakery's gluten free offerings as the sponge is gluten free (there is also a gluten free focaccia).
The maritozzi is a brioche type of roll filled with lightly sweetened whipped cream. My last purchase is for a loaf of their Lariano bread from the Lazio region to eat at home.
Monica gets up to order a cake for her partner Marco and comes back having paid the bill (which I was intending to do!). "You out manoeuvred me!" I tell her.
"I'm Italian b@#%h, I'm a sneaky mother f@$ker!" she says laughing doing up her pants.
So tell me Dear Reader, have you ever tried either eating or making sfogliatelle? Would you go for a sweet or savoury one? And have you ever unzipped your clothing to eat?
This meal was independently paid for.
Marta Osteria & Roman Bakery
30 McLachlan Ave, Rushcutters Bay NSW 2010
Monday Closed
Dinner Tuesday to Sunday From 5pm
Roman Bakery Saturday & Sunday 9am to 3pm
Lunch Saturday and Sunday 1pm to 3pm
Phone: (02) 9361 6641