Brooklyn Crispy is a brand new pizza place in Springfield Avenue in Potts Point. They serve up crispy based, thin crust pizzas for humans and for your dog. With booth seating inside and a large outdoor courtyard, you can bring your four legged best friend along for their own version of doggy pizza and doggy vino!
"So there's this new pizza place near me that I've found," said Laura to me. "They serve up dog pizzas! We've got to take Teddy," she said. And a plan was quickly made to try out Brooklyn Crispy.
Brooklyn Crispy is owner Andrew Hamilton's first eatery. He says that he basically designed a place with food that he wanted to eat but couldn't find and that meant crispy bottomed pizzas. He is also a dog lover and owner of two enormous dogs and wanted to make sure that our canine companions didn't miss out. He settled on Potts Point with its high dog and low pizza restaurant per capita count.
We start with libations: for us and Teddy. My order is a Ruby Tuesdays with Aperol, Prosecco and pink grapefruit which is a very generously sized and tasty cocktail. Laura loves her Get Lucky In Kentucky with Monkey Shoulder, Campari, Vermouth and Plum.
Doggy vino is a bottle of bone broth made with sweet potato and sweet paprika and they bring the bottle and a dog bowl. Teddy can't wait to drink it and starts licking it straight from the bottle as Laura pours it.
The mac and cheese croquettes are very tasty and served with a delicious bacon and cola jam and a spicy mayonnaise on the side. We also end up dipping them in the gravy below too.
The biscuits and gravy are more scone-like than Southern biscuits that are buttery and crumbly. We do like the delicious rosemary spiked gravy though.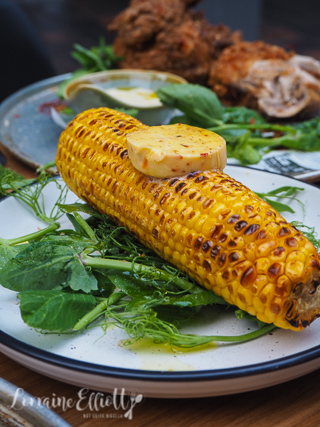 The smoked corn cob has a pat of chilli floss butter and cinnamon sugar on top. I don't really taste the chilli floss or cinnamon sugar and it needs a bit more seasoning to it.
What this photo doesn't convey is how large this half fried chicken is. Although Brooklyn Crispy's thing is obviously pizza, both Laura and I are big fan of the fried chicken for the juicy meat and the wonderful crispiness of the skin. It is a twelve hour poached buttermilk chicken with a crunchy cornmeal and garlic crust with ranch and chilli salt on the side.
The first pizza comes out and it is a bit of a hot and cold combination. The topping is coffee and cola beef brisket, grilled butter corn, radicchio and with Colonel Ansteezy hot hickory BBQ sauce. The cold contrast comes courtesy of cold chunky potato salad which works. We both really like the crispy base. It's not dry or like a cracker like other crispy base pizza places and it's also not oily. Also randomly, this pizza was the best pizza eaten cold.
Ok so a vegan pizza with raisins, carrot pickle, wild rocket, pumpkin seeds and garlic and sesame toum? And it's delicious? So 2020 brought much destruction but it also brought this pizza and I am very much a fan of this unexpectedly delicious but crazy combo.
It has been decades since I ordered a MeatLover's pizza but apparently this is the most popular pizza on the menu. They actually have a smoker in the open kitchen that smokes all of their meat. Not an inch is spared with topping and it has 14 hour pepper beef, double smoked ham, Italian sausage, smoked chicken breast and maker's mark bourbon BBQ sauce. It's good and a definite step above most other meatlover pizzas.
As soon as we saw the Dinner At Mum's we had to order it because it's like a roast dinner pizza in one. There's honey roast chicken, green peas, watercress salad, ricotta, kumara and gravy. The first bite is a bit odd, like the flavour is pure roast dinner but the texture is that of a crispy pizza but damn it is just like the description says: dinner at mum's.
About those dog pizzas...Teddy has been waiting patiently for his. The dog pizzas are smaller than the human version and the base is a flour tortilla topped with mince meat and a little bit of cheese. They come in four varieties from kangaroo, chicken and roasted vegetable.
Andrew tells us how one customer on Uber Eats accidentally ordered a dog pizza, mistaking it for a human pizza. They actually rated it 3 out of 5 stars!
Teddy can barely contain his excitement. He never gets human food and has never eaten anything like pizza before. While the dog pizzas are safe for dogs, it could conceivably be eaten by humans too. I chose the Skippy's Nightmare pizza with kangaroo bacon, beef mince and mozzarella with sweet potato and sweet paprika sauce. He wolfs it down as Laura feeds it to him piece by piece and then protests when we shut the box and put away half of the pizza.
There are a couple of desserts (for humans) on the menu and we try the baked cheesecake which is a pink grapefruit, champagne and passion fruit cheesecake which is creamy, light and delicious.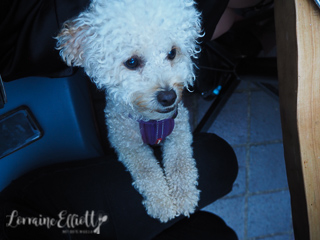 As for Teddy he was more preoccupied with where the remaining half of his pizza went!
So tell me Dear Reader, do you have a dog? What sort of pizza do you like the best? Do you have a favourite topping?
This meal was independently paid for.
Brooklyn Crispy
Shop 4 of 2 Springfield Ave, Potts Point, NSW 2011
Tel: 0434 679 464
Monday – Thursday 5pm - 11pm
Friday - Sunday 12pm - 11pm