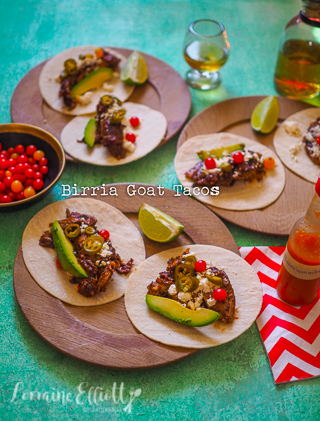 Birria is an incredible Mexican dish that originates in the state of Jalisco in the west central part of Mexico. It is a meat stew made from goat meat (but is also made using beef or lamb). Birria is a celebratory dish most often served at weddings and baptisms or at Christmas and Easter.
It's going to be a while until we can travel overseas again so I'm travelling with my tastebuds. Today we're taking your palate to Mexico with this wonderful way of cooking a leg of goat or lamb (or you can use gravy or chuck beef too!).
Birria is served either as meat for tacos or as a stew. The pressure cooker, instant pot or slow cooker/crock pot is also wonderful for cooking birria too especially if you don't use a whole leg and use pieces. I will give times for these below.
You do need to do some sourcing of the chillies but you can often find these online. If you don't want to buy a whole bag, Tamaleria & Mexican Deli, Dulwich Hill sells them by the piece.
The world of dried Mexican chillies: You use dried chillies in birria and when chillies are dried, caramelisation takes place (eg. the difference between a sun dried tomato and a fresh tomato).
Dried chillies have a different name from a fresh chilli; for example chipotle is the name of a dried jalapeno chilli.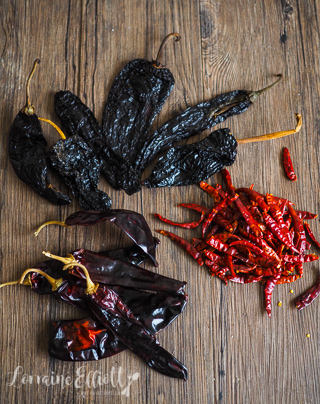 The small red Arbol chilli (right in pic) is a hot chilli also known as a bird's beak chile and rat's tail chile,
Guajillo chillies (bottom left) are the dried form of the mirasol chili pepper. Guajillos are smooth and slender and are the second most popularly used chilli. Most often found dried it has a tangy and fruity flavour to it. Interesting fact: guajillo chillies are the ones used in Harissa, the Tunisian chilli paste. The name means "little gourd".
Pasilla chillies (top) or chile negro is the dried version of the Chilaca chilli are wrinkled and black in colour and are the largest of the three chillies used in this dish and are the skinnier, wrinkled chillies at the top. And Ancho Chillies at the top mixed with the pasilla are the wider, wrinkled chillies. These are the dried poblano chilli.
Can't get goat? I know it can be difficult to source here in Australia. You can also use a lamb leg, lamb pieces or gravy beef. A lamb leg will take around 3 hours to cook while gravy pieces of lamb or beef 1-2 hours.
Dear Reader, as I write this recipe out I am covered in goat juices. This is not the dish to make when you're wearing a pretty apron and if you're me, aka clumsy. While turning my goat leg, I accidentally lost my grip using the tongs and the goat juices splashed everywhere.
Birria is such a wonderful and flavoursome dish. I served this to Mr NQN and he wolfed down six tacos in one sitting only stopping because I didn't give him more. He's not even a meat person and usually stops eating meat long before I do. Obviously this isn't a dish to make on a week night but if you have some time on a weekend and have people over, this is a worthwhile project to feed many.
I mentioned that I needed some goat to a food twin Monica one day over lunch. "I can get you some," she said and in the space of a few days, she was messaging me that she had a leg of goat ready for me! She also had all the chillies I needed available because she makes chilli oil. Her Lulu's Remedy chilli oil is incredible and I urge everyone to try it-SERIOUSLY. I'm addicted to it and go through a jar of it once every 2-3 weeks. Luckily I have a supplier ;)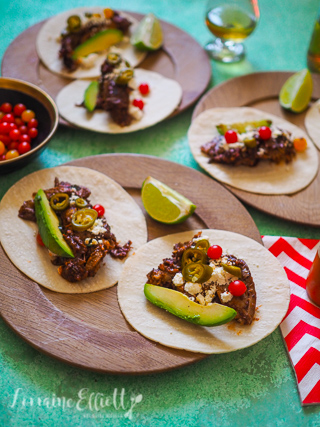 "How much do I owe you?" I asked Monica and transferred her the money. I tried to put a goat emoji under the description but the bank wouldn't let me. So I put it under GOAT (Greatest Of All Time) which describes her. Because she keeps me supplied in goat, dried Mexican chillies and chilli oil! Having a food twin in life definitely helps in more ways than one.
So tell me Dear Reader, do you have a food twin? Have you ever cooked goat?
Birria of Goat, Lamb or Beef