Nduja lovers, I cannot recommend that you make these sausage rolls enough. If you love sausage rolls with buttery puff pastry and a spicy, delicious filling then you've got to make these delightful nduja, black olive and tomato sausage rolls. This is a pushy recipe Dear Reader!
Sausage rolls are one of my favourite foods. I love the combination of the seasoned meat filling and buttery puff pastry. I always feel like home made sausage rolls are the best because you can use butter puff pastry rather than vegetable fat puff pastry and the difference in flavour is enormous. And if I can be boastful, may I ask that I make a mean sausage roll, perhaps powered by my absolute passion for them.
My secret to the best sausage rolls apart from butter puff pastry is using a milk soaked breadcrumb mixture that makes the filling light in texture. Also I always make sure that the sausage filling is perfectly seasoned so I always heat and taste the filling before wrapping them up.
What is nduja? Nduja (pronounced en-DOO-ya) is a Calabrian spicy, spreadable salami that originated in Spilinga in Southern Italy. If you've ever had Spanish sobrassada it's a cousin of this delicious pork spread; likewise if you're a fan of chorizo, it's in a similar vein in that it is a spicy, pork fermented sausage. It gets its signature red colour from the Calabrian chillies. Some say that the word "nduja" is similar to "andouille", the French sausage and both originally used the lesser cuts containing fifth quarter offcuts, fat and offal although nowadays nduja usually omits the offal.
In Australia Nduja is usually sold uncooked in zip lock packets in 100g/150g quantities at Italian delis, salumi stores or cheese shops and a quick google will find you a stockist.
I was in a bit of a mood when I made these nduja sausage rolls. Mr NQN was working in the office that day and I missed his presence and his constant reassuring voice in the background from the other room as he made zoom call after zoom call. I also had to cancel my plans that evening which makes me very sad. The haze from backburning had engulfed Sydney for the second time in as many weeks. I was scheduled to go out for a birthday dinner with Laura but we both were sick from the smoke in the air. I was feeling very sorry for myself.
I guess that's my rather long explanation as to how I ended up eating four of these incredibly delicious nduja sausage rolls in a row. Even little Teddy unfurled himself from his egg shaped bed and came into the kitchen to beg for some comestibles. When none were forthcoming he settled for the buttery crumbs spilled from high above while I was standing at the counter blissfully devouring sausage roll after roll.
When Mr NQN came home after work I told him that I was feeling blah because I wanted to go out but wasn't able to. He seemed a bit confused by it all though so I asked him, "How do you feel when you have to cancel plans?"
"Bloody happy!" he replied laughing. I guess it's tntrovert/extrovert misunderstandings!
So tell me Dear Reader, how do you feel when plans are cancelled? Do you like nduja? And how do you feel about sausage rolls?
DID YOU MAKE THIS RECIPE? Share your creations by tagging @notquitenigella on Instagram with the hashtag #notquitenigella
Nduja, Olive & Tomato Sausage Rolls
Rated 5.0 out of 5 by 3 readers
An Original Recipe by Lorraine Elliott
Preparation time: 20 minutes plus 40 minutes chilling time
Cooking time: 20 minutes
Serves: 10 (makes 24 sausage rolls)
1/2 cup/125g/4ozs. breadcrumbs (panko or fresh)
1/2 cup/125ml/4flozs. milk
1 large red onion, peeled
2 large cloves garlic, peeled
1/2 cup black olives
1/2 cup semi dried tomatoes
500g/1.1lbs pork mince, lean
150g/5ozs. nduja sausage
1 egg
1 teaspoon salt
1 teaspoon smoked paprika
1/2 teaspoon sugar
4 sheets butter puff pastry
Beaten egg to glaze
Sesame seeds
Step 1 - Mix the breadcrumbs and milk together and let sit while you make the rest of the filling. Place the onion, garlic, olives and semi dried tomatoes in a food processor and process until finely chopped.
Step 2 - Place this mixture in a bowl with the pork mince, nduja, egg, salt, smoked paprika and sugar and mix well to combine. I always heat a little in a pan or in the microwave to taste for seasoning adding more salt if needed. Place this mixture in a fridge for 15 minutes.
Step 3 - Line two baking trays with parchment. Take the puff pastry squares out of the freezer and cut in half so that you have two 24x12cms/9.4x4.7inch rectangles of puff pastry. Brush egg along the long side of each rectangle.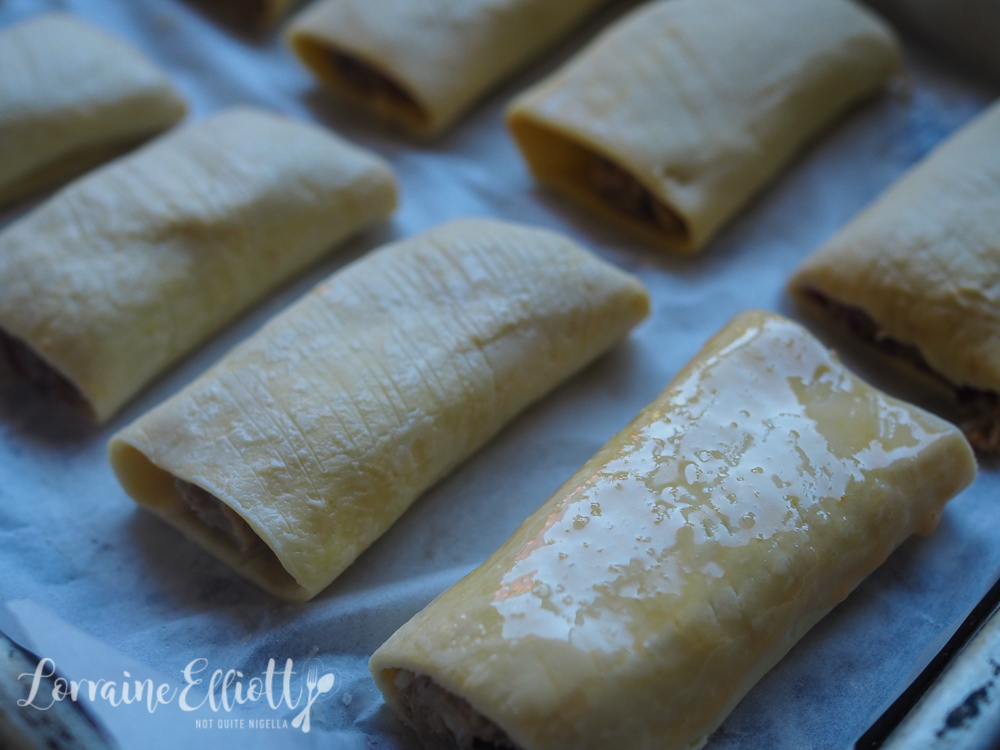 Step 4 - Take some of the sausage mixture and shape it into sausage down each pastry rectangle placing it more towards one side as shown above. Roll it up and press gently to seal the ends with the egg wash. Once you have filled one tray then place it in the freezer while you do the remaining pastry and filling. Allow each tray to sit in the freezer for around 10 minutes or so to firm up. Note: chilling puff pastry before baking it allows the cold pastry to puff up in the hot oven better.
Step 5 - Preheat oven to 200C/400F. Brush the tops of the rolls with eggwash and sprinkle with sesame seeds or cut a pattern using a sharp knife making sure not to cut too deep. Cut each log into three pieces and rearrange on the tray so that they were spaced 1cm or 0.4inch apart. Bake for 20 minutes or until golden. Allow to rest on tray for 5 minutes before placing on a cooling rack. Serve with tomato sauce or ketchup.