Now that we're reaching the final stages of Masterchef Australia it's getting both exciting and sad. Sad because I know that there will be a gaping hole at 7pm where I used to rush to make dinner so that we could eat it while watching Masterchef (we tried eating dinner earlier but we'd just get hungry again at 7pm) and exciting because I want to know who will win.
I decided to make this, not for any allegiance to the ousted contestant Andre but because I had chestnut flour in my cupboard that remained untouched for some time. I tend to buy things on the premise that they're unusual and therefore I'm unlikely to encounter them again but they end up filling my cupboards.  I have to admit, Andre was not my favourite contestant. I didn't understand his complete blindness to other cuisines apart from Italian and his seeming ineptitude at producing anything that wasn't of Italian extraction. And oddly enough, Italian food didn't always love him back. Case in point: his strawberry risotto. He'd provide a chuckle or two though and I recall his remark about meeting chef Emmanuel Stroobant. "I knew he was hard core and when he was standing next to me, I felt him draining my power". As reality raver said, this was not a comment from a 4 year old boy or Superman and it appeared spoken in complete earnestness.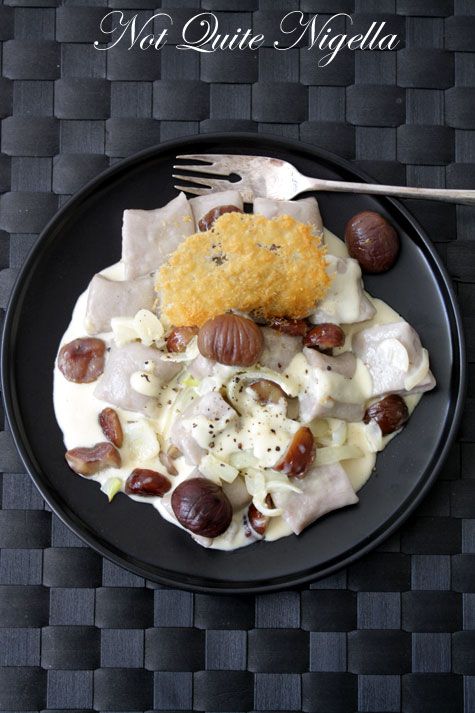 Although it was panned for its retro presentation, Andre's chestnut gnocchi dish got a good review for taste but sadly there was no recipe on the Masterchef website so I set about trying to make my own. I had to give it a few tries as this was my first go at making chestnut gnocchi.
The resulting gnocchi is gorgeous - lightly smoky with the unmistakable flavour of chestnuts. The colour of it is a light grey brown which I have to admit isn't the most photogenic shade, particularly when paired with a cream sauce. However, all fears are allayed once you taste it. The gnocchi is delicate and given a sweet punctuation with the addition of roasted chestnuts and a dash of saltiness from the reggiano.  I would have loved to have carried the chestnut theme with some chestnut mushrooms but the local store was out of them. The gnocchi is also very versatile and I've since fried the cooked, cold gnocchi the day after along with some Italian sausage and a drizzle of chili oil and it's the perfect 10 minute dinner.
As for that yawning hole at 7pm what else do we have to do? Might I suggest either making some recipes or adopting an obsure hobby like falconry, re-anacting wars (why anyone would want to do this is beyond me), bug racing, collecting rope, duct tape art or my personal favourite, collecting Halloween decorations.
So tell me Dear Reader, now that Justine is out, who do you think will win Masterchef? Chris, Julie or Poh? And who do you want to win out of the three?
Chestnut Gnocchi
An Original Recipe by Not Quite Nigella
Serves 4 as a main or 6 as an entree
Gnocchi:
2 cups plain all purpose flour plus 1/4 cup extra for dusting and rolling
Sauce
1/2 tablespoon oil for frying
1-2 cloves garlic, thinly sliced
400ml cream (sorry yes but I promise it's good!)
30g reggiano cheese grated
200g vaccum packed chestnuts (I found a packet of these in an asian grocery store)
To decorate
35g reggiano cheese grated
Step 1 - Steam potatoes until soft and mash and remove skin using a ricer. This should yield about 700grams of mashed potato. Cool.
Step 2 - In a bowl, whisk flours and ground nutmeg together until all lumps are removed and they are well combined.
Step 3 - On a clean surface, sprinkle a little flour and make a volcano shape with the potato and place the egg in the middle. Sprinkle flour over in 2-3 batches and knead for a few minutes until it has come together. Sprinkle with a little more flour on top and under and rest for 15 minutes.
Step 4 - Cut into 5-6 pieces and roll each pieces into a thin, rope shape about 1.5-2cms in diameter. Cut into smaller pieces about 2.5 cms/1inch long with a floured cutter and place on a lightly floured tray until you need to cook them, perferably within 30-60 minutes. They will get rather moist even with a dusting of flour on the top so if need to wait a while I'd suggest freezing them.
Step 5 - Make the parmesan crisps. In a 200C/400F oven, place 4-6 piles of the grated cheese in circles and bake for 3-5 minutes until melted. Cool.
Step 6 - Put a large pot of water to boil and salt it. Carefully drop the gnocchi into the boiling water and allow to cook until it floats to the top. Remove with a slotted spoon.
Step 7 - Meanwhile fry onions and garlic in the oil in a small saucepan until onions are translucent and then add cream and simmer and then add cheese and stir. Pick out the broken chestnut pieces and add those to the sauce. Season with salt and pepper to taste.
Step 8 - When the gnocchi is cooked and drained, simmer in the sauce briefly and spoon on a plate. Top with whole chestnuts and cooled parmesan crisp.