SOUL Deli in Surry Hills is helping you get through Wednesday aka Hump Day with a selection of four Korean style donuts. There are two sweet and two savoury donuts available plus a range of scones, cookies and brownies!
Donuts were an easy addition to the SOUL Deli lockdown menu as they already had two donuts on the menu and noticed that people would time their morning coffee with the 10am arrival of donuts. But why Wednesdays? SOUL Deli's Illa Kim who owns the cafe with her chef husband Daero Lee says, "Even though it seems like the weekdays are kind of disappearing (like, is it Sunday or Monday? Where did Thursday go and is it even important what day it is haha), we still try to give our week some kind of structure or normality. On Wednesdays we felt like we need a hump day treat, something in the middle of the week that sweetens the day a bit and donuts felt like a very good idea."
Donuts are popular in Korea in both savoury and sweet form. "They do have many different names like the savoury ones are called Goroke (from croquette as they start with a potato filling) and the fried (sweet) Soboro has a cookie crumb on top. The ones that we call donut in Korea are actually the ones that are more simple, deep-fried and sugar tossed, mostly with red bean filling and often with a little bit of rice flour in it to make it more chewy," explains Illa. In Korea donuts are eaten throughout the day with the savoury ones are often as a quick breakfast or an afternoon snack with bakeries specialising in croquettes or fried soboro donuts.
Customers at SOUL Deli pre-order and pay for the donuts on their website before 9pm on Tuesdays and the pre-ordered donuts boxes are available for pick up from 2pm onwards on Wednesdays until 9pm. Four donuts are $22 or you can get the four donuts plus a choice of 2 other pastries like scones, brownies or cookies for $30. Bought singly the donuts are $7 each or $4.50 for the twist donut. The whole process takes 6 hours and Illa says, "We always make some extra for walk-ins on the day and they are usually gone by 4 - 5pm. The kimchi cheese has been the first one to sell out on both donut days and they are gone by 3pm." If you really want them freshly fried they're usually cooked by 1pm.
Korean Fried Vege Croquette야채고로케
I start with the savoury donuts. I know that donuts are best served fresh but these are still delicious even after picking them up at 3pm. The fried vegetable croquette has cubed ham and boiled egg in it and it's absolutely delightful. " Daero and I think of it often as a Korean version of a sausage roll as it is filling and savoury and works really well with tomato sauce or bbq sauce," says Illa.
Korean Fried Kimchi Cheese Croquette김치고로케
The kimchi cheese and noodle croquettes are fantastic with some vermicelli noodles inside and a mix of vegetables with kimchi and cheese. Like the vege croquette above the donut is rolled in crunchy crumbs before frying giving it such a nice crunch to the outside. "The Kimchi Cheese is definitely the favourite, especially with our Korean customers. Anything that has cheese and kimchi together as a filling works" says Illa.
Twisted Sesame Donut 꽈배기
Onto the sweet donuts. I'm team savoury so I mostly ate those while Mr NQN preferred the sweet donuts. The twisted sesame donut is also known as kkwabaegi. It has a nice, sticky, sweet glaze and the sesame seeds give it a nice flavour. "This is the one we started as first and the only one that we make daily. It's twisted before it goes to the deep-fryer, then dressed in rice syrup, powdered with panella sugar (which makes all the difference) and sesame seeds for an extra layer of nutty flavour," says Illa. Perfect for dipping into a cup of coffee or tea.
Fried Soboro w Sweet Potato Filling 김소보로
The Soboro is a very puffy filled donut. Soboro is a reference to the streusel topping on top of the bread, similar to a choux craquelin or melon pan. Inside this one is a smooth purple sweet potato mousse filling. Traditionally Soboro is baked and is similar to a melon pan and people used to travel from Daejeon to buy them. Now Soboro are available all over Korea. "What's changed from the classic Soboro is that it has a filling and is deep-fried. In Korea, it comes with many different fillings," says Illa. This is my favourite sweet donut for its contrast in texture and generous filling.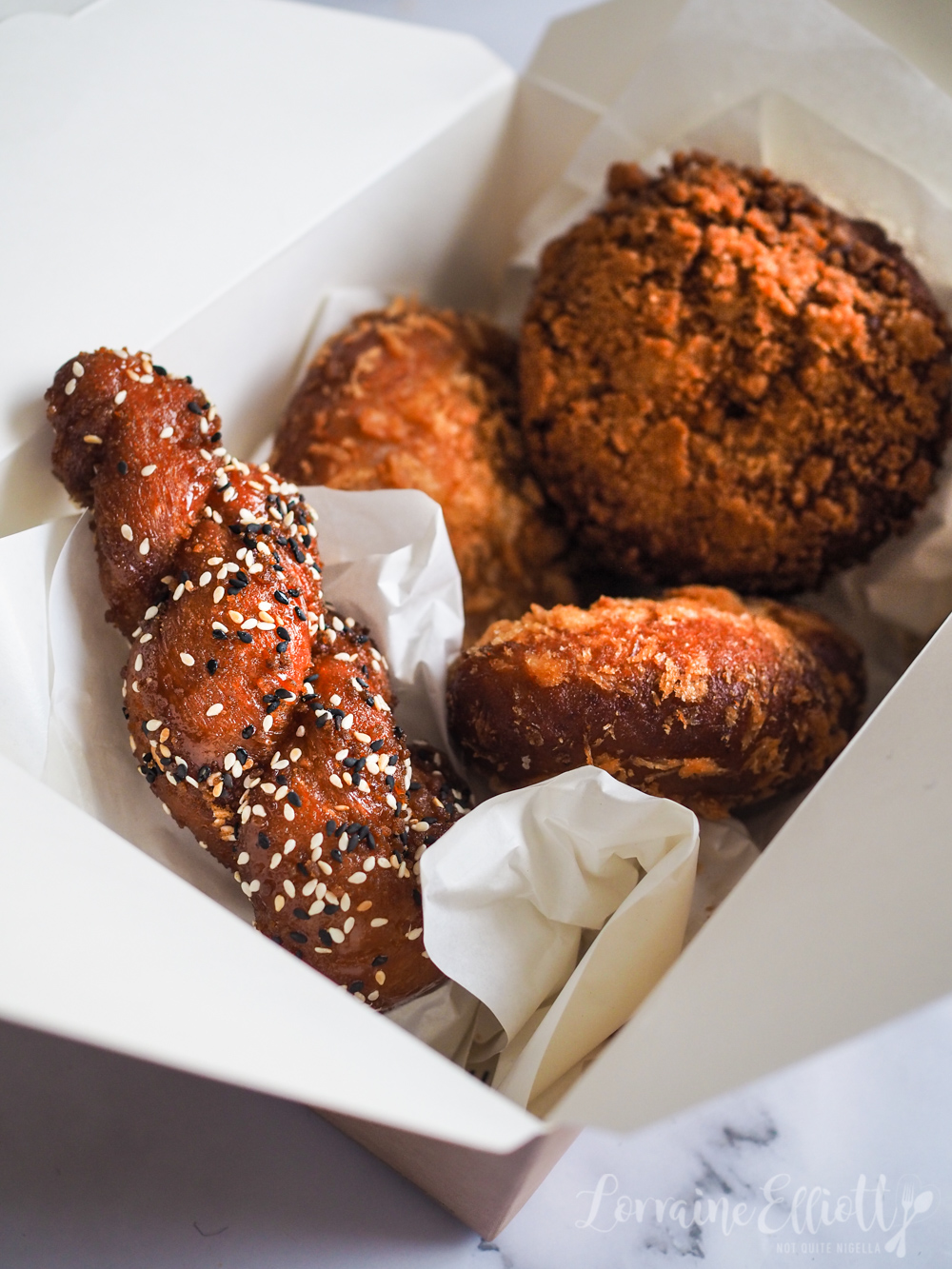 How has this lockdown been different from last, especially as SOUL Deli had just opened at the beginning of this year? Illa says, "We had to make the decision to close SOUL Dining as we couldn't offer the same food at two venues. I think a lot of people underestimate the effort and investment that goes into a pivot or offering takeaway that you didn't before. A restaurant or cafe menu is not developed overnight and many concepts just don't work as takeaway...Especially when the lockdown was extended by two weeks at a time, it might be a better financial decision for a business to close than to experiment and invest when you don't even know whether you will continue that experiment after lockdown." So grab your donuts quick!
So tell me Dear Reader, are you on team sweet or savoury as far as donuts are concerned? Have you ever tried Korean donuts?
These donuts were independently paid for.
SOUL Deli
Shop 1&2/185 Campbell St, Surry Hills NSW 2010
https://soul-deli.square.site/pre-order-specials