These red velvet cinnamon roll intestines are as gruesome as they are tasty and perfect for Halloween mornings! Red velvet flavoured bun dough is combined with the deliciousness of a buttery caramelised cinnamon filling and then easily shaped into something totally terrifying! If you love a bit of a scare with your morning tea or breakfast then please give these red velvet cinnamon roll intestines a go! These are a pushy, gruesome recipe Dear Reader!
A lot of red velvet cinnamon roll recipes use a box of red velvet cake mix but I don't even know if ours would be the same as the cake mixes in America so I decided to make a version without the cake mix box. Red velvet really lends itself to cinnamon buns as red velvet cakes are moist and soft in texture and are lightly flavoured with cocoa powder and a helluva lot of red colouring which was easy enough to replicate in cinnamon roll form. Usually it is smothered in cream cheese icing so in this case we used a cream cheese glaze on top (coloured bloody red of course!).
Because I was making these a couple of days ahead of Halloween I wanted them to last well and so of course I had my secret weapon: tangzhong. This simple flour roux and 5 minute step ensures that the buns will stay soft and downy for a few days. It's worth making them with tangzhong if you don't think that you will eat your buns on the day that they are made. These are actually really delicious although I did find them a bit disconcerting eating these and it's so easy to make these bloody and scary looking.
Did you make this recipe?
Share your creations by tagging @notquitenigella on Instagram with the hashtag #notquitenigella
Red Velvet Cinnamon Roll Intestines
An Original Recipe by Lorraine Elliott adapted from In the Kid's Kitchen
Preparation time: 30 minutes plus 1.5 hours rising time
Cooking time: 30 minutes
Serves: 8
285g/10ozs. bread or plain flour
60ml/2ozs water
25g/1oz butter
85ml/2.8flozs. milk
1 tablespoon red velvet or red food colouring
1 egg
1 teaspoon vanilla extract
1 teaspoon salt
1 tablespoon cocoa powder
1/2 tablespoon instant dried yeast
For filling:
65g/1/2 cup melted butter
1 cup brown sugar
1 teaspoon ground cinnamon
1 egg, beaten for glaze
For glaze:
50g/1.7ozs butter, soft

2/3 cup/95g/3ozs. icing or powdered sugar

30g/1oz. cream cheese
1-2 tablespoons milk
1 teaspoon red food colouring
1 teaspoon vanilla extract
Pinch of salt
I use this Red Velvet Bakery Emulsion by Lorann. As you can see I bought a huge bottle of it!
Step 1 - First take out 20g/0.7oz of the total flour weight and whisk it with the water in a small saucepan. Heat gently on low to medium heat until it reaches 65C/149F. Take off the heat and whisk in the butter until it is melted. Then whisk in the milk, food colouring, egg, vanilla and salt.
Step 2 - In the bowl of a mixer whisk the remaining flour with the cocoa powder and yeast. Add the liquid mixture and mix with a spatula until it starts to come together. Knead on low until very elastic- around 10-15 minutes - you should be able to pull the bread apart with floured fingers and it shouldn't break and you should be able to see through it (the window pane effect).
Step 3 - Shape into a ball and place in an oiled bowl (it can be the same mixer bowl as they tend to be large enough to hold the mixture). Cover and allow to rise in a warm area for 45 minutes to 1 hour until 2-3 times the size.
Step 4 - Line a 20x30cms/7.8x11.8inch lamington or brownie tin with parchment. Remove the dough and place on a lightly floured surface. Allow to rest for a minute, then roll out to become a large rectangle. If the dough is resisting and pulling back, let it rest for 5 minutes before trying to roll it out again - I usually make the filling while it resting.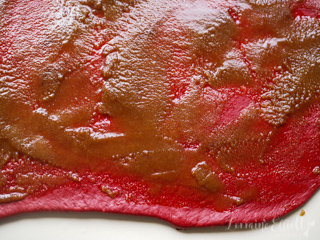 Step 5 - Mix the melted butter with the brown sugar and cinnamon in a bowl. Spread over the rectangle of dough leaving a border of 1 inch at the top of the rectangle on the longest side.
Step 6 - Roll up from the widest side to form a long log. Cut into 6 pieces using a piece of dental floss - slide the dental floss under the log and then bring the edges together to cross and it will cut the cinnamon rolls perfectly.
Step 7 - Take each roll and unroll it. Fold the length in half as shown to make a double layered strip. Arrange it in the baking tray looping it around and up and down. Messy is fine. If there's some brown sugar butter left place it in the tray. Allow to rise in a warm place for 30-45 minutes. Brush with egg glaze and bake for 25 minutes.
Step 8 - To make the glaze place all of the ingredients in a food processor and blitz until you get a smooth, drippable consistency. Spoon over the buns. Serve the buns bottom side up to show the buttery caramel glaze at the bottom.