Steam King is a Cantonese restaurant in the thick of Chinatown or Haymarket on Thomas Street. The menu is an unusual one with a range of steamed dishes and almost 20 double steamed soups. And the price? Well that's one of the major talking points here!
It's Saturday night and we are off to watch Hamilton and after a quick pre-theatre meal. "Let's go cheap and cheerful," I suggest as the Hamilton tickets were very expensive and we have been busy saving for our home and Monica and Marco have also just come back from a holiday. Monica suggests Steam King which is on both of our lists to try ever since I saw chef Big Sam Young post some dishes from there. Steam King is located opposite the Prince Centre on Thomas Street. As the name suggests the glass windows are steamy and as I push open the door and enter I see that they've given us one of the raised tables which are pretty damn awesome (tip they only seat up to 4 people and you can book table #6) .
Looking at the menu we see that Steam King isn't actually a cheap and cheerful restaurant. Well correction, the service is very friendly and cheerful but the menu items aren't cheap with their signature soup being $128. Everything with a tick or a star which is recommended is on the expensive side and there's a huge list of almost 20 double steamed soups. This is the sort of place to take someone that you want to impress that also appreciates Chinese delicacies like bird's nest, shark's fin soup, abalone and sea cucumber.
One of the favourite things that we ordered was this cold appetiser platter that featured a range of goodies from the softest, custardy tofu, boiled eggs to pork slices to tender liver slices delicious dipped in the chilli vinegar provided.
Although a lot of people seem to order this double steamed silky fowl soup in a hollowed out coconut this wasn't to my taste. This is very, very mild and tastes mostly of coconut water. There is a single piece of bone-in silky fowl in it and hard, dry slices of coconut meat. It is also a very small serve for the price. It does however look very cool and I suspect that's why it's all over Instagram.
The free range chicken with dates is one of their signature dishes and you do have to like chicken with the bone-in to really enjoy this. Although the menu suggests that you get half a chicken this is mostly chicken wings cut in half which are very bony - there are no pieces like the breast which have more meat. The flavour however is tasty with a herbal, medicinal quality with a slight bitterness - that's the danggui or ginseng. You also need rice of some sort to soak up that sauce. The highlight was actually the black mushrooms in this with their slightly crunchy flavour and sponge-like ability to soak up the sauce.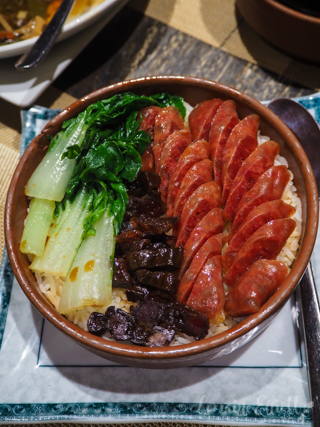 There was a bit of confusion with the rice as there are two menus and the picture menu is mostly in Chinese. We ordered what I thought was glutinous rice with Chinese sausage but it is regular rice topped with two types of Chinese sausage and choy sum. We are slightly disappointed as we all love sticky rice but it was a bit lost in translation. However the owner sees our disappointment and offers to replace it with the glutinous rice dish which is very nice of her. In the end we liked the Chinese sausage on top of the original rice dish but the glutinous rice and peanuts in the replacement dish (although the rice isn't very sticky or glutinous at all). They're both good to soak up the sauce from the chicken above.
Another dish that a lot of people order are the steamed prawns with lots of garlic and slippery glass noodles (it says grass noodles on the menu but I'm pretty sure that's a typo). The prawns are butterflied and topped with plenty of garlic and the noodles soak up the sauce well. Monica is in charge of the time and she warns us that we have to eat up because we have to go soon so Mr NQN swoops in and finishes the dishes.
Desserts range from steamed bird's best in half a papaya for $65.80 but we veer more towards the sweet dumplings in almond soup. It comes in a lidded cup with an almond flavoured creamy soup with three black sesame dumplings inside. There's a good amount of sweet black sesame filling and we could have all knocked back half a dozen of these balls. We quickly eat these and go off to our show!
So tell me Dear Reader, are you a connoisseur of Chinese delicacies like birds nest or sea cucumber? Would this restaurant be your scene?
This meal was independently paid for.
Steam King
5/203-209 Thomas St, Haymarket NSW 2000
Open 7 days 11am–9pm
Phone: (02) 9280 0800