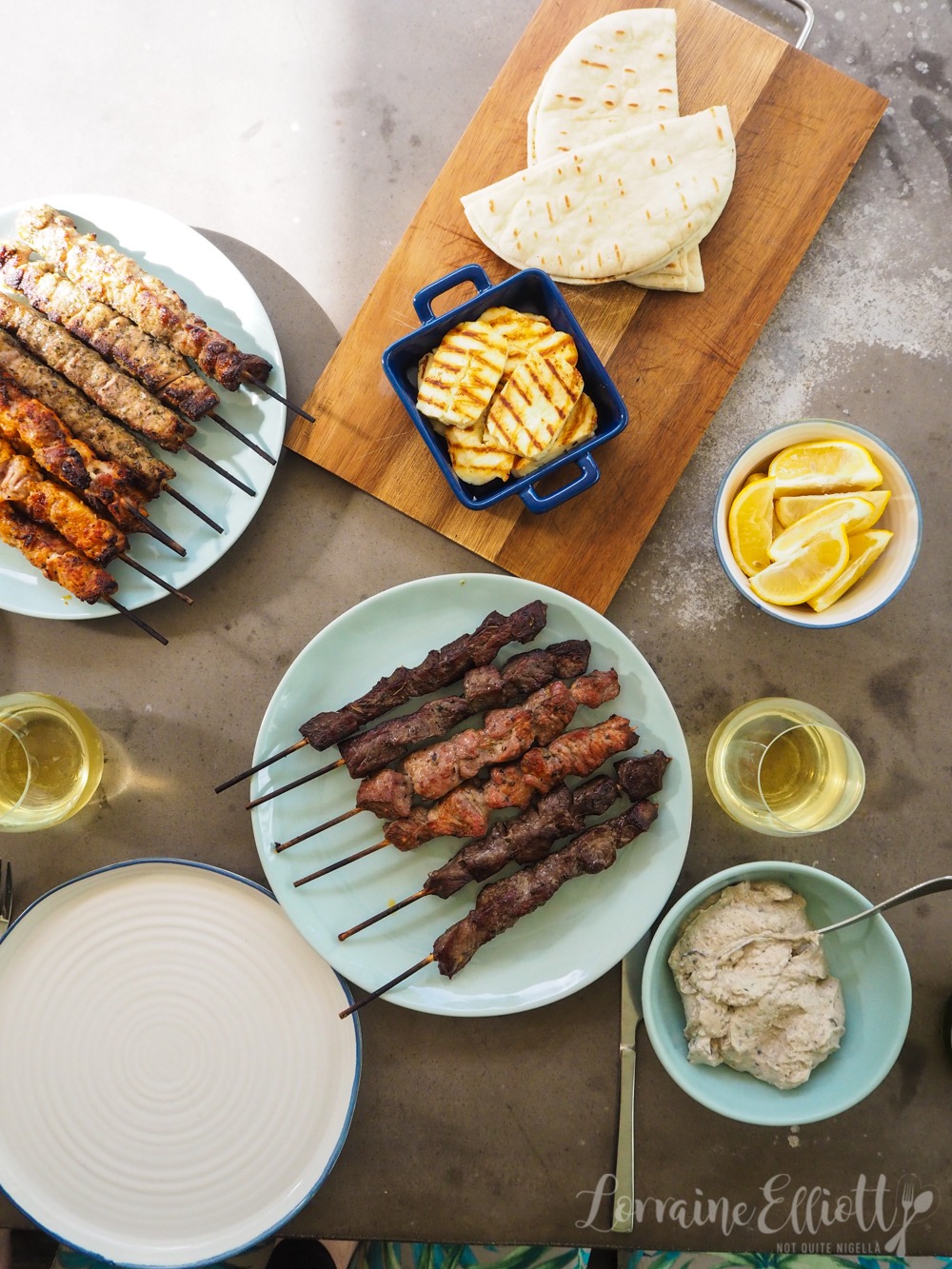 If you're looking for something delicious to throw on the barbecue then Advanced Souvlaki delivers hand stitched souvlaki across Sydney (or you can pick it up from their stores in Canterbury or Kogarah). Along with chicken, pork, lamb and beef souvlaki they also sell pita bread, dips, cheeses and Greek pastries. All with next day delivery!
Whenever my Cypriot friend Valentina has a barbecue this delicious lamb and chicken souvlaki would appear. I assumed that Valentina made them as she is an amazing cook but she told me that she bought them from Advanced Souvlaki. I am ever so slightly obsessed with the chicken souvlaki so we decided to put in an order for some to take along on our holiday with us as meat was in short supply.
Advanced Souvlaki was founded in the early 90s as a family-owned business spanning across two generations. It was originally located in the Dulwich Hill but is now located in Canterbury and Kogarah. In June 2021 the founder and his son went into retirement. Con and Eleni Magiropoulos having worked in food for 30 years bought the business and run it with the help of their daughter Kate Vourgos and her partner. "Being Greek ourselves, we have a deep understanding of the culture and traditions, which we're able to share with our customers – particularly with those from different backgrounds who enjoy the Mediterranean cuisine," says Kate.
"It was one of the first to bring the technique of souvlaki making to the Australian/Sydney community and the technique of hand-cutting and hand-stitching. The term "stitch" means to thread each piece of meat onto the skewer. For the past 30 years, the souvlaki has been made by hand each and every day. Even though this manual technique only allows for a limited amount to be produced, it ensures that the souvlaki is supplied in its freshest state on a daily basis," explains Kate.
There are several types of souvlaki available: lamb backstrap, beef, pork and two types of chicken in their online store. Each stick is around $2 (chicken) - $3.30 (lamb) each. Along with the souvlaki there's also dips, breads, desserts, pasta, olives, pastries and cheese. Delivery is $12 with a minimum spend of $70 and as long as your order is placed before 1pm you can get it delivered the next day. The website is a relatively new thing, "With lockdown in place, it meant that foot traffic decreased dramatically and we saw less people walking through our doors. Needing to adapt to the new normal, I created a new website and launched our online store, offering home delivery and click & collect. I'm actually a digital designer, so it was the perfect time to also share our new branding with our customers and to embrace a new beginning of the business," says Kate.
The souvlaki arrive the next day in the morning and just as instructed they leave it at the door and call to let me know that it is there. The souvlaki are all packed separately and uncooked. They last refrigerated up to 5 days or you can also freeze them. Frozen they last up to 1 year for chicken souvlaki and 6 months for the lamb, pork and beef souvlaki. They recommend freezing the lamb and beef immediately. There are no cooking instructions but you just grill them until they're browned on the outside and check them on the inside.
There are two types of chicken souvlaki: the lemon pepper ones which Valentina usually gets (orange in colour which is my favourite) as well as salt, pepper and oregano. They're both delicious and made using chicken thigh meat so these tend to cook up really well without becoming dry. Chicken breast or skinless can be requested with notice too as well as gluten free orders.
All of the lamb, beef and pork has the same salt, pepper & oregano and olive oil seasoning. The lamb backstrap is one of their most popular. It's very tender and juicy and even lamb phobic Mr NQN enjoys this. The pork is made with pork neck and is also good and the only one that ends up a bit dry are the beef skewers made with wagyu beef.
Apart from the souvlaki, we also bought some Greek Pita bread by Golden Top ($4 for 10 rounds) which is a very soft pita bread perfect for rolling up your souvlaki meat in. It can be a bit hard to source this depending on the area you live in (I find it really hard to source in the Eastern Suburbs but once you go south or west it is easier to find). I served this with some home made olive dip, pan fried halloumi, tzatziki, salad and lemon to go with it. It lasts us so many meals and we have it for both lunch and dinner!
So tell me Dear Reader, what is your favourite souvlaki? Have you been having trouble accessing meat lately?
This meal was independently paid for.
Advanced Souvlaki
https://www.advancedsouvlaki.com.au/shop