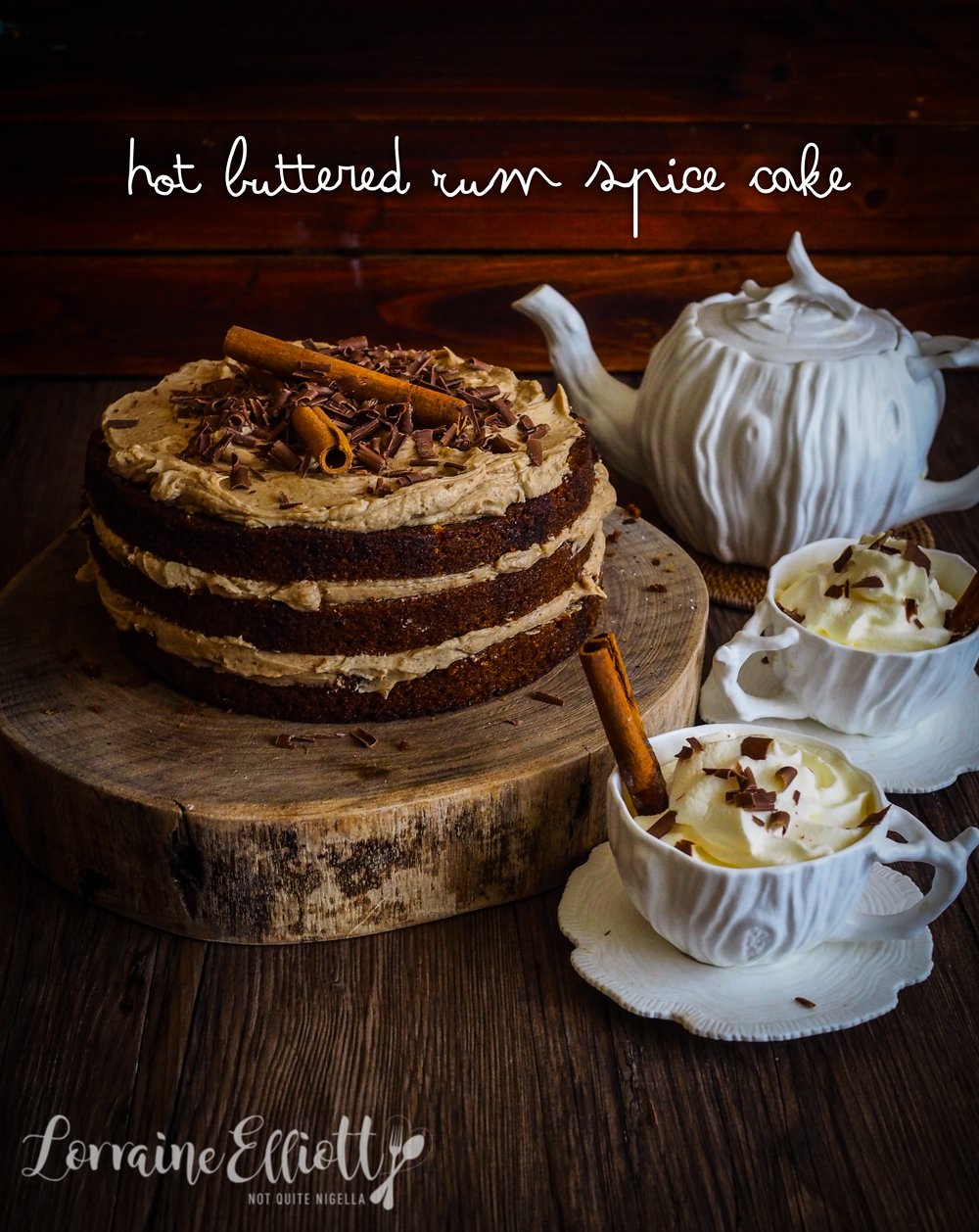 Spice up your life with this heavenly, moist spice cake. Inspired by a hot buttered rum that I made for a dinner party, this buttered spiced rum cake has three layers of spice cake, brushed with spiced rum syrup and a brown sugar spiced buttercream between each layer and on top! Make it for a special occasion like Father's Day or when friends come over.
If you're not a huge fan of frosting (seriously, why? It's the best) then this cake can also be served without the frosting. Just mix up the extra rum syrup with a bit of cream, heat it up and serve it on the side to pour over and moisten the cake.
I had had a massive weekend when I made this cake and made it over several days which isn't ideal but it is such a moist cake that it was fine. The weekend started with karaoke and dinner on Friday night with Ivy and Girl Next Door. It was a slightly messy karaoke session. Bless her but Girl Next Door was unaware of karaoke etiquette and belted out everyone's karaoke songs at double their volume. Dinner afterwards was fun though. On Saturday I made the cake and prepped the fondue for the dinner party.
Then on Sunday I had another session of karaoke with Mr NQN's brother Manu. It was Manu's birthday and he had organised a big day of celebration starting with a bushwalk and then an all vegan picnic. We didn't attend the day celebrations but joined him for karaoke (I dragged Mr NQN along at the last minute).
Manu sings like Girl Next Door and when he started to overtake my song I had to nip it in the bud fearful of another hijacked karaoke session. "This is a solo!" I quickly said putting a finger up. Before you label me a diva (and yes I definitely have diva tendencies), it is very poor karaoke etiquette to sing someone else's song, especially when you drown them out or they don't ask you to join along. There are songs that are meant to be sung in a group or duet but generally, you don't drop in on someone else's song.
And when another of his friends tried singing off key and loudly in another one of my songs to be funny, another friend of his shushed him and said, "Don't do it" with a serious look on his face.
Perhaps it was the crazy look in my eyes when I shushed Manu, maybe it was that all I wanted to do was belt out the song denied me before or maybe because I was tired from baking this cake but I finally got to sing my song in peace. Karaoke and peace out.
So tell me Dear Reader, are you big on observing etiquette? Do you like hot buttered rum? And are you a fan of frosting?
DID YOU MAKE THIS RECIPE? Share your creations by tagging @notquitenigella on Instagram with the hashtag #notquitenigella
Hot Buttered Rum Cake
Rated 5.0 out of 5 by 1 readers
An Original Recipe by Lorraine Elliott
Preparation time: 30 minutes
Cooking time: 2 hours
2 cups cake flour
1.5 teaspoons bicarb of soda
2 teaspoons baking powder
1/2 teaspoon salt
2 teaspoons ground cinnamon
2 teaspoons ground nutmeg
1 teaspoons ground cardamom
2 cups brown sugar
400ml/14flozs. oil (a mild flavoured oil)
3 eggs, at room temperature
1 cup buttermilk
Hot spiced buttered rum sauce
1/2 cup brown sugar
1/2 cup rum
1/2 cup water
80g/2.8ozs. butter
1 teaspoon ground cinnamon
1 teaspoon ground nutmeg
1/2 teaspoon ground cardamom
Buttered Rum Cream
1.5 cups brown sugar
1 cup water
2 tablespoons spiced rum
300g/10.6ozs. butter, cubed and softened
3 cups icing sugar, sifted
2 teaspoons ground cinnamon
2 teaspoons ground nutmeg
1 teaspoons ground cardamom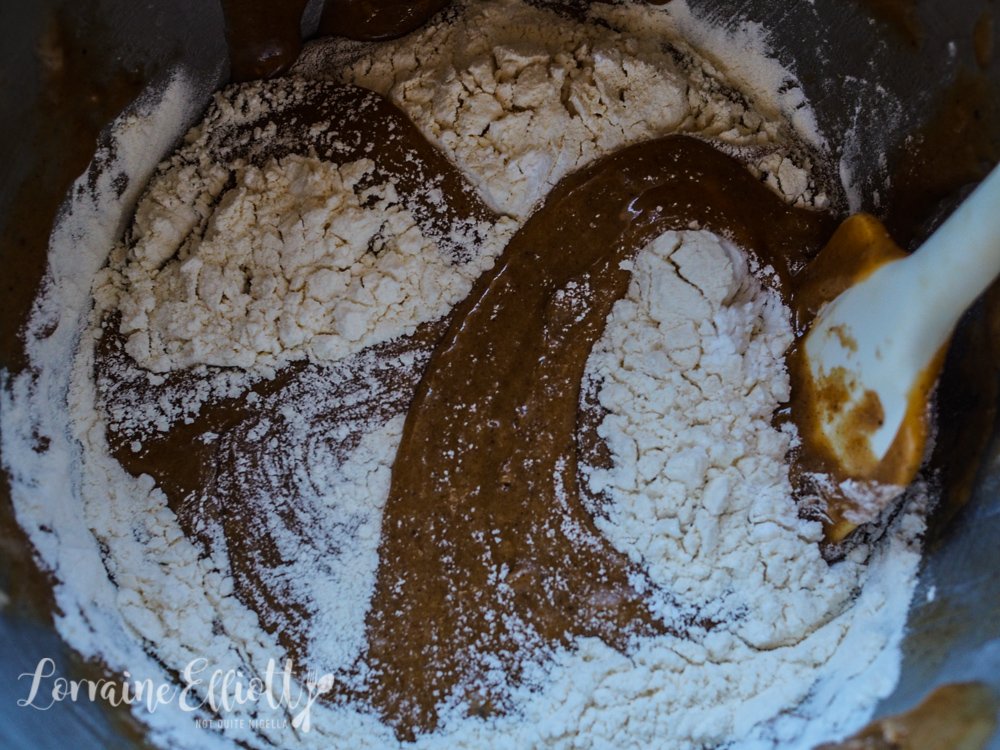 Step 1 - Make the cake first. Line the base and sides of a 20cm/8inch round tin with high sides and preheat oven to 135C/275F (very low). Whisk the flour, bicarb, baking powder, salt, cinnamon, nutmeg and cardamom in a jug. With an electric mixer, beat the brown sugar and oil together for 4 minutes. Then add the eggs, one at a time beating well between additions. Fold in the flour mixture alternating with the buttermilk until smooth (do not overmix).
Step 2 - Place in the prepared tin and smooth over the top. Bake for 1.5 hours to 1 3/4 hours or until the centre of the cake springs back when pressed gently.
Step 3 - Meanwhile make the buttered rum sauce. Mix the brown sugar, rum, water, butter and spices in a small saucepan and heat and cook for 10 minutes or until slightly reduced. Keep warm. When the cake is cooked but still hot, poke holes with a skewer in the cake and pour the hot syrup in-you won't use all of it, just add as much as the cake can take without flooding it. Cool and cover-this cake will last for 1-2 days like this.
Step 4 - Then make the buttercream. Combine the brown sugar and water in a saucepan and bring to a boil. Keep boiling until it becomes thicker and syrupy. Cool completely. Then beat with the butter, rum, icing sugar and spices for 5 minutes or until it becomes fluffy.
Step 5 - Trim the top of the cake and slice into three horizontally. Brush the remaining spiced buttered rum sauce onto the cake layer and spread with frosting and repeat for all layers. Decorate with cinnamon quills.