This simple lemon zucchini cake has an incredible texture. It's soft and moist, gently scented with lemon and covered with the silkiest cream cheese frosting! And to sweeten the deal this can also be made easily in the Thermomix! I called her Aya.
This cake is all about summery zucchini and lemons. If you're like me you've perhaps got an abundance of both. Our lemon tree is giving us lemons-they're not the most picture perfect specimens but they're incredibly juicy with thin skins so they make for easy juicing. The cake itself has a gorgeous texture to it. Can you see that moist crumb? It's almost like a steamed pudding. Find more delicious lemon recipes here.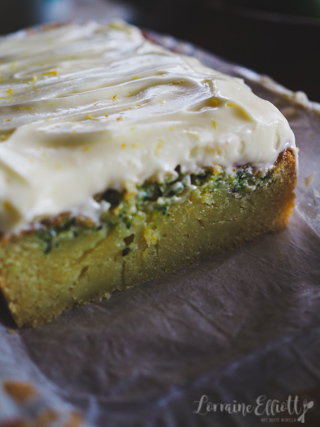 This lemon zucchini cake is delicious iced or uniced. I just had half a block of cream cheese in my fridge that I needed to use up and I will use any excuse to add cream cheese frosting to a cake. If you're worried about the zucchini it really disappears once the cake cools. And if you have a Thermomix I definitely recommend making it because it's a cinch and the cream cheese frosting is so silky smooth. I gave a slice for afternoon tea to the builders Peter and Andy and a slice for Mr NQN and before long the cake disappeared.
This cake was the first cake I made in my new stovetop oven and I was very excited about it. The biggest expense for kitchen appliances was a good oven - I ummed and aahed but finally decided to get my dream oven. This is a Falcon classic dual fuel oven with gas stovetop and electric ovens. I wanted an oven that could perform but also look classically beautiful. I chose a black oven with brass hardware. It honestly takes your breath away when you see it in real life (not sponsored, I bought it but was kindly given a trade discount without any obligations).
It's funny how used to bad things you can get. With the old owner's decrepit oven I got used to having to shove a garbage bin to close the door, I got used to not being able to make pavlovas since my oven wouldn't cook on anything lower than 180C/350F and I got used to not having a grill because the grill did not work. But now I have 5 gas burners, a dedicated electric grill and not one but two ovens! I'm sure over time I'll learn about all the cool tricks it has (apparently it also defrosts) but my favourite feature is a rack inside the actual door so that it is so easy to take things in and out (hello basting meat!). And in a matter of weeks my kitchen will hopefully be finished so I can show it all to you. Eagle eyed readers might notice that the benchtop that the cake sits on is just timber boards that my wonderful builder Peter got for me as a temporary benchtop until my stone benchtop arrives but I think it adds to the look of the sunny lemons.
So tell me Dear Reader, what is your kitchen full of at the moment? And have you got any name suggestions for my oven?
Lemon Zucchini Cake