If you have lots of apples that you want to make up into something delicious may I suggest apple pie? Today I'm sharing my top 5 apple pie and tart recipes. There's my favourite ever apple high pie with caramel apple sauce, portable apple turnovers, an apple rose tart for something beautiful, a homely but simple apple pandowdy or an apple sour cream pie that really isn't a pie!
Did you make this recipe?
Share your creations by tagging @notquitenigella on Instagram with the hashtag #notquitenigella
I'm starting with my favourite apple pie EVER! This apple high pie has an ingenious method you'll get an incredible texture to your apples without any sogginess! This BEST EVER apple pie uses up 2 kilos or 4.4 lbs of apples in it and has a double crust of buttery cinnamon pastry and a caramel apple sauce!
Want an apple pie but a transportable version? These apple turnovers are great for the lunchbox or to eat on the go and are a bit like the McDonalds apple pie except better (IMHO!).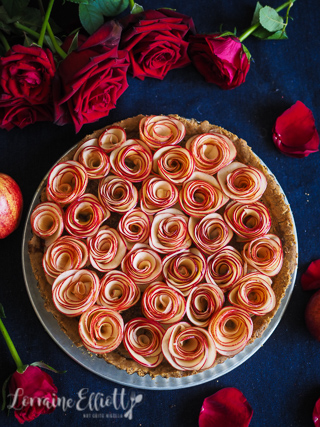 This apple rose tart is the perfect tart for a loved one. Individual apple roses are shaped and cover a delicious pecan frangipane tart! Swoon...
Apple Pandowdy is simple and "rough" apple pie. If you love apple pie but don't want to bother making a crust this is for you. Just use a sheet of butter puff pastry for this wonderfully simple but delicious saucy upside-down apple pandowdy!
This sour cream apple pie is a pie that really isn't a pie. It's apple pieces that are left deliberately chunky and tossed with flour, sugar and sour cream. While they bake you make a streusel topping and add this to the baking apples and cook it for another 10 minutes and there you have it. The easiest apple pie that isn't an apple pie!
So tell me Dear Reader, what do you make when you have lots of apples? Which apple pie or tart do you like the look of?