This Korean Cream Cheese Garlic Bread or Yook Jjok Maneul Ppang is one of the most popular Korean Street Foods around! It's a soft, pillowy bun cut into segments and then filled with a seasoned cream cheese filling and then dipped in a bowl of garlic butter. It's the sort of thing that you have to try at least once in your life but once you do, it won't be your last time! This is a pushy recipe Dear Reader and I've got a quick hack for you to make this if you're low in time!
Yook Jjok Maneul Ppang means six sided bread and I made this Korean Cream Cheese Garlic Bread for Halloween so I made them as little pumpkins and the dough and filling are pumpkin flavoured. Normally they're a regular bread colour without any pumpkin added but I felt like these lent themselves to a pumpkin flavour and look and they worked out even better than I expected! I remember reading about these ages ago and watching videos of them dipping the buns in huge vats of garlic butter and thinking that they would be super hard but they're not! They're also a wonderful combination of soft, sweet, salty and delicious!
Tips for making Korean Cream Cheese Garlic Bread
1 - To make pumpkin puree, take a quarter, half or whole pumpkin. Place on a baking tray and bake at 200C/400F for 30-60 minutes (30 minutes for quarter, 60 minutes for whole pumpkins). For whole pumpkin, make a couple of incisions to let steam out. Then cool, peel off the skin, remove the seeds and then puree until smooth.
2 - These are very simple and even if you don't want to make the bread from scratch you can also make this with brioche hamburger buns! The cream cheese filling and the garlic butter is a cinch! Just make sure to get the hamburger buns that haven't already been sliced in half.
3 - To keep these orange in colour bake these in the lowest part of your oven away from the element or fan. The ones at the front were baked on the bottom row and the ones at the back were baked on the top rack.
4 - Korean foods tend to have a high level of sweetness to them. I made these a bit more savoury by adding a lot of parmesan in them particularly to counteract the sweetness of the sugar and the pumpkin.
5 - These are fantastic to serve at a party. You can fill them and then place them in the fridge covered. Then bake them for 10 minutes just before you want to serve them.
I'll serve these at our Halloween party on a tray because halfway through the night people tend to like something hot, especially since we don't know if it will be raining. I'm so excited to have Halloween at our house this year although we are contending with construction. We're hoping that the downstairs bathroom will be ready by then. Our guests will be treated to a half finished house. The kitchen is still waiting on the rangehood (I'm trying to do something different with the range hood and this is proving a challenge). Currently it's a week before my party and the downstairs bathroom is still in a state of progress.
Our builder Peter is amazing and he is probably the only builder that loves being given a deadline. When I asked him if it was going to be completed he said yes. But now as the date edges closer I'm looking at the wires, the tile-less floors and the amount of work that needs to be done and I'm slightly panicking. I don't want anyone to have to go upstairs to use the bathroom as it's messy (mainly Mr NQN's clothes). Mr NQN and I trust Peter though and we both count ourselves so lucky that we found him through Monica as he is so knowledgeable, easy going and honest. He presents solutions, not problems - a tradie unicorn really.
One morning Peter was running late. Usually I'm awoken to the sound of construction downstairs but it was silent. I looked at my phone and there wasn't a message from Peter who usually texts me if he is running late. Was Peter ok? Had he been in an accident? I always annoy Mr NQN with my catastrophising. Sometimes when I call out Mr NQN's name and he's napping I rush downstairs because I think he is dead. I know that's not normal behaviour but I can't help it. "You're doing it again," Mr NQN said to me as I started to worry about Peter. "I can't help it, he's so precious to us! I'm in protect Peter mode!" I said. Thankfully he turned up a few moments later, none the wiser and I kept my catastrophising to myself in case I seem crazy.
So tell me Dear Reader, are you a catastrophiser? Have you ever tried these Korean pumpkin buns?
Did you make this recipe?
Share your creations by tagging @notquitenigella on Instagram with the hashtag #notquitenigella
Korean Cream Cheese Garlic Bread Yook Jjok Maneul Ppang
An Original Recipe by Lorraine Elliott
Preparation time: 45 minutes plus rising time
Cooking time: 45 minutes
Serves: 12
For the Buns:
500g/1.1lbs bread flour
125ml/4flozs milk
60ml/2flozs water tinted with orange food colouring
90g/3ozs. honey
1 egg, room temperature
1 teaspoon salt
125g/4ozs. pumpkin puree
2 teaspoons instant dried yeast
oil for greasing bowl
1 egg beaten for eggwash
For Cream Cheese Filling:
250g/8.8ozs cream cheese, softened
125g/4ozs. pumpkin puree
90g/3ozs grated parmesan
4 tablespoons finely chopped chives
1 tablespoon sugar
1/2 teaspoon salt
For Garlic Butter:
185g/6.5ozs. butter
6 cloves garlic, finely diced
2 tablespoons finely chopped chives
Step 1 - Take 30g/1oz of the total flour weight and whisk it in a small saucepan with the milk and orange tinted water to make a roux. Heat on low heat until it reaches 65C/149F and creates a smooth roux (whisk to keep it from catching). Whisk in the honey, egg and salt.
Step 2 - In the bowl of an electric mixer add the remaining flour, pumpkin puree, yeast and the roux mixture and stir with a spatula. Then affix a dough hook and knead for 20 minutes or until you get the window pane effect where you can gently pull apart the dough and the dough is semi translucent and you can almost see through it. This does take a while to achieve so I don't recommend doing this by hand.
Window pane effect
Step 3 - Roll into a ball and place in a large, greased bowl and cover with a plate or cling film and allow to double or triple in size for around 1 hour in a warm, draught free area. Punch down the dough and weigh the dough and divide by 12. My dough balls were around 80g/2.8ozs in size.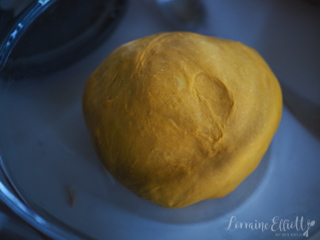 Before rise
After rise
Step 4 - Line 2 large baking trays and preheat oven to 150C/300F. Shape the dough into balls ensuring that there are no cracks on the top and bottom of the ball. This takes a little bit of practice rolling under a cupped hand on a non floured surface. The more you practice it the better you'll be at it. Place on the lined baking trays, cover and allow to rise for 30 minutes or until puffy. Then gently brush with egg wash and bake for 20-25 minutes on the lowest part of the oven (away from the fan). At this stage you can cool and then pack these up (I pop them in a zip lock bag) and freeze them.
Step 5 - When you're ready to finish them, make the cream cheese filling and garlic butter. Process the cream cheese, pumpkin puree, parmesan, chives, sugar and salt in a food processor or whisk in a bowl and place in a piping bag in the fridge ready.
Step 6 - Then melt the butter and mix with the garlic cloves and chives. Preheat the oven to 180C/350F and line 2 trays with parchment.
Cutting into six segments
Filling with cream cheese
Step 7 - Cut the buns into six segments making sure not to cut all the way through (I do three long cuts across). Prise the segments apart gently and then pipe the cream cheese filling between each segment. Dip into the garlic butter (or brush it on top). Be generous with the garlic butter. Place each on a tray and repeat with the rest. Bake for 8 minutes until melting and soft. Serve straight away.
Dipping in the garlic butter