A new restaurant on Llankelly Place in Potts Point, et.al is a summer friendly sort of restaurant with striped green banquettes and a sunny dining area. The food includes dishes like blood sausage rolls with beetroot sauce, lamb tartare with fried egg puree or an enormous 600g steak smothered in black garlic butter.
et al. is co-owned by chef Daniel Backhouse who was formerly at Bathers Pavilion & Berowra Waters Inn and restaurant manager Stephen Craig who worked at Four In Hand for 10 years. The outfitting is by Giant Design.
Stephen describes the name, "Et Al. literally translates to and others...But most commonly associated with literature when the author meeds to thank many people. For us, the name has no significant meaning, however it has come to represent all 'the others' that have helped us get to this point. Family, friends and most notably long suffering partners."
"Where's my duck?" said Mochi
Usually cafes are dog friendly but it was exciting to find a restaurant that was also dog friendly. We are seated at a banquette so I lay down my cape and Mochi rests between Louise and I. She's so quiet that nobody even notices her until she pops her head up for a sniff, her pink freckled nose twitching wildly every time food comes over.
Blood Sausage Roll, Beetroot Ketchup $12
You know when you're in the middle of eating something and you already want to order another? This black pudding filled sausage roll comes four to a serve is everyone's favourite with a mild beetroot ketchup. I even see a table order one of these per person and I understand why.
Burrata, Shaved Zucchini, Tempura Flowers $15
The burrata is slightly hidden under the foliage. There is a bundle of creamy cheese, shaved zucchini, hazelnut and lovely little crisp tempura flowers that really make the dish.
Vodka Cured Salmon, Grapefruit, Avocado, Fennel $16
I'm the only one that didn't try this because of my seafood allergy and from everyone else's opinion it was perhaps lacking something. It wasn't bad but it just wasn't as exciting as everything else and if anything Louise thought that it needed seasoning.
Lamb Tartare, Peas, Fried Egg Puree $16
The lamb tartare is made using Milly Hill lamb backstrap, fresh peas, four pieces of toast and dabs of a fried egg puree on top. This mayonnaise is made using fried eggs instead of egg yolk and we all really enjoy this. The oil lends it a luscious quality. Mochi's nose goes wild here and I give her a tiny portion.
Pumpkin Ravioli, Ricotta, Dashi Brown Butter, sesame $22
It's time for mains. It's a ricotta with dashi browned butter but we asked if it was possible to have just browned butter as I can't have dashi and that was no problem. I should also say that the service is really lovely and our waitress is very attentive and makes sure that the allergy information is passed onto the chef. The pumpkin ravioli is filled with sweet, smooth pumpkin and sits atop a bed of soft ricotta with brown butter and sesame. Louise and I both love this dish, mainly because I'm a fiend for anything with browned butter.
Pork Belly, Charred Apple Sauce, Pine nuts, Raisins $30
We all really wanted to love the pork belly-in fact Viggo could probably add "pork aficionado" to his business card such is his love of the beast. But this dish didn't really do much for us. The meat wasn't very soft and melting while the crackling stuck to the teeth.
600g Scotch Fillet, Black Garlic Butter, Fried Potatoes $55
The scotch fillet is an enormous serve for two and comes out already sliced and smothered with black garlic butter that gives it a strong umami flavour. The beef is a Black Angus from Riverina Angus Beef in Southern NSW and it's undoubtedly rich especially with the black garlic butter. It comes with a small serve of the crispy fried potatoes which they combine with our larger side dish of potatoes.
Crispy Potatoes, Smoked Golden Syrup $8
Oh these potatoes. They're pretty magnificent and these along with the sausage roll and lamb tartare, are my favourite items. There's lots of small, crispy pieces scattered among the larger potatoes. And the smoked golden syrup? It's fantastic and not out of place at all.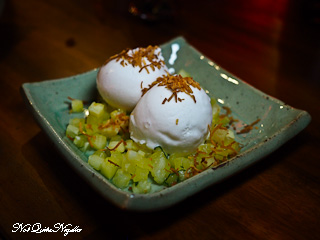 Coconut sorbet, pineapple $12
I can imagine that this simple dessert would be popular when it gets warmer. The pineapple is quite mild (Viggo thinks that it's apple at first) and there is a bit of lime with the coconut ice cream.
Roast rockmelon, yogurt, miso praline $10
This was mostly ordered out of curiosity and more for Mr NQN. I'm not a huge rockmelon lover unless it's in this rockmelon drink but the best thing about rockmelon is its juiciness which is taken away here when you roast it. The miso praline is my favourite part and it's salty and sweet.
Lavender Crème Brûlée $14
The crème brûlée has a bit of a sticky top but the lavender flavour is spot on here. There isn't too much so it doesn't remind you of your grandma's house but there is enough for you to notice it. Everyone good naturedly fights over the last spoonful of this. Except Mochi of course, she was asleep realising that the meat course was over.
So tell me Dear Reader, do you look for dog friendly restaurants? And have you ever enjoyed something so much you refuse to share it and order one of your own?
This meal was independently paid for.
et al.
7/24-30 Sprinfield Avenue, entry via Llankelly Place, Potts Point NSW 2011
Phone: (02) 8018 6722
Monday and Tuesday closed
Wednesday and Thursday: 17:30 - 22:00
Friday to Sunday: 11:00 - 15:00, 17:30 -22:00
www.etalrestaurant.com/