Looking for a restaurant that serves delicious Laotian and Thai dishes with an upmarket vibe? Holy Basil now has three locations in Sydney, including one at Darling Square. Know for its signature dish, the deep fried ice cream, Holy Basil's menu also features a mix of classic Laotian and Thai dishes that are well-priced and great for groups.
It was Friday night and I was staring at the conveyor belt at Sydney airport urging my bags to come out. Everyone else in my group has their bags and have peeled away to their respective homes. Finally my bag comes out, I rush to the pick up area where Mr NQN, Teddy and Milo are waiting for me in the car and we make the drive home. I calculate that I have exactly 9 minutes to wipe any trace of the flight off me and change into something else. 
Nine minutes later we are headed to Holy Basil. We first visited the Laotian restaurant in 2013 when it was just a single restaurant in Canley Heights. I remember the long queue to get a table and how much we enjoyed their signature dish, the deep fried ice cream. It was a large triangular block of creamy vanilla ice cream with a thin and crispy pastry outer (I have spent far too much time trying to figure out how they make it). In the decade between visits they've now got 3 restaurants including one at Darling Square which is much closer for us. The restaurant has an al fresco vibe thanks to the open design and has a more upmarket feel to it.
Another good thing about the Darling Square location is that you can book a table. A few weeks earlier I had booked it for my birthday with Monica, Marco, Valentina and Peter. We are sitting in one of the purple booths and it is positively heaving this Friday evening with a large crowd outside waiting for tables. Service is a little hard to flag down but is friendly and efficient once we get a hold of someone.
We order drinks-a strawberry fruit shake for me and a durian fruit shake for Mr NQN. My strawberry fruit shake is quite good and not overly sweet while Mr NQN loves his durian shake that has quite a pronounced "stinkiness" once you take a sip.
"It's your birthday so you get to choose what we order," says Monica which is music to my ears. But Peter has a request for the Penang curry so I add this to the list. The menu is a mix of Laotian and Thai dishes with lots of classics. It's also really well priced which is a nice surprise since the online menu doesn't have prices.
The food doesn't take long at all to arrive. I'm starting with my favourite dish, the beef massaman curry with sweet potato. The beef is lusciously soft and melt in the mouth and the sauce is rich and sweet but balanced with tamarind. It's also aromatic with spices like star anise, cinnamon and bay leaves. This definitely looks to be the most popular dish of the night as it disappears quickly.
There are two types of pork belly dishes on the menu and we went for the spicier one. This is pork belly pieces, stir fried with pineapple, capsicum, beans, basil, bamboo shoots and chilli. It's a nice dish although I tend to prefer slower cooked pork belly where the fat is more rendered down. However even pork belly phobic Mr NQN really enjoys this dish perhaps because of the sweet, spicy, sticky sauce.
The Panang curry is made with chicken, beans, fragrant Thai basil, chilli and kaffir lime leaves. It's a nice enough curry but it's hard to beat the massaman curry.
I love any sort of crispy rice so I ordered the Nem Khao fried rice balls that are paired with cured pork balls. It is flavoured with coriander, chilli, shallots, kaffir lime leaves, onion and mint and this has a lovely textural contrast with each bite. The cured pork balls are quite mild in flavour and I thought that they might be stronger or more flavourful.
Most of us love ox tongue and it was recommended to us by the waitress. The ox tongue is marinated, grilled and served in slices with a sweet and spicy dipping sauce. The ox tongue is quite chewy in texture rather than the soft, melting ox tongue that we all really like with very thinly sliced ox tongue and I think this is the only dish that wasn't finished.
My other favourite dish apart from the beef massaman curry is the Thai papaya salad (there is a Laotian version of this with anchovies which is saltier in case you're interested in that). This papaya salad has a generous pile of shredded green papaya, cabbage, chillies and beans although I like more peanuts and the garlic is only really on top of the salad so that you don't get any of the nice crunch and flavour from both if you don't get the salad on the top layer. Still I love the fiery spice of this and go back several times for this.
The last dish to arrive takes up the last remaining gap of space on the tabletop. It's a deep fried snapper with a sweet and sour tamarind sauce with chunks of pineapple and tomato with basil and chilli. The fish is removed from the bones so that it's easy to eat. I tried a couple of pieces and neither of them had the sauce and I found that this was a touch dry too. Admittedly I rarely really enjoy a whole fried fish in Thai or Chinese restaurants as I find them quite dry and I prefer steamed or grilled.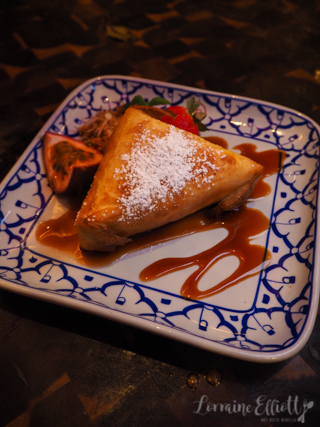 It's dessert time. The menu describes this fried ice cream dish as "the one that started it all". I've seen this imitated at a few places but it's never quite as good. It's vanilla ice cream wrapped in pastry and then fried and served with a salted caramel sauce and caramelised coconut. We are quite full from the main meals so we end up sharing just one. This is just as delicious as it was 10 years ago but this version has the addition of the caramelised coconut added to it which gives it even more textural crunch. Monica and Mr NQN have told me that their idea of hell is being sung Happy Birthday to in public but I don't mind one bit and am beaming ear to ear while they sing it to me.
So tell me Dear Reader, do you often think about how a restaurant makes a dish? And how do you feel about Happy Birthday being sung to you in public?
This meal was independently paid for.
Holy Basil
Steam Mill Lane, 51 Tumbalong Bvd, Haymarket NSW 2000 Phone: (02) 9145 8699 Monday to Thursday 12–2:30 pm, 5–10 pm Friday and Saturday 12–11 pm Sunday 12–10 pm Menu: holybasil.com.au