We've reached the middle of winter and there are just 1.5 months to go. To aid in that endeavour here are some winter dishes that are absolutely made for long, slow cooking. Save them for the weekend or for when you have time to wait. There's daube beef cheeks, a creamy chicken stroganoff, a slow cooker Japanese pork belly, a chickpea and spinach stew and the best way to make mulled wine!
Did you make this recipe?
Share your creations by tagging @notquitenigella on Instagram with the hashtag #notquitenigella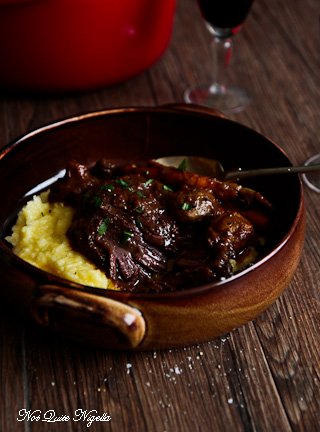 Beef en Daube, a traditional Provençal dish, typically involves marinating beef in red wine overnight and slow-cooking it in a daubière, a ceramic baking vessel, to allow the flavors to develop. However if you are lacking a daubière, you can use a slow cooker instead. I use beef cheeks and added a generous amount of vegetables to the sauce making it into a one-pot meal!
This chicken stroganoff is one of my most popular recipes because it Stroganoff is one of the best recipes to make in a slow cooker-you literally just put everything in the pot and leave it. It can take 4 hours on high or 6 hours on low and you just stir in the sour cream at the end. And before you know it, you're eating a deliciously creamy dinner!
Stop! You don't need to go to a restaurant to enjoy delicious Japanese kakuni or pork belly cubes! You can make this at home using your slow cooker. Pork belly is simmered and slow cooked so you get the most delicious melt-in-the-mouth pork.
I promise it's not all rich meats that benefit from cooking in the slow cooker. This chickpea and spinach stew makes use of curry spices, dried chickpeas (or canned if you prefer) and that packet of frozen spinach you always seem to have in your freezer.
It's also not all about savouries! Mulled Wine is one of the best ways to keep warm during winter and did you know the best way to make mulled wine is in the slow cooker as it gently heats the wine keeping the alcohol content while steeping it in the aromatic spices?
So tell me Dear Reader, do you use your slow cooker more in winter? Which recipe would you pick to make first?