I'm absolutely certain there is a fable or at least a joke in the fact that my go-to person for great Chinese restaurant is in fact my Greek friend Nick. You see Nick is in corporate sales and he has to take people out for lunch a lot. And as some of his clients are Chinese, it is in his best interests to keep abreast of the Chinese restaurant scene.
A few weeks ago Nick had dined at Ming Chef with one of his clients and spoke of a pork dish topped with sugar and roasted. It had to be ordered 2-3 days in advance and didn't appear on the menu. His client who was a regular at Ming Chef had ordered it. Besotted by the dish he showed us a photo of it proud as a new dad. "Look at this!" he exclaimed. We were hooked and made a date the following week for a mid week meal.
At Ming Chef there are fish tanks and hand written posters all in Chinese and a few photos of the most popular dishes. Ming Chef is named after Mr Ming, the Hong Kong born chef and the menu features many Cantonese specials like congee, cream spaghetti (it's a thing in HK!) as well as pan Asian items like laksa. Nick springs into action and calls his client and gets him to order his favourites over the phone that he passes to the staff. He has the waitresses tittering in the background at his antics.
Meanwhile we explore the page long drinks menu. I order a Hot Horlicks, a total flash back to my Hong Kong born grandmother's drink of choice before going to sleep. Out of curiosity Belinda orders a hot Coke with lemon while Mr NQN orders a melon milkshake. All of these things totally make sense in Asia, I promise although Belinda is less taken by the hot Coke.
Mud crab in salted duck yolk $69.80
The first item arrives and it is the mud crab with a salted duck egg yolk coating. The coating is rich and salty and the mud crab is tender and perfectly cooked inside. It's even possible to eat some of the thinner shell on the legs as that is coated with the delicious egg coating.
Crispy special pork $32.80
The next item to arrive is the crispy special pork. It's served lukewarm and each piece has just the right amount of sweetness to highlight the flavour of the pork. The pork is lightly crumbed and fried and we are told that it is an adaption suited to the Australian market where the pork is less fatty. It's well worth the 2-3 day pre order.
Roast pork $16.80
My family and I always have this argument. Everyone else in my family loves this roast pork but I don't. Whilst it's a nice version of it, I only have eyes for char siu.
Char siu $15.80
With a good mixture of fatty and lean pieces, the char siu comes out with a soy based sauce that we ladle over our ginger rice. Give me a serve of char siu and rice any day!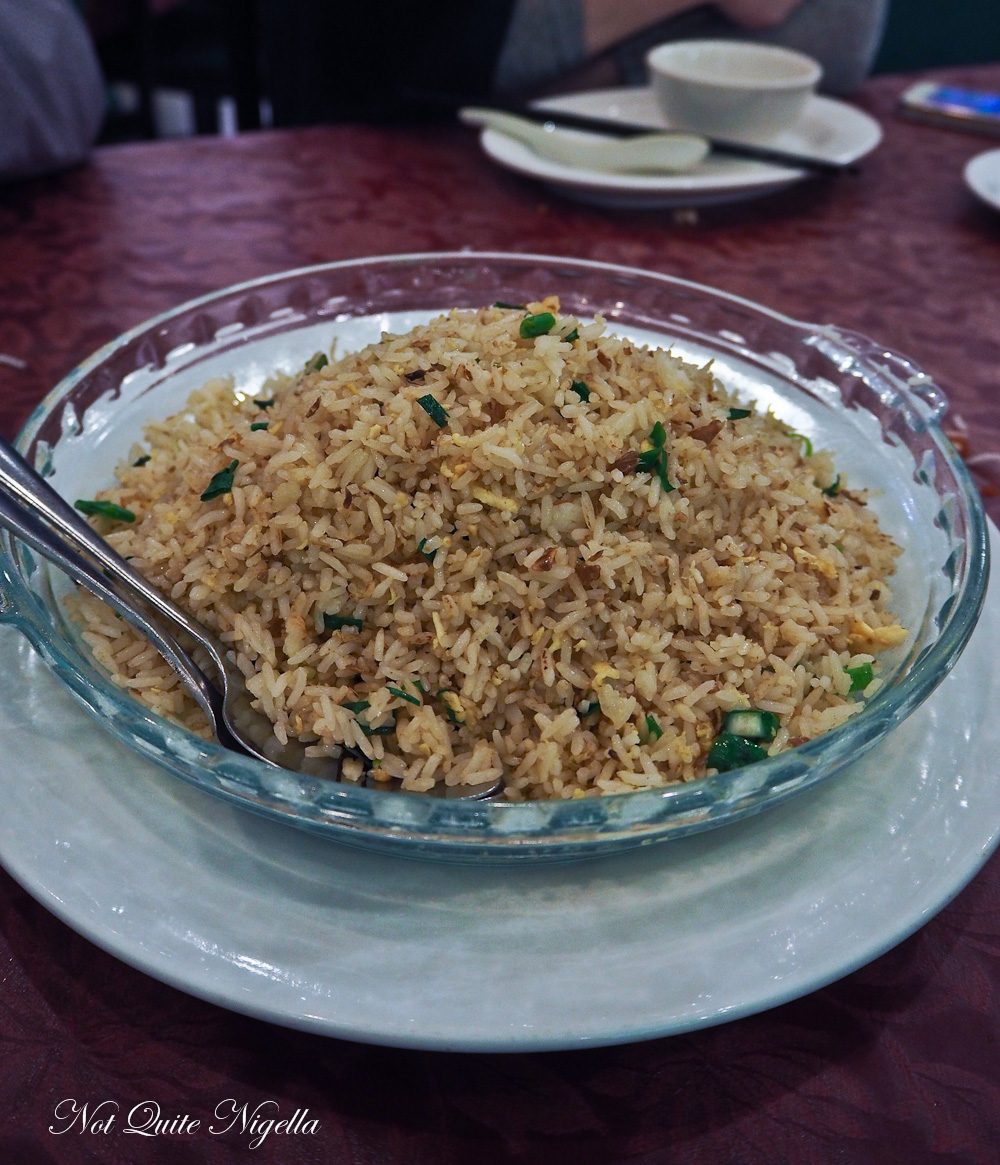 Ginger fried rice $15.80
We all enjoy this generous serve of ginger fried rice. It's not greasy at all and the ginger flavour really lifts it up and makes this the perfect accompaniment to many of the rich dishes that we have.
Chinese donuts and prawn meat
Nick had made quite an impression on chef Ming, offering to take him out for Greek food on his night off. So Chef Ming made Nick up a special dish. It ends up being one of our favourites of the night. It is made up of Chinese donut sticks sliced up and topped with prawn paste with snow peas, carrots and champignons. The texture of the deep fried bread and the flavoursome prawn paste is a great combination and we fish piece after piece from the plate.
Chinese broccoli $13.80
Although they're perfectly cooked, I prefer more leaves to the Chinese broccoli than stem.
Steamed tofu $23.80
The steamed tofu is topped with small pockets of prawn meat. It comes with a savoury sauce to ladle over the tofu and baby bok choy. It's a good dish although quite mild tasting and as it follows some of the more flavoursome dishes it gets left behind a little. As we leave the waitresses start giggling-I'm not sure they knew what to make of our strange little group!
So tell me Dear Reader, are you a regular at any restaurant? Have you ever become friends with a chef? And what is your favourite bbq meat?
This meal was independently paid for.
Ming Chef
74 Railway Pde Kogarah, NSW 2217
Tel: +61 (02) 9588 7999
Open 7 days 10:00am-10:00pm