Nestled in a small side street of the Rocks is a small Japanese restaurant which is so popular that if you come between 12.30-2pm without a booking, you will most likely be turned away. I can see why its popular, its a gorgeous, private setting where you can sit either indoors or outdoors and populated with suits, mums and tourists alike.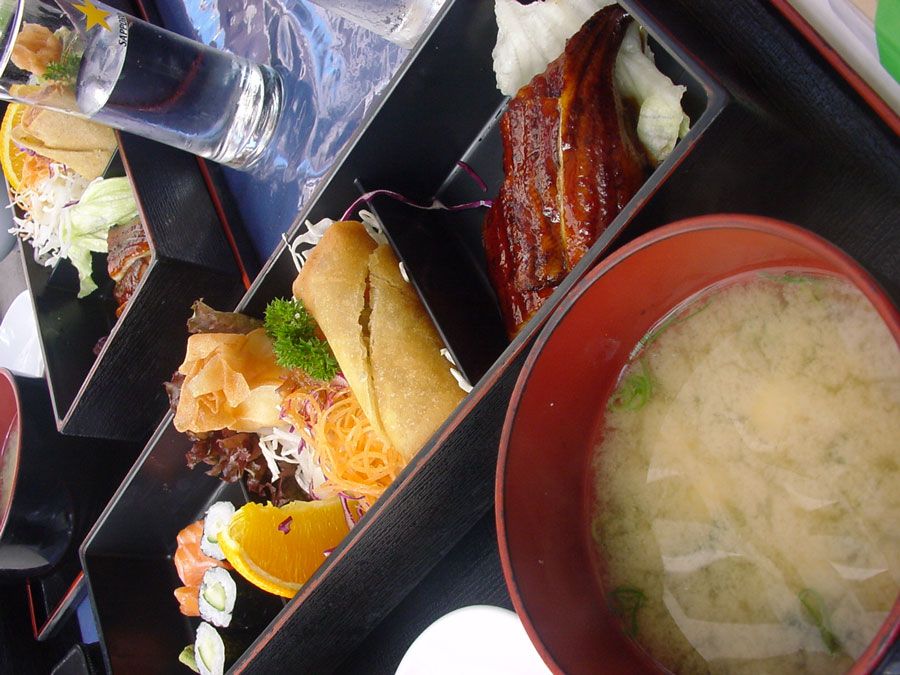 As I'm meeting friends, one of whom only has an hour until she needs to be back in the office, we take to the task of ordering quickly. We choose from the Lunch box specials menu (there is also an a la carte regular menu) as the lacquered boxes that adorn other tables look delicious.
We order some Eel lunch boxes (Grilled eel) and the Super Combi (grilled salmon, tempura, calamari ring, boiled egg, sushi). Both lunch boxes come with sashimi, hosomaki salad, harumaki rice, prawn parcel, spring roll and miso soup. There are contented murmurs and everyone is happy with their lacquered boxes full of colourful goodies. The salmon sashimi is square in shape and deliciosuly moreish, the sushi is a little heavy handed on the wasabi but I am not a big Wasabi fan at all so this should probably please most other people who slather it on.
The grilled salmon has a lovely crisp skin which is perfect with the harumaki rice and the tempura is an interesting range of vegetables (green capsicum, zucchini, sweet potato, green bean and eggplant) with a King Prawn thrown in for good measure. The King Prawn and capsicum are my favourites. The salad is a little light on the dressing for me, as I don't really like a lot of raw undressed cabbage but I am nicely full from everything else that I don't give it another thought. Its not an overwhelming amount of food but just right for a lunch that doesn't leave one feeling that they need a lie down.
The regular a la carte menu offers items such as Gyoza (pork or vegetable) 5 pieces for $7.40, 9 pieces of Tempura (combination of prawns and vegetables) for $13.50, Sashimi 15 pieces $14.90, Sushi 14 pieces $14.90, Nabeyaki Udon (noodle hot pot with vegetables, seafood chicken and prawn tempura) for $13.50.
And if you eat between 6pm and 7.30pm your first drink is free (Sake, Soft drink or House wine)!
Nakashima Japanese Restaurant
7 Cambridge St The Rocks NSW 2000
Tel: +61 (02) 9241 1364
Monday to Friday Noon - 2.30pm, 6 - 9.30pm
Licensed and BYO
10% of all takeaway orders over $10 except for lunch boxes