A previous unblogged, unphotographed visit to Samurai several months ago left us so impressed and hungering for more that we needed a return visit. So one Saturday night we went with some restaurant loving friends Gina, Hot-dog, Teena and PeterParker. Arriving at 7pm we're given a little pre dinner snack of simmered daikon radish and carrot. Its tasty and still a little crunchy.
We look around and admire the Japanese parasols and kimono adorning this small, neat space (there's also an outdoor area in the back). On our previous visit, as there was such a large table of us, we just gave them a cost per head of $30 and let them bring out what they wanted. Tonight, we're venturing into their a la carte menu picking off some of our favourites from the previous visit. Hot-Dog and my husband prefer not to share and order their own, whilst the rest of us do the caring and sharing thing (well ok just the sharing thing).
We order Okonomyaki (their specialty and something I adored last time) in both vegetarian and seafood versions, Salmon Tataki (also a firm favourite), Kakuni (beef on spinach), assorted sushi rolls, Korokke and spying the two blackboard dessert specials, Wasabi ice cream and Sake pear with green tea ice cream and red beans. Hot-Dog orders Beef wrapped in asparagus and salmon sashimi and my husband orders a prawn roll and seafood ramen and they both order a California roll to share.
Seafood Okonomiyaki $11.50
Vegetarian Okonomiyaki $8
A short time later our dishes start to arrive. Our Okonomiyaki is first and its a round mayo and tangy Okonomiyaki sauce lattice patterned delight. Cutting it into quarters I try the vegetarian one first. The texture is soft and crispy with hidden vegetables and the taste tangy and creamy all at once. The seafood one has the added taste dimension of prawns and octopus and out of the two, I prefer this one although the vegetarian one is by no means one to be sneered at. I can see why they are so well known for this.
Korokke - $7 for 5 pieces
Our long boat of potato korokke is next, 5 round crispy panko crumbed balls. The potato inside is soft and deliciously sweet, much like the slighty sweet Japanese potato salad. Piping hot and freshly cooked, they're devoured as quickly as one can devour freshly deep fried food-that is with a lot of puffing with rounded lips trying to cool the food while in the mouth.
Salmon Tataki-$17
My favourite dish, the salmon tataki is next and its as delicious as I remember it to be. A row of rectangular shaped salmon sashimi sits seared on the outside atop a bed of onions and covered in Samurai's unique mayo miso sauce (mental not to self, make this myself!) and scattered atop are deep fried noodle shards. The sauce on this dish cannot be beaten, if I would ever lick a plate, its with this dish. The salmon is soft and the noodles crispy and the sauce liberally doused on it so that its flavour upon soft crispiness. Lovely!
Assorted sushi $18
Our assorted sushi is next, I try the eel sushi and the raw salmon sushi. Its good and thankfully they've left the wasabi on the side. It's a nice selection covering the best inaris.
Kakuni- scotch fillet braised in ginger and soy sauce $17
Last of our mains to arrive is the Kakuni and its gloriously soft and simmered and deeply flavoured with ginger and soy. The stewed scotch fillet literally melts in the mouth and is perfectly accompanied by the wilted spinach. A small but tender and flavoursome dish.
Asparagus wrapped in beef with wasabi and mayo sauce $17
Hot Dog's selection of the beef wrapped in asparagus was not as well received. Its not something that I personally enjoyed last time and he ends up handing out spears of beef wrapped asparagus and regretting that he didn't order the Kakuni.
Seafood ramen $12.50
I do get to try some of my husband's Seafood ramen and the noodles although very good and quite firm, are not in the same league as Ryo's simply because they aren't a ramen specialist (although I prefer Samurai's noodles to Kenta and Rahmen Genki). However the smaller bowl is deceptively packed with noodles, there seem to be almost as much as in Ryo's larger bowl. The soup is another thing, its fabulous. The sweet seafood and sesame scent heady and intoxicating. I find myself reaching over for more and more of this.
Wasabi ice cream (on the right) with vanilla ice cream $5
After a short respite, our desserts arrive. The Wasabi ice cream comes in the palest green hue with a small scattering of black sesame seeds on top and is paired with a scoop of vanilla ice cream. If you're wondering why a wasabi fearing person like me would order this, I have no answer for that aside from morbid curiosity. After a first taste I am glad I ordered it. There's a light wasabi tingle as an aftertaste, much like good chili chocolate, but the proportion of wasabi in it is just right. Nothing nose clearing about this creamy confection.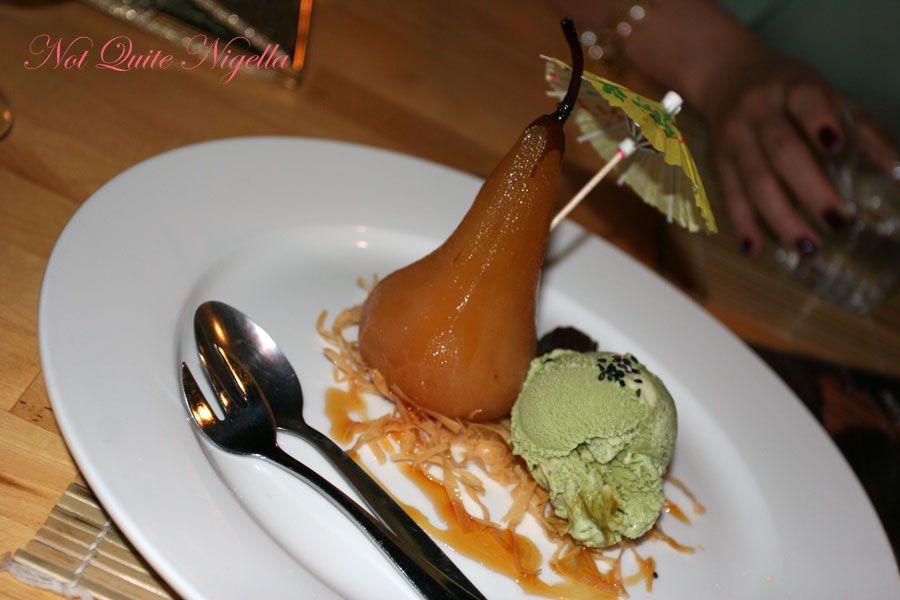 Sake pear with green tea ice cream and red beans $7.50
The Sake pear arrives looking gorgeous with a paper umbrella and manages despite this to look adorable rather than tacky resembling a lady sitting under a parasol at the beach. Teena reports that the sake pear was not particularly sake-ish, tasting more like an unspiked sweet simmered pear.
California roll $8 for 8 pieces
Spoons down, we're again enamoured of this little Japanese cafe and their food combined with Adriano Zumbo down the road makes me want to move from my lower north shore enclave to this inner west paradise tout suite!
Prawn rolls-$8 for 8 pieces
Samurai Japanese Cafe
493a Darling St
Balmain NSW 2041
Phone (02) 9810 1426
Open for dinner Tuesday to Sunday from 6pm
Salmon Sashimi $9