I know the Darling Park Building very well. No, I don't work there. How do I know it so well? Gina, Teena and I went on a walking tour of it this rainy Spring evening looking for Sepia in which we managed to cover every square inch of this place until we finally found the restaurant, on the outside corner Southern end of the building. A group of customers are leaving and a staff member is holding open the door. She sees us and gives a welcome smile and greeting and then so does the maitre'd. "Ahhh you're Y's friend?" he asks and I confirm indeed I am. Y is Lemonpi of course and she is the Pastry Chef here. I'd been dying to try my friend's food and so fellow food loving friends and fab gal pals Gina anad Teena were joining me tonight.
The room is dark, yes bloggers the lighting is "romantic" and there are many couples here and groups of friends. We start with a complimentary glass of Stefano Lubiana bubbles which sets us girlies all in the mood.
The Amuse Bouche is a richly flavoured squab consomme heady in white pepper and star anise.
_Yellow Fin Tuna Tartare, Avocado Cream, Soy and Wasabi Jelly $26
_
The yellow fin tuna tartare was a dish we had been tossing up to get or not so we're over the moon delighted when they bring us a complimentary serve of it which is in a fetching glass which we all covet. The raw yellow fin tuna is cut into small cubes and sits atop a layer of avocado cream and a briney jelly which accentuates the sea. It's an instant hit with everyone at the table with all of us contentedly murmuring our assent.
_
BBQ Silver Lake Eel, Sushi Rice, Confit Leek and Licorice Powder $23_
As soon as it's set down I immediately smell licorice. It's not a flavour I'm usually in love with but with the moist baton of eel wrapped in nori and the licorice dusted sushi rice ball, it's delicious and somehow very appropriate. It is possibly the most sophisticated onigiri I'm likely to come across. Tonight is also the night of its debut in this style. Previous to that, it was a rectangle of sushi rice with a piece of eel on top.
The aroma of shellfish is strong in this which I adore. The mustard butter gives it a lift without overpowering the perfectly cooked seafood and the foam hides many lovely morsels of crab and buckwheat. Teena being of Italian descent with a father in the restaurant business finds the risotto a bit too al dente.
The confit coated cut of ocean trout is reminscent of Tetsuya's famous Petuna ocean trout which is not surprising as Martin Benn was the former Head Chef at Tetsuya's. We like all the components except for the mustard shortbread which is a bit grainy and feels a little out of place.
This was my choice - anything with sea urchin butter simply calls to me and this was not a disappointment. One thing I quickly learned was that Sepia do wonderful fish. They somehow manage to make all of their fish soft and luscious in texture so that it melts in the mouth whilst being fully cooked. In fact I don't think I've often had fish done better than this. It's sublime and all elements work well together to produce one of those food moments when you say "Ahhhh yesss" in purring cat-like satisfaction.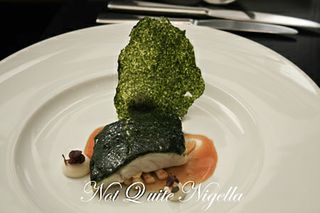 _Butter poached Fillet of Murray Cod, Baby Leek, Almond, Wakame, Shiso and Lily Buds
_
Another favourite dish was another complimentary dish, the Murray cod which has a lovely wakame coating on top and delicate baby leeks propping it up and an accent of nori seaweed on top. The almond is a sweet, distinct flavour and lends a lovely creaminess to the dish and the fish is beautifully moist.
Teena loves John Dory and this is very good, a firmer fleshed fish still cooked til it's very moist. I know I keep going on about how moist the fish is at Sepia but it is a thing of beauty and ideal for those who truly dislike overdone fish.
_Pan Roasted Aylesbury Duck Breast, Caramelised Fennel, Fennel Candy, Pickled Walnuts, Walnut and Orange Jus
$40_
Gina's roasted Aylesbury Duck breast is a very generous serving. The duck is succulent, perfectly seasoned and tender.
We also ordered two sides, the creamed corn which was recommended to us and a green salad. The creamed corn comes out in a little copper pot and we can see how gorgeously buttery it is. It smells heavenly and the rich cream enhances the intense corn flavour. But a warning, it could possibly ruin you for life with tinned creamed corn. The green salad is dressed with just the right amount of dressing and it's a delicious sweet vinegar and oil dressing.
It was only proper that we save room for dessert with the formidable Y at the helm of the pastry kitchen. Our pre dessert arrives in a little glass which is a refreshing wakeup to the tastebuds to prepare them for the sweetness to come. The lime and pineapple are both refreshing and tangy although we all eat around the powdery, crumbled biscuit which is again a similar biscuit from the Ocean trout dish.
Resembling a famous Weiss Mango bar it's like the haute couture version strutting down the Paris runway. With thinly sliced pineapple, foam and nasturtium flowers it reminds me of a colourful garden in full bloom. The ice cream is delicious and tastes eerily like a Weiss bar and the base is a gorgeous buttery and macadamiaey flavoured sable biscuit base which is grainy in texture and completely moreish.
This resembles one of those Japanese dolls we bought when on holiday to Japan when I was little. It's sitting on a long sponge cake with a scoop of buckwheat ice cream coated in strawberry gel with passionfruit custard. This is Gina's favourite and the buckwheat flavour of the ice cream is pronounced.
_Toasted Spice marshmallow, Coconut Sorbet, Crisp Chocolate, Sour Cherries and Blueberries $18
_
Y has kindly sent out two complimentary desserts. The first one is this beauty. One thing that I like are strongly flavoured foods particularly sweets. If something is supposed to be flavoured as something then it should taste like that, that way you know you're getting something close to the actual fruit or item. This is pure flavour with the toasted marshmallow meandering down the plate in a curved pattern, a scoop of creamy coconut cream sorbet a dehydrated chocolate crisp which nostalgically tastes of a space food stick and sweet, strong sour cherries and blueberries. Teena and I particularly liked this.
_Yoghurt Mousse, Mandarin Sorbet, Green Tea and Citrus Salad $18
_
The second gift from Y was this creation. If ever you want to impress someone with a dessert, place this dish in front of them. It's a thin sugar disk on top of two quennelles of mandarin sorbet and yogurt mousse and a citrus salad, on top of the delicate disk there a pile of green tea foam. And not much violence is needed to pierce through it as Gina found out.
We're given some petit fours and they come out in some cute little glasses. There are tiny black olive and dark chocolate macarons (so adorable) which are perfectly light and yes you do taste the black olive which is chopped finely and sprinkled on top but it doesn't seem out of place in a macaron and as Teena notes "with nice feet". There are also strong coffee truffles which are great for a late night caffeine kick as well as the favourite chocolate the mint creme chocolates which give a lovely end to the meal
Y is about to leave so I pay her a visit in the kitchen. She's camera shy so she begs off having her photo taken. We chat for a while and later I learn that one of the chefs Mitch Orr is on Twitter @krillinontherun. He was the recipient of this year's Josephine Pignolet Young Chef of the Year award. Now that they've gotten their first hat, Y tells me that they're working on their second hat. I can't imagine it will be long.
So tell me Dear Reader, do you get lost easily? Or am I the only directionally challenged one out there?
Sepia Restaurant and Wine Bar
Darling Park
Level Ground, 201 Sussex Street
Sydney NSW 2000
Phone (02) 9283 1990