Wockbar is a noodle chain that "gave birth" in Manly and spread out into the North Shore from there. Alongside a flyer announcing newer locations in Dee Why and one in nearby Neutral Bay, we also received a buy 2 mains get third free coupon with our mailer. I'm a freebie slut so I need no more persuasion.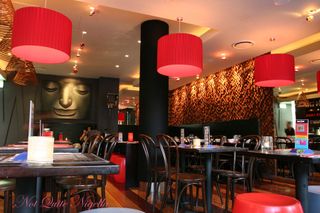 Its 7pm on a Saturday night and its not particularly crowded with two other tables having finished their meals but as we sit down and peruse the menu the restaurant fills, mostly with older clientele. Where are the younguns? They're taking the food away from the take away section to the left of the restaurant and it seems like they are doing so in droves.
I confess now that I knew what to order through examining the menu studiously prior to the visit. There aren't many seafood or duck dishes with most being chicken or beef. In fact there's only one seafood dish, a Prawn Pad Thai which we order and only one duck dish being the Roast Duck Curry which I also order. My husband's favourite Thai dish is the Thai Beef Salad so this is also selected. A lot of food we know but this was to take advantage of the offer you see. Unusually for an asian eatery, there is a dessert selection.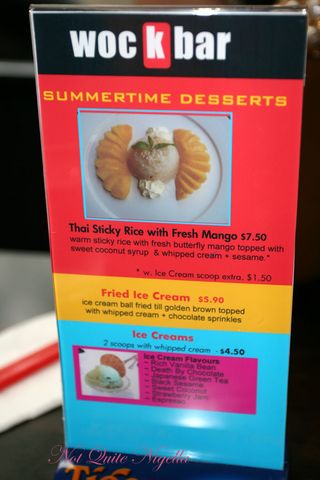 We seem to have beaten the rush and our orders arrive 5- 10 minutes later. They're fabulous looking curled leaf shaped bowls and I want to appropriate some for myself immediately such is my impressed response when seeing our plates coming towards us.
After the obligatory photo taking we dig in as we're hungry. The Prawn pad Thai ($15.90) houses 5 king prawns and at first taste, is fairly bland. Its crying out for a squeeze of the lemon wedge which we wring until virtually dry which improves the flavour immensely but it still feels like there is something missing in the flavour. Its not bad but its nothing to write home about and not something we would order again.
We try the Thai Beef salad ($13.90) next, its tangy and the beef is very tender. The generous serve of fresh coriander on top does much to enhance the flavour but alas it looks like its sitting atop a large mound of crunchy snow white bean sprouts which gives it the appearance of being more plentiful than it is. I do like the softness of the beef although my husband prefers the searing freshness of Spice Market's Thai Beef salad (which I thought had beef that was a bit too tough for my liking).
The last to be tried is the Roast Duck curry ($16.50). It just happens to have two of my favourite ingredients in it, roast duck and broccoli (yes I am a certifiable broccoli freak) so I am in pretty much hog heaven. The roast duck is juicy and tender and the broccoli and vegetables are rich in the curry sauce although if I am to be picky, a little soft in texture. Still, the curry is delicious and I savour every morsel of the roast duck. There isn't quite as much duck as in Spice Markets Duck salad but who am I to be picky when I am enjoying the dish this much. Its the unanimous favourite of the night.
All in all, its a lovely looking setting and the food is tasty in a good for takeaway standard but for a night out, most Sydney siders are spoilt for choice with Thai cuisine and could find a lot more flavour and complexity at other Thai places.
Wockbar
2/8 Waters Lane Neutral bay (opposite the older "pick up joint" Woolworths)
Ph: +61 (02) 99090388
Open: 7 days a week Noon-10pm
Also locations in Dee Why and Manly