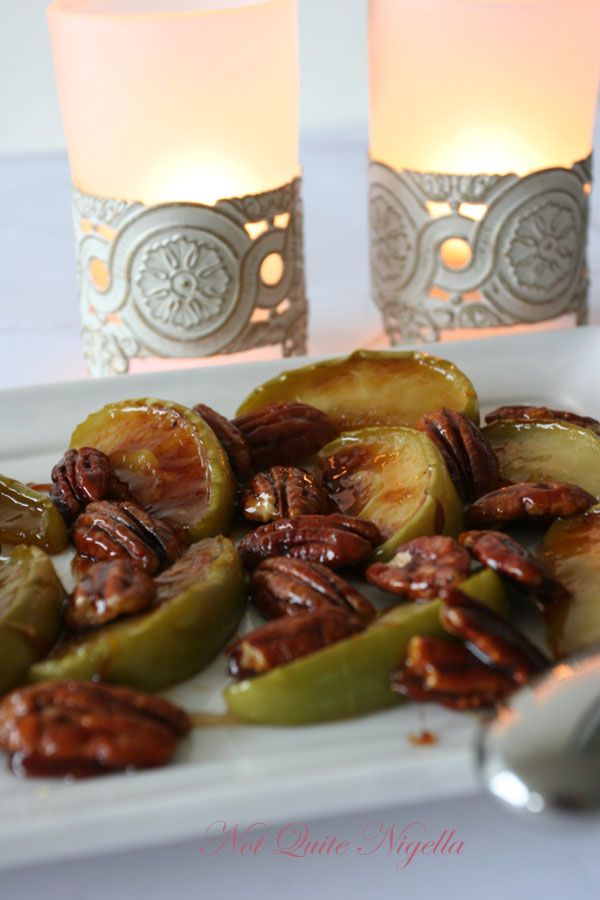 I'm sure Nigella would forgive me for changing her recipe. I'm 200% sure that she is a recipe fiddler (and who isn't really when you've run out of ingredients?) and fiddling is good for you unless you are say.... an accountant fiddling with the numbers.
I did three substitutions: 1. I replaced the pears with a Granny Smith apple as there were no Beurre Bosc pears to be had and 2. I substituted the Marsala for Brandy and 3. I substituted the walnuts for pecans as I like pecans better and had run out of walnuts. And let me say that the smell of this cooking is wonderful, truly.
DID YOU MAKE THIS RECIPE? Share your creations by tagging @notquitenigella on Instagram with the hashtag #notquitenigella
Brandy Honey Apples with Gorgonzola and Pecans
2 x 15ml tablespoons olive oil (not extra virgin)
2 pears (approx 500g total weight), unpeeled and uncored
3 x 15ml tablespoons Marsala
2 x15ml tablespoons honey
500g ripe gorgonzola in perfect condition (it should never have seen the inside of your fridge). OK mine did, shoot me. Sometimes Nigella can be unrealistic
Step 1 - Let the oil heat in a large frying pan, while you cut the pears into eighths i.e. quarter them and halve each quarter
Step 2 - Fry the pears for 3 minutes on each side, and, while they are frying, whisk the Marsala and honey together in a cup.
Step 3 - When the pears have had their time, throw in the Marsala-honey mixture and let it bubble up vociferously around the pears, them transfer them, all bronzed and syrupy, to a plate.
Step 4 - Add the walnut halves to the dark juices left in the pan and story fry them for about a minutes until they are themselves darkened in part and sticky all over. Remove them to the plate with the pears and add  Gorgonzola.
Recipe by Nigella Lawson from Nigella Express