Make no mistake about this, this is a meat lover's paradise. If the name doesn't indicate that its for meatlovers, the concept will: an all you can eat buffet of meat (and salads). Ever since my favourite Korean BBQ restaurant closed down years ago, I've been in mourning. I haven't been to a single Korean BBQ buffet restaurant. Mostly because when I mention it to some friends, they inevitably grumble at the idea of cooking at the table-why go to a restaurant if you have to cook the food they say? I say that they've missed the point of Korean BBQ. I know that my most adventuresome food adventurer friends Queen Viv and Miss America won't mind though and reading about a Korean BBQ buffet place in Parramatta immediately brought back memories of the place in Little Hay St Chinatown. Parramatta was far for us, nearly an hour away but what's distance in the name of good food.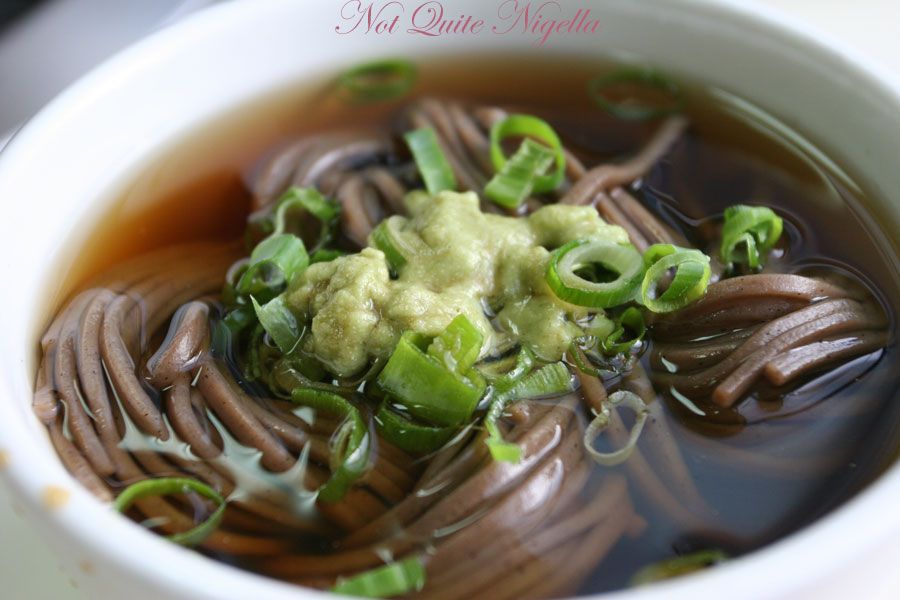 Soba
Its fairly empty when we arrive at 7pm on a Saturday night with three other couples and a large family table. All the better to get our food. The cooking stations are Gas powered, not the old coals that when they brought them to your table, you'd sit so still in case they drop a lava-hot coal lump into your lap.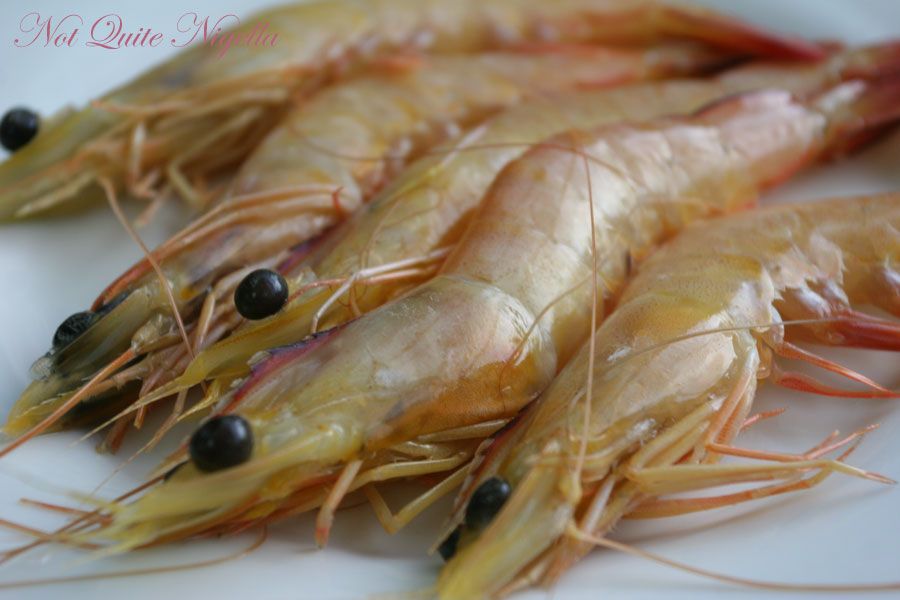 The selection is set against the back wall and features about 10 kinds of meat with several types of bulgogi marinated, ribs, lamb, tandoori chicken, chicken wings, giblets; 2-3 types of seafood (banana prawns, mussels and octopus), sushi, fried dumplings, honey soy wings, soba, jap chae, salads, rice, three kinds of soups, desserts and coffee. What is out there is in fairly small portions, I assume to deter people from overeating so whilst other places heave a vast amount of food out at one go, the trays are filled with only 5 prawns at a time which gives it a slightly forlorn look, unlike most buffets which beckon bountifully.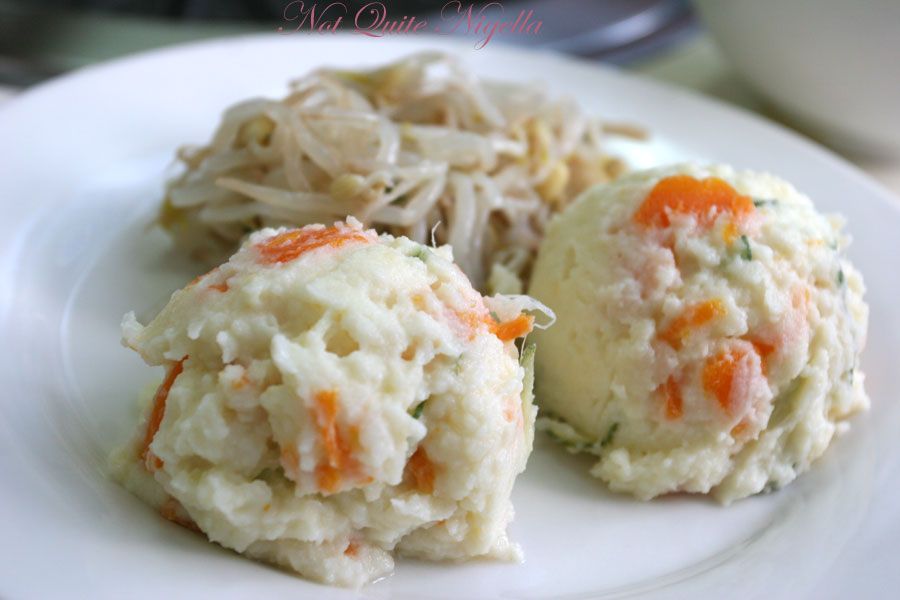 Bean sprout and potato salads
We go to retrieve our chosen dishes and dig into the salads and pre cooked food while our meat is frying. I'm the designated cook of the night and I am happy to tend to the grill. The Bean Sprout salad is ok, not quite as sesame-y as I like it. If its good, I could eat a whole bowl of this, if its not, I could take it or leave it. We don't bother for seconds of this. The potato salad is good, sweet and just like your typical Korean/Japanese potato salad, with a slightly mashed potato consistency combined with soft potato chunks. I have plenty of this.
Spring Onion salad
The surprisingly good salad is the spring onion salad which is rich with sesame oil and chili and the light tang of spring onion. Its the table's favourite and I'm almost embarrassed to say that we cleared many a tray of this.
Sushi and honey soy wings
The sushi was adequate although at a buffet, the sushi is never particularly good. The honey soy wings were sweet and great finger food although we never bothered going back for second with the sizzling meat in front of us.
Jap chae
The Jap Chae, usually so flavoursome with strips of marinated beef and rich with sesame oil was a disappointment, with no meat to give it flavour and very light on the sesame.
Kimchi and Seafood pancake
I don't partake of kimchi but the seafood pancake was lovely and crispy on the outside and soft and squidgy inside.
Tandoori chicken
With the grill only taking minutes to fire up, the Tandoori chicken was tasty and flavoursome with just a hint of tandoori paste. It wasn't marinated in the traditional tandoori paste and yogurt combination but the paste alone gave it a good amount of flavour and heat.
Beef Bulgogi
The marinated beef Bulgogi was tender and delicious and we were grateful when the strips of beef didn't not take too long to cook and they were hungrily devoured by waiting mouths.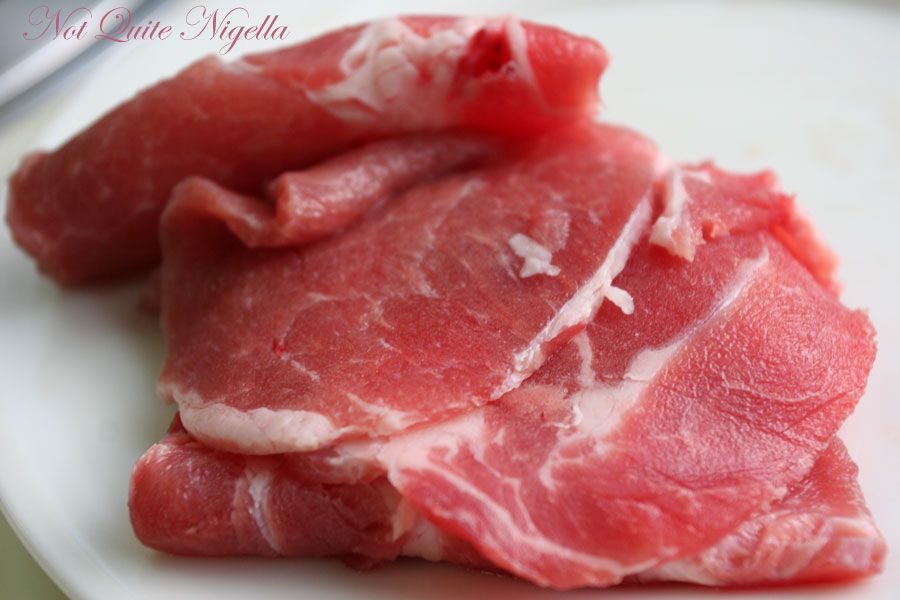 _ Thinly sliced pork_
The thinly sliced pork, whilst very quick to cook and very tender is a little plain after all of those juicy cuts of flavoursome marinated meat.
Ribs
These were my favourite, a short stocky rib attached to a crepe paper long stream of thinly sliced meat. The meat was incredibly tender and delicious with marinade, the rib itself less so but I insisted on fourth servings of this.
Chicken Bulgogi
We enjoyed the sauce but the thinner pieces lend themselves better to the grill and there was a little of the "Is it cooked?" or not with no-one willing to eat raw chicken.
Broccoli
Steamed broccoli and onions gave us a brief respite from the meaty meat fest on the grill
Sweet chili bulgogi
This was the universal favourite of the table, sweet, spicy and oh so good, the meat was fall apart soft and lovely.
My husband, probably the harshest critic of buffets as he never feels as if he has gotten his money's worth, was left contentedly patting his stomach.
Carne Station
100 George Street Parramatta, NSW (corner Smith Street)
Ph: +61 (02) 9633-5788
Fax: +61 (02) 9633-5112
Price: $29.50 per person on Saturday night (price varies according to day and time of visit)
Open: Lunch Fri-Sun and public holidays 12:00-15:00pm
Dinner Mon-Sun 17:00-22:00
Fully licensed, BYO (Wine Only)