I always have an eye or ear out for blogging opportunities. With an ear to the ground and a loyal readership that generously share their recommendations with me, I love seeking out new places that I haven't tried before. So this evening when we drive past Wilsons we see a cafe on the opposite side of the road which has a large crowd gathered around it. I get excited and say "Oooh let's check that place out!" to Queen Viv and Miss America, my intrepid dining pals and we head towards Cafe Cana. Getting closer, we encounter some curious looks and it suddenly dawns on us that we've almost gatecrashed a dinner session feeding dinner to the homeless. Yes, embarrassing but true.
Sheepishly, we head off to Wilson's, a Lebanese restaurant which opened over 30 years ago and is said to be Sydney's oldest Lebanese restaurant. And why the rather un-Lebanese sounding name of Wilson's? Apparently "Wilson" was the anglicised version of the original Lebanese chef's name.
The sign is cracked and repaired but when we step in, it's all retro but charmingly so. With a parachute ceiling and what we can assume to be the original fixtures and decor, it's like a step back in time. Queen Viv recalls seeing older Lebanese men sitting outside on crates on a hot Summer's night although this cold, wet rainy Winter's night there are none.
There are two other tables but things are quiet here. We order a range of dishes from the menu and they come out in quick succession. Meanwhile I warm myself with the cinnamon tea which is sweet and heady in cinnamon.
We start with the Mixed dips which is not a huge serve but has babaganoush, hommous, tabouli, two crispy felafel and a pile of soft bread. It's delicious and we learn the standout dish of the night, particularly when you mix the dips and tabouli and a bit of felafel and pile it on top of the bread.
The serve of kibbeh arrive. The oval shaped minced lamb kibbeh are a little dry and a bit muttony in flavour and probably not the table's favourite although they aren't too bad when you use eat them with the dips and tabouli.
Our bowl of foul m'damas (pronounced fool). Foul has a long history in Middle Eastern cuisine and a restaurant's Foul is said to be very important. With fava beans, chickpeas, tomato, lemon juice and plenty of parsley it's refreshing and healthy but filling. Because it is so filling, people are said to eat this for breakfast in preparation for fasting for Ramadan.
The Bamieh or okra stew is the vegetarian version without meat and the tomato based sauce and the uniqely texured okra (what some would call slimy) isn't bad although it's not my favourite dish. The accompanying rice isn't particularly well cooked.
The eggplant casserole is flavoursome with the juicy cubes of eggplant in a similar onion and tomato sauce and it's just the ticket for this cold Winter's evening. Again the rice doesn't do the dish any favours.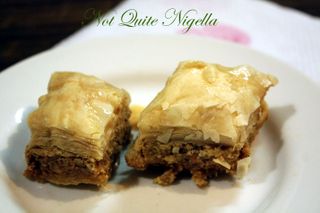 If you didn't know that I was a baklava addict, it's because I've kept it secret from you up until recently because of the sheer number of these sweet little morsels I can consume. Queen Viv and I order a piece of this each and I bite into a piece. It's fantastic-absolutely so. Beautifully nutty and with an almost browned butter taste we insist that Miss America try. We ask and the waitress confirms that it is made on the premises.
The Turkish delight is good but the baklava is a hard act to follow.
As we leave there is one large table being fed baklava and having what sounds to be a good time but apart from that it's empty. Perhaps they've migrated to the cluster of Lebanese restaurants on the Cleveland Street area. A shame as the baklava is so good, it deserves a visit for that alone.
So tell me Dear Readers, what's your favourite Lebanese dish? Are you addicted to Baklava like I am or is it the dips? Or perhaps something a bit more unusual?
Wilson's Lebanese Restaurant
91 Pitt Street, Redfern, NSW
Tel: +61 (02) 9319 6775