After our meal at A Taste of Egypt we had a wander down the main mall area of Bankstown. Most of the vibrantly coloured shops that I'd walked past a couple of hours earlier were closed while one remained open where we introduced S and In to the concept of a Bubble Milk tea. Having never tried it before they are intrigued by the concept. And of course being Bankstown it's incredibly cheap at $2.50 per cup. We try a Mango flavoured Bubble Milk tea, it's mildly Mangoey flavoured and S and In try sucking up their first bubble pearls slurping up 3 or 4 in one go.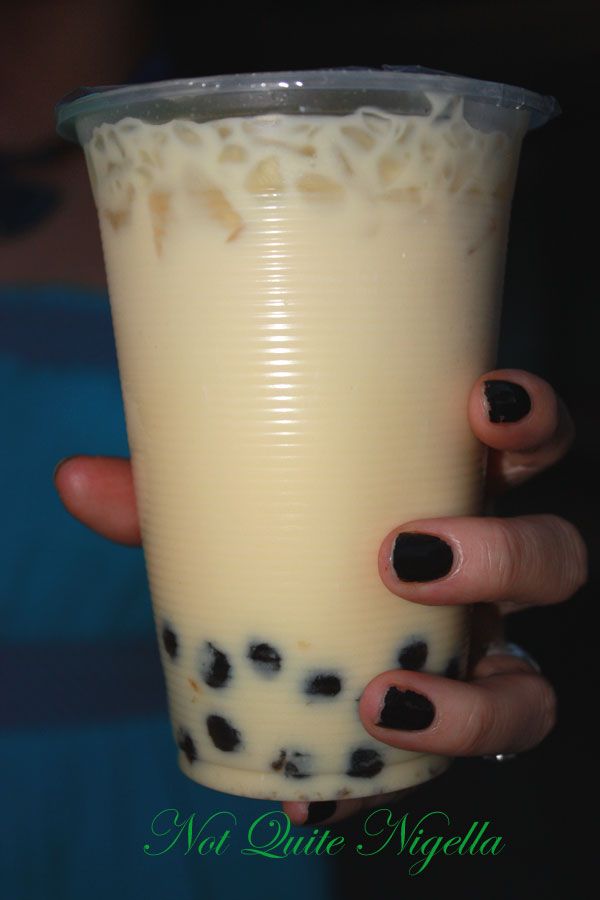 Mango Bubble Tea $2.50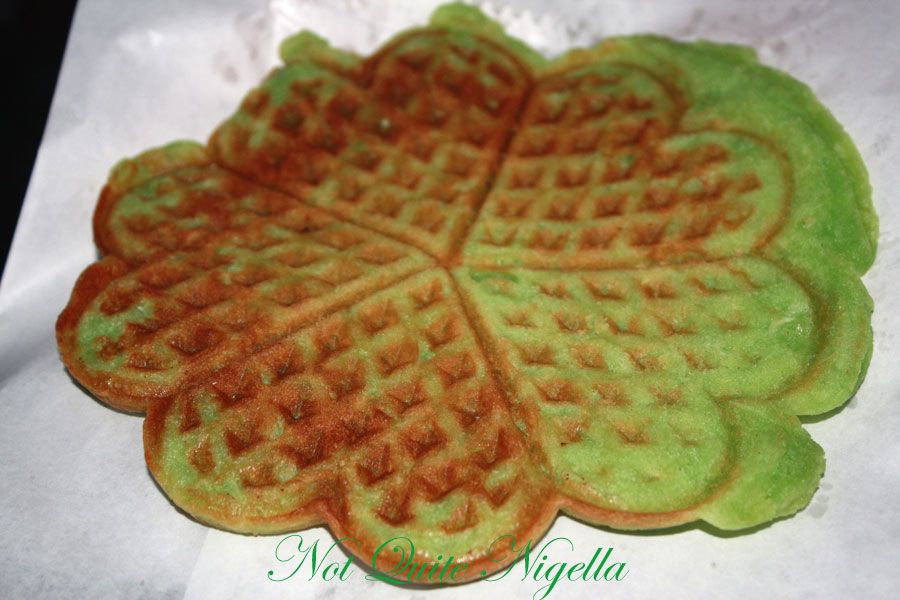 We also buy a Pandan waffle with small shards of coconut throughout for the princely sum of $1. It's not bad at all, moist with a mildish coconutty taste giving it a distinct taste from a regular waffle.
M spies a Lebanese Sweets shop and as these are some of her favourites kinds of sweets we go in. It's air conditioned to a cold fridge temperature inside and its glass display cabinets house all manner of sweet honeyed treats dusted with green ground pistachios and nuts. I choose a Baklava, not exactly adventurous but always my favourite. My husband declines a sweet as he prefers fruit to pastry and he's too busy with the Bubble Tea but we also get some deep fried cream filled syrup drenched rolls, a Eish El Boulboul (Bird's Nest) and a Burma Pistachio.
Baklava $1.30
I take a crunchy syrup soaked bite into the baklava and it's delicious, and despite the sweetness from the drenching in syrup it never appears _too _sweet. Even my husband likes this and tries to eat the rest of my piece (no luck!).
Bird's Nest $1.30 (front) and Burma Pistachio (bacK) $1.30
We try the Bird's nest, a nuttier, drier version of the Baklava which is delicious as is the Burma Pistachio with it's centre filling of fresh green pistachios. I've had both of these before many times and not been particularly excited but these are in a different league. The pastry is crisp, buttery and aromatic with the slightly caramelised syrup and fresh nuts.
Znoud el sit $1.30
The "spring rolls" as In calls them are of course not spring rolls but rather Znoud el sit, the deep fried filo wrapped creamy cheese filled rolls coated in syrup and sprinkled with a fine dusting of pistachios.
They're absolutely moreish and exactly the right amount of sweetness. Indeed S immediately requests two more for himself he is so enamoured.
We've most certainly had enough now and despite the fact that I want to buy a whole tray of goodies as I know the distance between here and home is so great, I resist. But I have to be pulled out of the shop...
Chehade El Bahsa & Sons Sweets
288 Chapel Road South
Bankstown NSW 2200
Tel: +61 (02) 9796 4818
Open 7 days: 8.30am-10pm, Friday and Saturdays open until 11pm
Huong Viet
43 Bankstown City Plaza
Bankstown NSW 2200
Tel: +61 (02) 9793 9181