Mr NQN deserves an Olympic sized medal for supporting me and the blog sometimes. He's always there, helping me make the blog better, giving me kooky suggestions and building fantastic programs to help me to quickly process and upload the endless photos that accompany a blog post. So when I invited to try out the new Pies and a Pint offer at Bungalow 8, I knew this would be a suitably manly reward for his efforts.
Men like pies and they like pints. And apparently garlic bread too when Mr NQN immediately asks for a serve of garlic bread. It comes out as four large triangles of toasted Turkish bread. I am pretty powerless to resist Turkish bread at any time so I take a piece. It's very buttery (read: soaked in butter-yum!) but light on the garlic.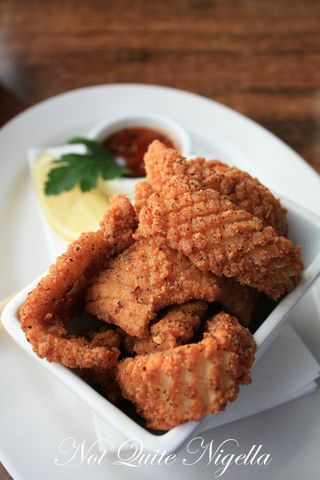 The salt and pepper calamari is very tender with a bit more pepper than salt but we balance this out at the table. It's served with a black sesame sweet chilli sauce.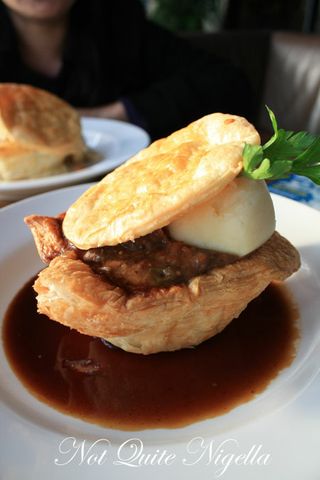 Beef pie _ $22.50 with beer_
The beef pie is rich and full of large, tender chunks of meat, mushroom and onion also with a dollop of mash. It sits in a pool of rich beef jus and I enjoy spearing the pieces of beef and dunking them in the jus. You could just hug it on a cold Winter's day. With the Pie & a Pint deal you can choose between a Fat Yak, Pure Blonde, VB or Carlton Draught. Mr NQN loves the Fat Yak beer which to me smells very fruity, like a grape juice.
The fish pie is my favourite as it comes with a rich, creamy white wine sauce and a generous portion of fish pieces, celery, carrot and spring onion and a large dollop of mash. I pair this with a Pure Blonde as Mr NQN likes the flavour of Fat Yak. The pastry isn't bad but could more buttery.
I look across and see a big smile spread across Mr NQN's face as he surveys the boats and drinks his Fat Yak. I know I owe him many more of these moments.
So tell me Dear Reader, how do you thank your spouse or significant other? With food? With gifts?
Bungalow 8
Number 8, The Promenade, King Street Wharf, NSW
Tel: +61 (02) 9299-4660