Now that I no longer work in the city centre itself, I savour each chance to visit the city during the day. And in December, there's an even better reason to visit, but more on that later. Today Darcie from Zing has asked Christie from Fig and Cherry and I to lunch at Pendolino, a very Melbourne-esque Italian Restaurant located on the 2nd floor of the Strand Arcade. Knowing that I can't eat a large lunch, I've skipped breakfast so that I am suitably hungry when I arrive.
In the front there is the cafe and wine bar section and further in is the darkly lit, and I do mean darkly lit, restaurant section with the strategically and occasionally placed spotlight making up for the firmly shut blinds.  All I can think of is how hard it will be to take photos in, but I'm sure everyone else is thinking how romantic it is for a dinner (however lunch with your colleagues might not be so romantic!). There are also fabulous lights and the space is warmly and chicly decorated.
We choose a range of dishes - there are entrees as well as pastas and risottos (that come in an entree and main size), meat mains and desserts as well as a fantastic sounding cheese platter with 4 different types of cheese. It's hard to choose and made even harder when the waiter comes by and lets us know of the specials so I leave myself to Christie's recommendations as this is her fourth visit here. Some dishes are accompanied by a particular type of olive oil, like a wine accompanies a dish. Olives and olive oil, we're to find out, are the theme here.
Speaking of the little buggers, there's a small plate of the tiniest olives - the Piccoline olives from Victoria which are an exercise in quality over quantity. They are small but they're absolutely delicious, probably one of the nicest olives I've had. The bread and olive oil are good too although we all get different types of bread (I get Olive and a white sourdough).
Which brings us to the Olive Oil tasting room, filled with huge dark amber glass containers of olive oil in all sorts of flavours which can all be sampled. We try some and the most interesting one for me is the Blood Orange which is deliciously true to flavour. It is also a private dining room and a fabulous place for a slightly more well lit meal and a chance to sit down and try the oils and vinegars.
Our entrees arrive, mine is the Duck livers with cherries and polenta. Have I mentioned how much I love polenta? Probably, and when it's accompanied by the duck liver (stronger than the duck liver I had at Drouant in Paris) and cherries, it's even better.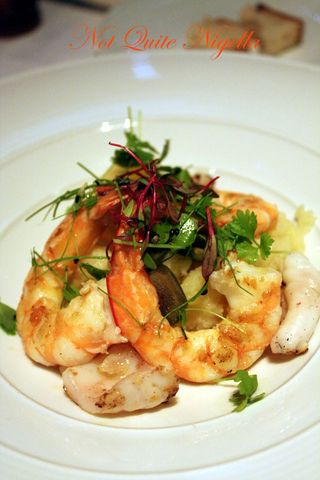 Christie's choice is the King prawns and calamari which she declares very tender and good.
Darcie's choice is the Proscuitto plate, artfully presented with olives, breadsticks and artichoke hearts that resemble sails in the wind. Her olives are good but I still favour the Piccoline olives.
After a break (food isn't hurried here), our mains arrive and mine is the pappardelle con ragu di vitella (home made Papardelle pasta with veal ragu). The pasta is silky smooth with only a few pieces sticking together. It's a huge serve, especially for an entree but it's very good, particularly with some reggiano and a grind of salt and pepper.
As for the little crumbed ball on the top? That's the marrow, delicate and deep fried. However my first ball was completely empty which prompted me to ask the waiter for a second one as Christie assured me that it was indeed supposed to have marrow inside. And if I have one gripe, it's this: I want a dozen of these balls on a plate pronto! It's deliciously crisp on the outside and unctuously soft on the inside. I cut it up into tiny pieces so that I can eat it with the pasta. My mind drifts off and I dream of being a royal princess and being able to sum up indulgent delicacies like this on a whim sigh. And yes, I did ask and a plate of these is not able to be ordered for a mere mortal, no matter how mournful a facial expression you may possess.
I try some of Christie's main, the special of the day: Lamb ragu filled agnolotti with broad beans. It's delicately good with a distinct tang of lemon zest in the sauce.
Darcie's three cheese ravioli with burnt butter sauce looks fantastic and she seems to enjoy this.
With the size of my main, I can't fit in a dessert, no matter how hard I try (and I did try hard).  There's a selection of Italian desserts such as semifreddo, affogato, crostata and a formaggi misti cheese plate with pecorino, testundi barolo, artavaggio and bontazola dolce latte. I silently say to the cheese plate "I will be back for you my friend".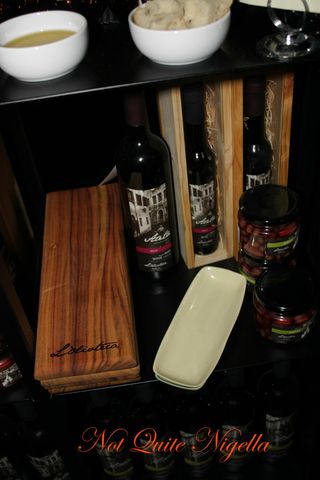 On our way out we have another peek at the Olive Oil room, full of glossy dark amber bottles and tempting olives.
And that brings me to my other reason for coming to the city in December, the adorable David Jones Christmas Windows! My favourite, of course, was the food related one.
Pendolino
Shop 100-102 Level 2 The Strand Arcade
412-414 George Street, Sydney NSW 2000
Tel: +61 (02) 9231 6117
Open: Lunch Monday-Friday noon-3pm; dinner Tuesday-Saturday 6-10pm.