Do you remember that show Cheers? The one where the jingle says "you want to go where everyone knows your name"? Like bars, people seem to love coffee places where people are friendly, they remember your name and they remember your order. Particularly at the delicate time of the day where you've shifted your warm body out from under a snug quilt and into the freezing cold of the world. And you haven't had your coffee....eek!
Fortunately, I have friends like Viggo who sent Mr NQN a photo of Workshop Espresso. He remarked that every time he went past it in the morning, there were 20 people in a queue outside. That afternoon I was meeting Freaky Flier and I suggested that we check out this place.
It's lunchtime on a week day and there is the customary crowd. On the George Street side of the Galeries Victoria you'll easily spot it by the crowd of people standing outside waiting for their cup of Joe. Defining hole in the wall, it's very small-you could squeeze in about 8-10 people if that although most are there for a takeaway coffee and a pre-wrapped sandwich. Whilst there is a kitchen churning out warming toasties, and they're good, the focus is really on the coffee.
Freaky Flier and I look around wondering whether there is space to sit before the friendly girl behind the counter notes our neck craning and offers to seat us. To the right are stools and bar seating with handy handbag hooks underneath. We take our seat and survey the blackboard in front of us. Corrugated iron and wood feature on the walls, an unexpected sight in the midst of the concrete jungle of the CBD. G.Q. magazine called it 'barn chic' but it's perhaps more dad's workshop chic with the vices that hold up signs and the accordion lighting fixtures.
Cappuccino $4
I'm really more of a tea drinker than a coffee one but it seemed foolhardy not to order a coffee when I was here. My cappuccino is fantastic, richly flavoured and complex. Today's single origin coffee was an Ethiopian Yirgacheffe.
Bacon and egg roll with chilli jam $6.50
I wasn't quite sure what to order so I looked at the blackboard menu and went for a bacon and egg roll. On soft, warmed and light Sonoma bread it came with a soft yolked egg and slices of bacon and sweet chilli jam. It wasn't bad and I liked that the bread was warm and soft although I think some butter on the bread would have made it better or perhaps another condiment apart from chilli jam.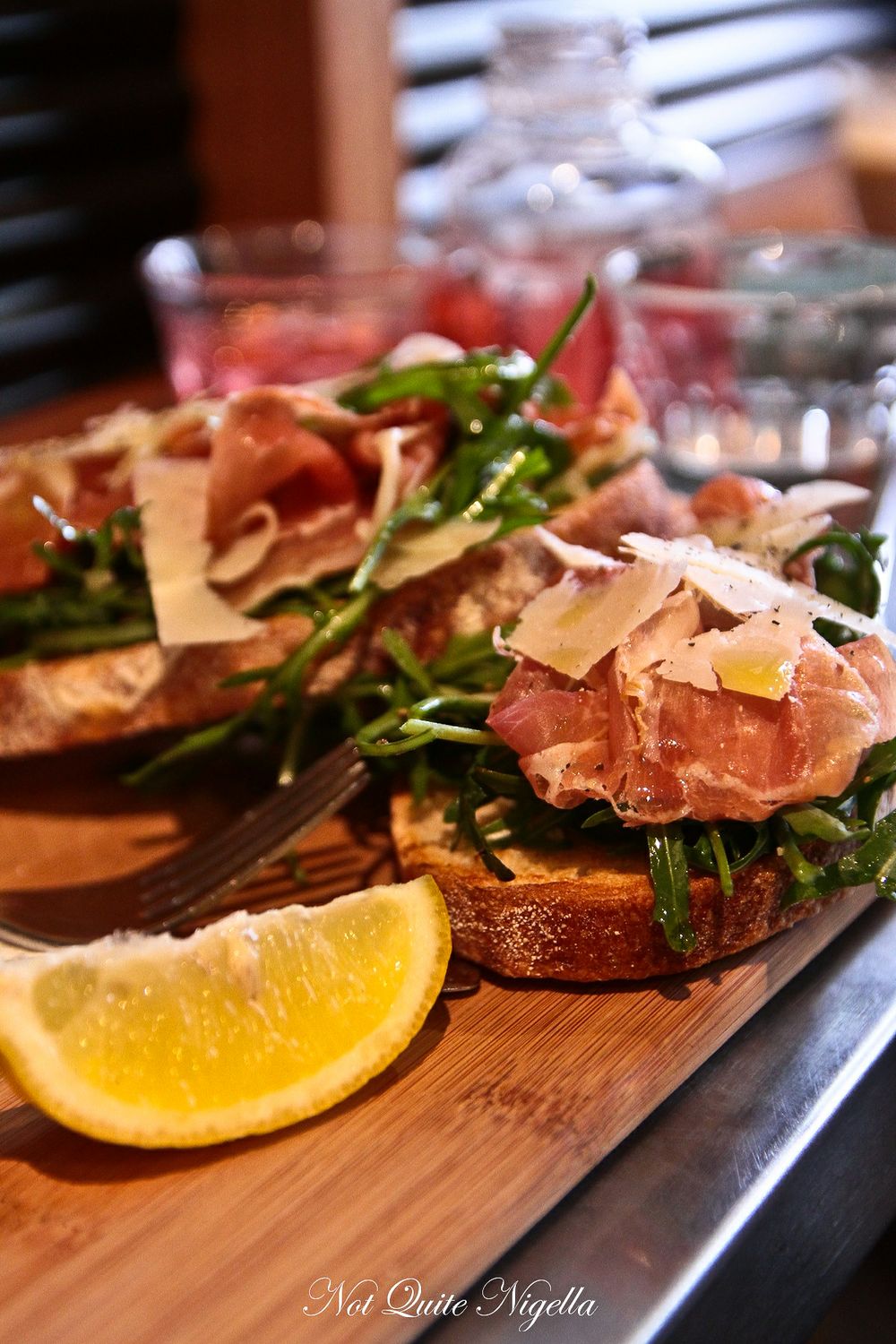 Jamon serrano bruschetta $12.90
I tried some of Freaky Flier's bruschetta which had some jamon serrano ham, shavings of reggiano and a very generous amount of peppery rocket.
Hazelnut pastry $2.90
I loved the look of the multiple layers on the pastry and so I chose a little sweet morsel to end the meal with. It was very flakey and a little dry and perhaps more suited to dipping in coffee than eating by itself. This version was filled with a chocolate hazelnut paste like Nutella.
A couple of days later as we were in the city on the weekend, I decided to stop by again with Mr NQN in tow. It was late afternoon but the crowd was still there although it was easier to get a seat inside.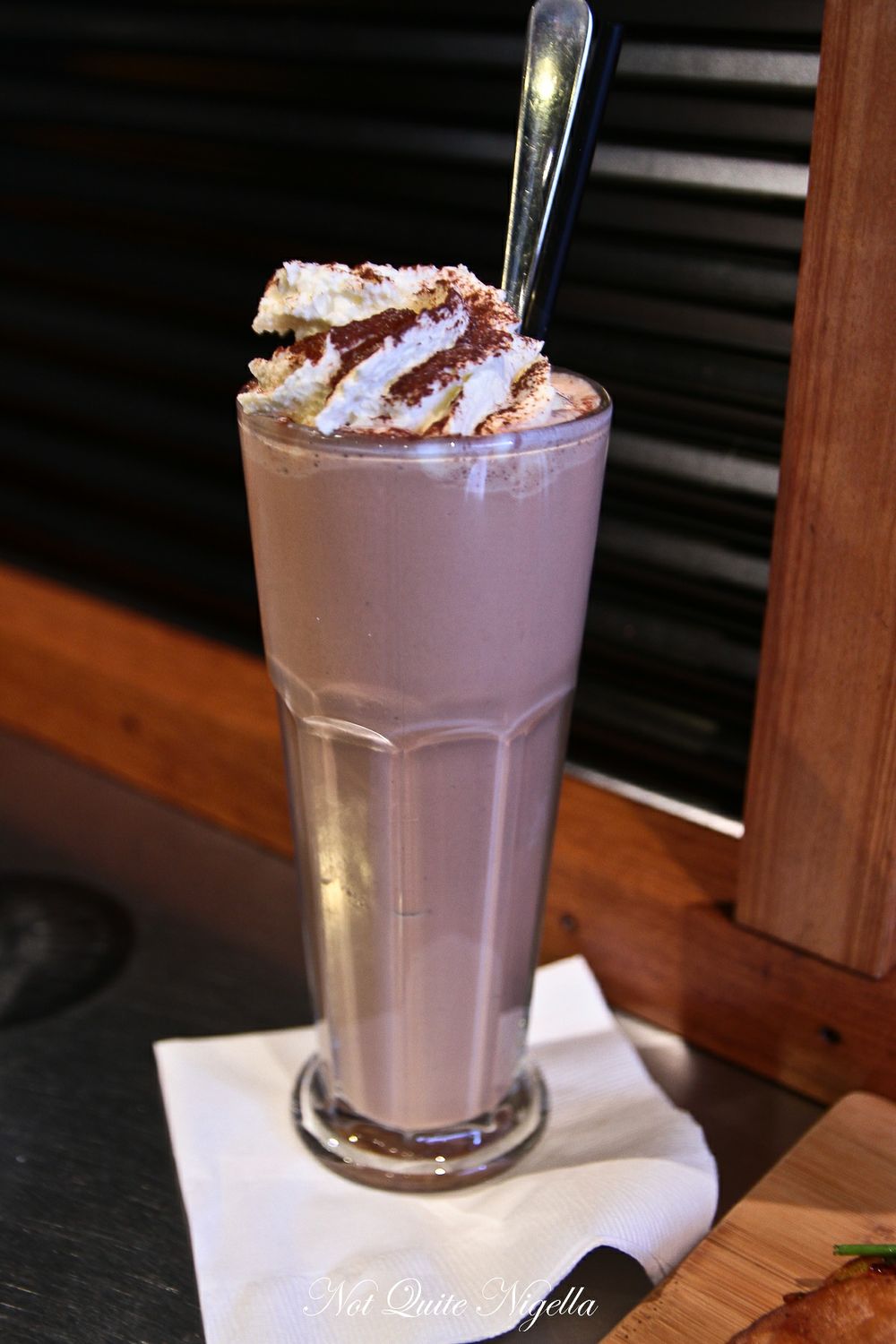 Iced chocolate $6
I was slightly fixated on the iced chocolate so I ordered one and it came out in an enormously tall glass, whipped cream optional but taken up. It was thick, frozen and chocolatey with a good level of sweetness to it.
Bocconcini sandwich (toasted) $6.50
This was one of the sandwiches in the front window display and I was curious to see what they were like. Here, they offer to toast it for you which is always a nice touch and it is filled with pesto, melted, oozy bocconcini and sun dried tomato.
Jam Donut $4
I'm glad I saved some stomach space for the jam donut, a gloriously large sugar dusted donut that they also warmed up. It is filled with  a generous amount of thick strawberry jam filling and gives you enough sugar and energy to power you to the moon and back. It's also worth breaking any kind of dietary resolve for ;)
So tell me Dear Reader, how many coffees do you drink a day and what kind do you order? Cappuccino, Long Black, Macchiato or another kind? And do you like it when places remember you or your orders or is that not a factor?

Workshop Espresso
Galleries Victoria, Ground Level, Shop RG01a, 500 George Street, Sydney NSW 2000
Monday to Saturday 6am-5pm (Saturdays 4:30pm)