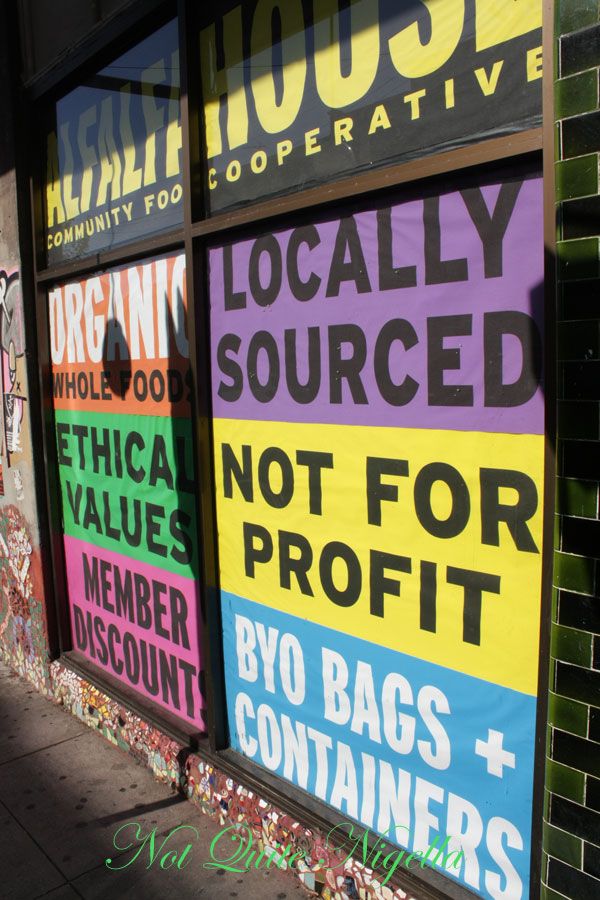 The Organic movement here in Australia started off strong last year with many Australians starting to buy or at least question where their food comes from and what was used in the harvesting or production of it. Supermarkets adopted small organic sections, mainly of fruit and vegetables and some meats and of course there was the requisite premium attached to these items. And just as Australians, and the world, seemed to become more interested in Organic items, then the economy bottomed out thanks to a series of most unfortunate events and we were left wondering how we could afford to eat organically in a cost effective manner.
Inside Alfalfa House
Variety of produce
One way I heard of was through Food Co-ops, several of which are found around Sydney. These are usually non profit operations that pool their resources in order to gain buying power and pass on the bulk savings onto customers. They usually entail serving yourself from large containers, bringing your own packaging and are staffed by a combination of full time paid workers and volunteers.
Teas and leaves
Various powders and grains
I've driven past Alfalfa House on Enmore Road many a time always meaning to stop but a friend reminded me about them and I knew it was time for an actual visit. Originally borne of a rent strike by one household in Erksineville, the household used the rent money to instead buy bulk non perishables which they sold at a small markup in the front room of their house. It then moved to the Erksineville Anglican Church and then in 1983 it moved to Alpha House in Newtown. It has grown and developed since then into the place it is today.
Italian Dried porcini mushrooms sold by 100g
Tiny, pink, pungent Italian garlic
Chocolate coated goodies including Goji berries
It stocks a surprising number of items in the store and customers are to bring their own packaging although they can avail themselves of the jars (however these are not sterilised so they aren't really to be used for food). There are all manner of exotic salts (Himalayan salts, Celtic Sea salt, Pink sea salt), dried porcini mushrooms, breads (including Sonoma bread), freshly ground nut butters (cashew and peanut), oils, cheeses, milk (including a Milk Bath), yogurt,  fruit, vegetables, rices, flours, laundry and dishwashing liquids-even Organic dried rose petals and exotic items such as Rapadura Evaporated Columbian Cane sugar.
The find of the day: Organic Vanilla Beans
The range is extensive and in some cases the prices are much more reasonable than a regular supermarket. In fact the best find I made was whole Organic Vanilla beans (from Mexico, some say these to be the best) for a tiny 62 each! I was initially wary, as Vanilla beans usually are $6 each, but when I unscrewed the jar, the heady perfume of vanilla enveloped the shop and caused two girls to sniff the air and enquire about that "amazingly sweet smell". I wanted to buy the whole jar but stopped myself at 10. You use the tongs or scoops to help yourself to the produce and there is a sink with soap and paper towels so you can wash your hands.
Range of breads
All countries of origin are shown on each label and wherever possible, preference is given to local suppliers. I become excited when I see the range of potatoes and I open up my brown paper bag and fill it with some golden hued Dutch Cream Potatoes ($3.50/kg) which are perfect for mash because of their buttery texture and are said to only need a bit of salt. The potatoes are so freshly dug out that they are still moist from the water in the ground. Another reason for buying them here which is like buying direct from the growers, is to avoid the cool storage processes.
There's a father and his son and we overhear him teaching his son all of the names of the salts and says that he likes his son to know where the food comes from. He's a long term shopper having shopped here ever since 1988.
Anika, one of the store coordinators explains that whilst there is a voluntary board of directors that meets to make all the financial decisions, she and the rest of the 14 day to day staff are mostly paid with some support from volunteers. It is all non profit and any profits that are made are given back to the community e.g. school events and food grants. She explains that many of the small farms that supply them with fruits and vegetables are too small to supply the huge supermarket chains but because there is no middle man the farmers receive a fairer price for their produce.
She shows me the start of their Permaculture garden in the back where they grow their own fragrant herbs.
Fruit window display
Another way to save whilst buying organic is via their volunteer program which gives each volunteer who works 2 hours in the shop a 25% discount for a single shop or if you want to become a permanent volunteer (you choose which 8 hours a month you want to work), you get a permanent 25% discount off all stock. They're always looking for volunteers so if you have a spare 2 hours and want to do a big shop there it's worthwhile helping out. If you're a member of other Sydney Co-ops such as the Manly Food Co-op, Thoughtful Foods, Sydney uni or Green Tucker store etc you can also get a 10% discount if you show your membership card.
It's true some things are much more expensive (for example, the Strawberries below) but a surprising number of things are quite reasonable considering they're Organic. There are also plenty of specials at cost (40% off) to be found.[
](https://images.notquitenigella.com/images/co-op-food-shopping-saving-while-shopping-organic/a-alfalfa_house7.jpg)
I leave you with pictures of my purchases, the small Date Cake alas was gone within a matter of seconds (and it was delicious) but I'm still over the moon about my purchases, especially the Organic vanilla beans.
Organic Vanilla Beans from Mexico 62c each
Dutch Cream Potatoes $3.50/kg
Alfalfa House
113 Enmore Road, Enmore NSW 2042
Tel: +61 (02) 9519-3374
Open: Monday, Tuesday, Wednesday and Friday 11am-7pm
Thursday 11am-8pm
Saturday 9am-6pm
Sunday 11am-6pm
Credit Cards accepted with a 2.7% surcharge.
_Range of fruit and vegetables, some at cost price.
_