I know the slow cooking movement is big here in Australia, particularly in regional areas. To me, I love the idea as it allows me to take my time and be lazy. How? Slow cooking makes the oven do all the work. None of this fast and furious flash or stir frying. Slow cooking is sliding something in the oven, checking on it every now and then and continuing along with your life as if time didn't matter and that delicious smell emanating from your oven was just a serendipitous bonus. I'm not so disingenuous to suggest that it can be done any day. When you've come home late from work and just want something quickly this is not your recipe. But if you have a bit of time and can wait a couple of hours, this is ideal.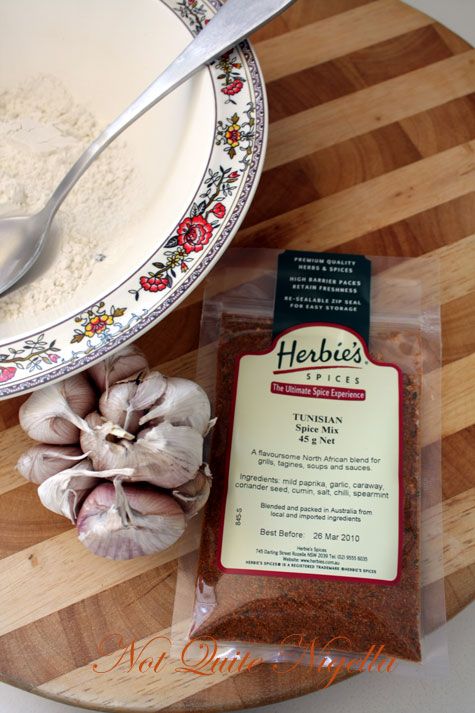 I used my tagine for this recipe. I have guilt towards not using it more often but I do love it. One of the reasons that I don't use it that often is because it looks so pretty on my sideboard that I don't want anything happening to it like discolouration. But luckily unlike pots or pans, using it doesn't seem to have affected it. If you don't have a tagine, you could easily use a baking tray and then instead of a lid, cut a piece of baking parchment to fit the tray and lay that directly on top of the contents, pressing down which acts as a lid, then covering the whole tray in foil.
I realise that the recipe is a mishmash of cultures but somehow it works The meat is beautifully tender and sweet when combined with the softened dates, honey and fluffy couscous.
Slow Cooked Veal with Couscous
An original recipe by Not Quite Nigella
1.5 teaspoons Herbies Tunisian seasoning (or any similar type of seasoning)
4 thick strips of lemon zest (I used 1/2 a lemon but found that too sour)
6 cloves of garlic, unpeeled
400g potatoes, peeled and cubed
Step 1 - Adjust racks in oven to accommodate the height Tagine or baking tray. Preheat oven to 180C/350F.
Step 2 - Preheat frying pan or tagine  on the hob and in a medium bowl, mix flour and African seasoning mix. Dip veal pieces in flour mix and shake off excess. Add oil to frying pan and brown veal pieces.
Step 3 - Add garlic cloves, lemon zest, stock, potatoes and white wine.
Veal shanks browned, just prior to putting it in the oven
Step 4 - Place tagine in oven with the lid on and leave to cook for 1 hour. If using a baking tray, cut out a parchment lid the same size of the tray and press down firmly. Cover with foil and leave to slow cook for 1 hour.
Step 5 - After an hour, check  the meat and stir so that everything gets cooked evenly. Add dates to the mixture and submerge so that they get nice and soft. Cook for another 40 minutes to an hour. Stir in honey.
Step 6 - Cook couscous. Place a kettle of water to boil. In a small saucepan empty 1 cup of uncooked couscous. Add 1 teaspoon salt and then 1 1/4 cup of  boiling water. Place lid on and sit for 5 minutes. Add tablespoon of butter and using a fork stir this into the couscous fluffing it up.