We'd risen early this particular morning in New Zealand, 6.15am to be exact in order to make a whale watching expedition in Kaikoura. It turns out we were extremely lucky. After downing an anti sea sickness tablet we set off and saw 3 Sperm whales and a large group of 500 dolphins. All very exciting but you know what I was thinking about right? Yes that's right, lunch. Well,  you know me right?
Once I was back on land I felt better and my appetite returned (I never lose my appetite for long). Kaikoura is literally the Maori words for Eat Crayfish or Lobster. Specifically Kai=Eat, Koura=Crayfish. So it's no surprise that crayfish is offered everywhere. Nin's Bin however holds a special place in the heart for many. Set 20 minutes North of Kaikoura on the most breathtaking drive you'll ever make with calender picture after calender picture of stunning ocean vista, you round the corner and see the signs for Nin's Bin.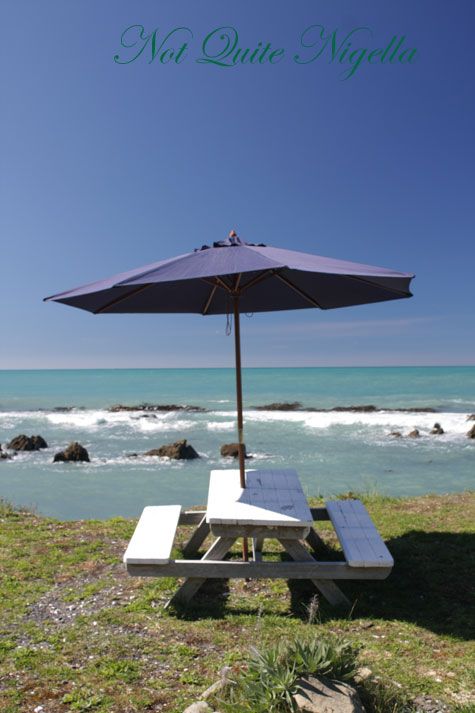 Since the mid 1970's Nin's Bin has sat there, in front of the amazingly gorgeous teal green ocean. Iconic doesn't even begin to describe it and interesting there are only 2 things on the menu. Crayfish and mussels. Nothing else and little more aside from sauces to accompany these. And it is possibly the best place to eat in the area due to the freshness of the cryafish, surprisingly reasonable price and the view. Oh yes the view.
Not a painting on the wall, but a window showcasing the view
The crayfish with prices on tails
The crayfish are priced according to weight with prices written on the tails and we select a small one for $35NZD. They can cook it with garlic butter or you can have it fresh with a sauce and I opt for the latter as the former involves cooking it again. The friendly girl behind the counter mentions that she'll leave the roe on and I'm delighted to hear this. Usually, no matter where you go, they remove the roe and use it in cooking. Here, we get it all. My husband orders the dozen  NZ green lip mussels cooked in white wine for $12NZD which takes about 10 minutes to cook.
With a large guillotine, she slices my crayfish in half and plates it for me and I sit down on one of the outside tables and dig in. The tables are rustic but this adds to the other wordly retro charm of the caravan and the home made garden surroundings.
Fresh crayfish $35NZD
The flesh is tender and sweet, the flesh fresh, not frozen. It's unspeakably good and paired with the view, unbeatable.
NZ Green Lipped mussel $12NZD
My husband's mussels arrive and he adores these and after eating them all goes in to order a second batch. I on the other hand, am contentedly eating the lobster and whilst I usually don't eat the legs (I find them a bit too fiddly and not worth the effort) I painstakingly take each and every leg apart and remove the pink flesh. You see a view like this doesn't warrant any hurrying at all.
Nin's Bin
20 minutes North of Kaikoura
Open: Summer 8am-6pm
Winter: 8:30-5.30pm
Eftpos and Visa accepted