"It's the details that count" I find myself saying to Mr NQN. We're at our second destination on our New Zealand holiday and staying at the Otahuna Lodge, a 5 star luxury resort just 30 minutes out of Christchurch. For those of you unfamiliar with the concept of New Zealand Lodges, grab a cup of tea or coffee and settle in. Lodges in New Zealand are heavenly places and this is a place I find myself nodding and clucking with approval at a lot. You see I could be called a pedant when it comes to hotels but a nicer way to describe me is as "detail oriented" and the thing I love the most about places is the little details (and it's what I find distinguishes 4 star places from 5 star). When we pull up behind another car of visitors, each party of guests in this seven suite hotel is greeted by one of the owners. Co-owner Miles greets us with Jimmy the chef  and our bags magically disappear to our room and we are taken on a short tour of the Queen Anne style building.
Formerly a house built in 1895 for Sir Heaton Rhodes it's had a rich and varied history and among the numerous owners, it also served as a commune where six families lived until it was recently purchased by owners Miles Refo and Hall Cannon. Miles shows us the library where guests can enjoy their dinner (or you can dine in the sunken wine cellar or turret room).
Bedroom
Pachelbel's Canon in D Major is playing on the Bose system when we walk into our room (the Verandah Suite) and I'm so delighted and smile (although I doubt the details went so far as to researching the music that I walked down the aisle to ;) ). It's huge, at 1000 square feet and there are two fireplaces, one in the bedroom and one in the bathroom.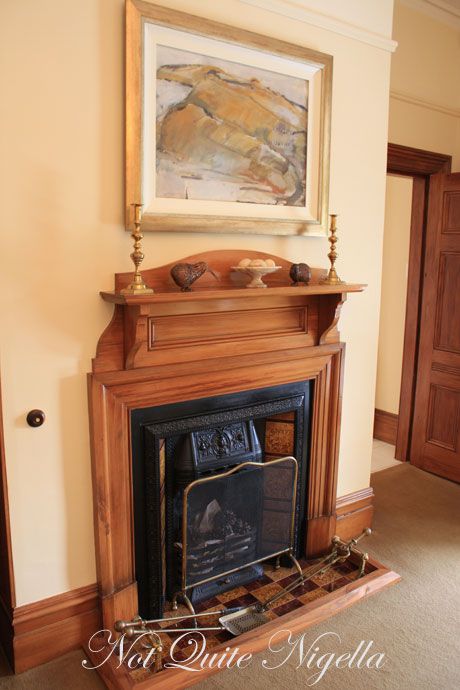 Bedroom fireplace
Bathroom
Next to the bed there is a glass canister of fresh brownies (delicious with a crunchy top and soft inner), a king sized bed, a compendium is full of nice thick paper and envelopes, a lovely weighty proper pen, Penhaligon's toiletries, a choice of wooden hangers and satin hangers, complimentary laundering, one switch dimmer lights (I did warn you that I was into details). Through the door is the bathroom which is huge - the first thing I think of is Oprah's bathroom. There is a refreshment fridge outside the room which includes house-made biscotti, teas, coffee, muesli bars and chocolates.
The Verandah lounge
It opens out onto a thirty foot long white sun drenched terrace with views to the Canterbury Plains.  This room hosted HRH Duke of York who later became King George VI. And did I mention the food? The tariff of $1000 a person a night includes a wine matched 5 course degustation dinner, canapes, cocktails and breakfast.
Pool
Part of the sprawling grounds
Otahuna Lodge opens its gates for one weekend ever year during September so that people can view the daffodils in a springtime show, a tradition that was set by Sir Heaton Rhodes. After the tour of the grounds Miles offers us a refreshment drink which we take on the verandah which we have the exclusive use of for our stay. Most guests he says do not use a key but he asks us if we'd like one.
Wine cellar
Once settled in, we take a walk in the gardens and chef Jimmy tells us about our dinner. Tonight they will be serving beef from one of their own cows. It produced 230kg of meat which they use in steaks and in bresaola and other smallgoods. He shows us the sunken cellar room where some of the bresaola is being hung. They also have pigs which are used in prosciutto and coppa (which we will also try tonight) as well as sheep and lamb.
Hazelnuts
Greenhouse
The 30 acre gardens are extensive and are a legacy of Sir Heaton Rhodes as well as new plantings by Refo and Cannon.There are mushrooms, melon, cucumber, kaffir limes, chillies, heirloom tomatoes (Green Zebra, Tommy Toe), stone fruit, mullberries, raspberries, rhubarb, celeriac, horseradish, Jerusalem artichoke, kale, herbs, white and red currants and hazelnuts to name just some.
Tomato vines
Cabbages
Diners can join him when he picks the vegetables for the dinner that night. In the kitchen are some of the chutneys and jams that are made using the garden produce. Interestingly, most of the food that is served for dinner was picked that day with some items picked merely a couple of hours before they are served.  Eggs come from the eleven hens on the property and are retrieved fresh every morning.
We go inside where we meet other guests and have some drinks and canapes. On offer tonight are a prawn canape with home made sweet chilli sauce and a rockmelon and prosciutto canape with rockmelon from the garden and house cured prosciutto from one of their pigs.
The Dining Room
Salmon ceviche served with Pegasus Bay Riseling 2008 Canterbury
The Salmon Ceviche is cooked in orange, lemon and lime juice and is flavoured with pickled ginger, parsley, basil and coriander. There are also little capers, currants and almonds and a herb oil. It's actually a harmonious mix despite how many flavours are involved with the predominant ones being the citrus and the almonds adding texture and the currants sweetness.
Otahuna Coppa with Squash Blossom and Tomato Salad served with a Huia rose 2009, Marlborough
The coppa made from one of their pigs is made with red wine and spices including star anise for 10 days and then is air dried for another 10 days.  It's paired with squash blossom and raw zucchini with a vanilla oil and 12 year old balsamic drops. The vanilla makes this too sweet for me and it tastes more dessert like although Mr NQN gets less vanilla on his.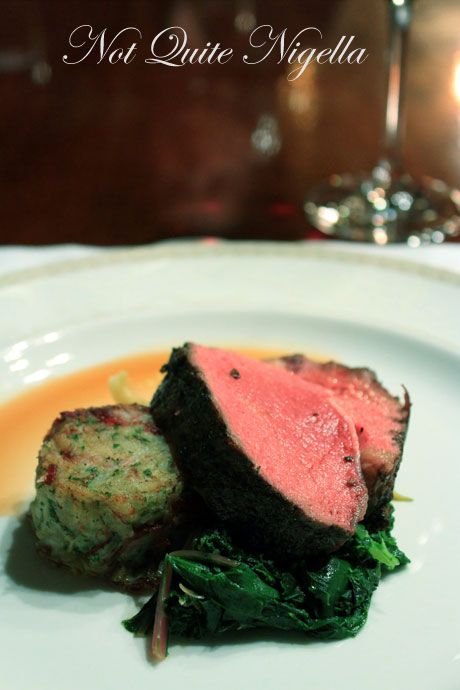 Otahuna Ribeye of Beef with Corned Beef Hash and Autumn Vegetables served with Alpha Domus The Navigator, 2004 Hawke's Bay
The aroma of this is so very tempting - it's a fillet of grass fed rib eye steak with a corned beef hash and kale and cumin roasted carrots and beans. The beef is gorgeous with that distinctively wonderful grass fed flavour and combines well with the corned beef hash while the cumin on the vegetables is very light.
Richmond Red Sheep Milk's Cheese served with clearview Sea Red 2009, Hawkes Bay
I adore this semi hard sheeps milk cheese and it is paired with thin wafers and an light and wobbly apple and rosemary jelly.
Pear and Frangupani Tart with Apple Sorbet served with Vinoptima Ormond Gewurtztraminer 2004, Gisborne
Absolutely super fresh, the pears from this frangipane tart were picked this afternoon from the huge pear tree on the property and the frangipane is a hazelnut frangipane made from hand shelled hazelnuts picked this afternoon. It's buttery and delicious and contrasts with the icily tart granny smith sorbet which rests on a sour cream round.
After dinner we take a peek into a fellow guests' room and then retire to our suite. Our laundry has been collected, plush sheepskin rugs are placed by each side of the bed, a gorgeous boozy liquid centered chocolate and a jug of water and glass sit on the bedside table and there's a collection of fantastic books on the bedside table. Like I said, there's nothing quite like a New Zealand lodge.
The thing about staying outside of the city is the beautiful silence in the mornings when you wake up. And at 6am when all you want to do is listen some more to the delicious silence, an alarm pierces your reverie and all you can think is "Noooo". However motivating us to get up was the fact that we had a fantastic breakfast waiting downstairs.
_Bacon and poached eggs with field mushroom _
We go downstairs and Melinda greets us sunnily. She offers us a freshly brewed coffee and two types of juice: carrot or orange with ginger or any combination of these and the breakfast chef Adrian offers to make eggs whatever way I'd like using their farm fresh eggs (except for eggs benedict :( ). I have bacon and poached eggs with a large field mushroom while Mr NQN has fruit salad, yogurt and muesli. The eggs are perfectly cooked with a lovely runny yolk and crispy bacon (something we find is that bacon in New Zealand is round and not in strips) and the field mushrooms is seasoned and topped with parsley. Refreshed and rested we are ready to set off on the next leg of our magical New Zealand trip!
Mr NQN's fruit salad and yogurt
_Freshly baked peach muffins _
And where are we off next on this very early day? Stay tuned Dear Reader! ;)
Do tell me Dear Reader, if you could grow any fruit, vegetable or nut, what would you grow?
NQN and Mr NQN stayed at Otahuna Lodge as a guest  of Tourism New Zealand.
Otahuna Lodge
224 Rhodes Road - Tai Tapu, Christchurch 7672, New Zealand
Tel: +64 (03) 329 6333
www.otahuna.co.nz