There are some dishes that stick with you forever and remain imprinted in your mind. For me, it was Tetsuya's Confit of Ocean Trout, as well as Marcus Wareing's Lemonade dessert at Petrus. One that came from a meal I had while back was the papardelle from Pendolino's in the Strand Arcade. I've said that I'm not a big pasta eater, but now that Winter is coming up, it seems that it's what I crave. I will admit I haven't had much papardelle in my life but when I tried theirs I sought to rectify that.
I bought these lasagne sheets as I was again, seduced by the packaging. What I didn't realise was that they required pre boiling unlike most lasagne sheets you can find today so I stowed them away and used my ready to bake ones instead. Then I realised that I could make fat papardelle pasta out of it with whatever thickness I liked. It was a bit fiddly, and I would certainly recommend either buying some papardelle or fresh lasagne sheets instead but the taste of this with the creamy ricotta, spicy chorizo and zingy lemon zest is gorgeous. The ricotta was sent to me by Perfect Italiano and it's is a soft ricotta which is ideal for using in a recipe like this where it needs to meld into the sauce.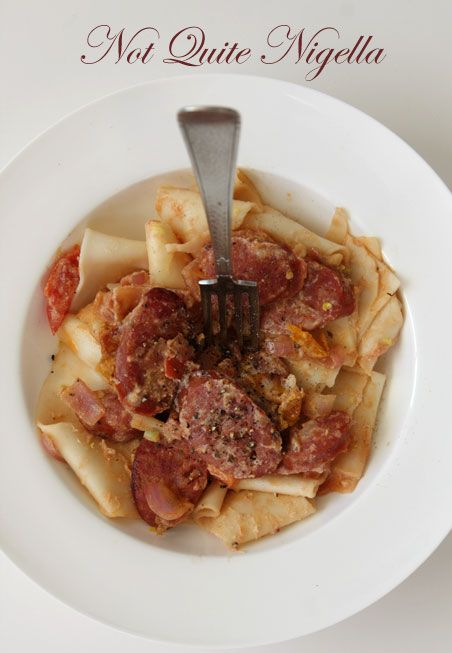 The flavour was everything that I wished for and more and we both ate greedily, even though the dish should have served up to three people, it served just the two of us on this cold, rainy Winter's night. And it was eaten in a silence of satisfaction, where there is no need to talk or converse. Our contented murmuring and eating was the perfect background to the falling rain.
Chorizo, Ricotta & Lemon Papardelle
An original recipe by Not Quite Nigella
Serves 2-3 when accompanied with salad and bread
250g papardelle pasta or lasagne sheets
1 tablespoon oil for frying
2 chorizo sausages, sliced
Step 1 - I make the sauce first as the thick ribbons of papardelle means that it doesn't really do well when it sits around in a colander draining and waiting for the sauce to cook and tends to stick together. In a large saucepan fry the garlic, onion and chorizo in the oil until the chorizo is cooked and then add tomatoes and tomato paste and cook for a further 2-3 minutes until tomatoes start to break down. Add ricotta and stir and then add lemon zest.
Step 2 - Meanwhile, start a very large pot of water to boil and salt it generously. When the water is boiling cook the papardelle. If you are using dry lasagne sheets as I did, par boil them and then strain them and slice them into ribbons and then return them to the boiling water. It is a bit more fiddly, I won't lie, and if you've got fresh lasagne sheets, you should be able to cut them without the need to par boil them.
Step 3 - Strain and reserve 1/2 cup of the pasta cooking liquid which you add to the sauce. Mix the papardelle in the sauce so that the ribbons get coated in sauce and serve with cracked pepper.