Sweet Infinity has now moved to the Strand Arcade, 412-414 George Street  Sydney 
Russell Crowe does it. Wendell Sailor does it. And what is it exactly? They succumb to the treasure trove of goodies at Sweet Infinity, a little bakery in an unlikely stretch of Riley Street in Woolloomooloo. Crowe goes for the lemon meringue tarts whilst Sailor loves the pies. We're not in the same celebrity league by any stretch of the imagination but that doesn't stop Teena and I from dropping by one morning for a coffee and to try some of these famous lemon meringue pies and brownies.
There's  a steady stream of customers inside the warmly lit bakery. A dozen or so wooden stools sit to the back between the counter and the busy kitchen where from 2am chef Leanne Beck (formerly of Infinity Sourdough in Darlinghurst) bakes and bakes and bakes.
Spinach roll $5
As we're headed out to lunch we order some coffees and forego the pies although a spinach and feta sausage roll gets a quick look in (it's spinach right, so it's healthy like eating a salad no?). The flavour of pie depends on the flavour that she decides on that morning although I have secret cravings for the Duck L'Orange and the Wild Boar with tomato and thyme. Next time I promise my indignant tastebuds!
Pies $6.50 and sausages rolls $5
People sit waiting for the next lot of pies to come out fresh from the oven and Leanne warns one lady that they are very, very hot. A courier comes in and she eyes him "Weren't you in here this morning?"and he tells us that it was his brother. "Good because I would have told you you can't have another pie. One is enough" and she explains that her tough love stance is because the pastry contains a lot of butter. The pies also contain 180 grams of lean meat and Leanne tells of the long education process with the nearby mechanics and explaining how they get a better quality of meat and more of it for their dollar. The sausage rolls are popular with non pork eaters as they're made of lean beef without pork and there is a devoted Jewish clientele for these, whom would normally miss out on a traditional pork sausage roll.
_Lemon Meringue Tarts $2.50
_
There's plenty of accolades. Winner of the Foodies Achievement Award this year and voted one of Sydney's top sweet destinations by the Sydney Morning Herald, there's a lot of hype to live up to. We try the Lemon Meringue pie. Coming in two different sizes, from a mini canape size through to a large size for a hungry person (Russell?), we bite into ours. The meringue is delectably light and fluffy, like the softest, lightest marshmallow. I'm convinced this is what angels eat (and it's not cream cheese as the ads would tell us). The lemon curd is mild, not that zingy lemon curd that I adore but is too strong for my husband and the tart shell is a sturdy one, perhaps a touch too sturdy for the light as air meringue. I prefer my tart shells buttery like shortbread.
_Chocolate Brownie $3.50
_
The prize is the chocolate brownie. They make from six hundred to a thousand of these babies a week and it's unlike any other brownie you may have tried. Thick and almost like a ganache-y fudge and it's beautifully rich and decadent. Taking two days to make (there is a lengthy setting process for these), they're worth every cent. And yes, in my humble opinion they're Sydney's best.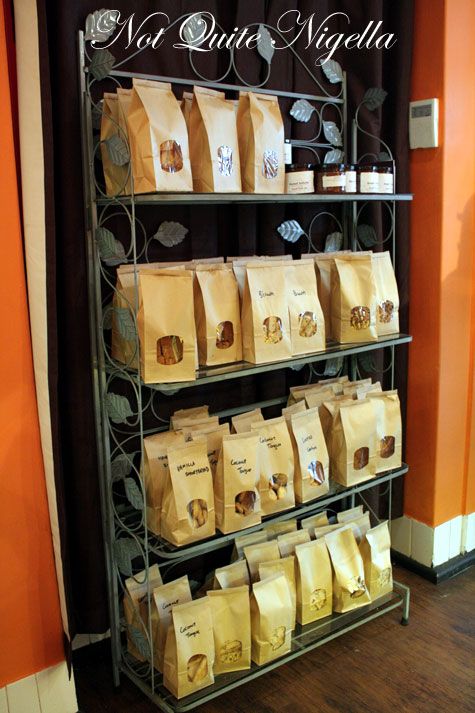 Biscotti, shortbread and jams available
I chat to Leanne Beck, the owner. Growing up she was one child out of six and due to a sibling's illness, chores and duties were delegated amongst the kids with Leanne getting the shopping and cooking and her love of baking and cooking grew from there. Her Italian background shows up in her passion for sourcing good quality produce such as the organic pumpkins and strawberries. The customers are equally as passionate about their food and she tells me of a time when she was unable to get these very pumpkins and customers would ask her whether she had changed the recipe as they noticed a difference.
So tell me Dear Reader, who does the best near you? Do you have a best pie? A best cake? A best burger?
Sweet Infinity Bakery
Sweet Infinity has now moved to:
The Strand Arcade, 412-414 George Street Sydney NSW 2000
Tel: +61 (02) 9231 0472
http://www.sweetinfinity.com.au