"Ouzo88..." we all say. It sounds familiar to us and then we recall where we heard the name-they were the restaurant on the Chopping Block reality tv show where 2 restaurants compete for a monetary prize. They were pitted against Baja Cantina, and if I can be honest, were my favourites because they seemed to have a nicer attitude to things. We're booked here tonight as it's Hot Dog loves Greek food and it just happens to be his birthday.
Ouzo88 is situated at the quieter end of Crown Street, away from the hustle and bustle and perhaps as a result, the space is quite huge when you compare it the smaller places closer to Oxford Street. In fact it's nice and spacious which is something of a rarity unless you're dining in the high end of town. We're given our menus, a cocktail menu and a food menu and our waitress is a very friendly woman who has the troublesome Hot Dog wrapped around her finger. He can either be a waitresses worst nightmare or best friend and we breathe a sigh of relief that she banters back with him.
First to arrive are the complimentary Ouzo shots, of which Hot Dog has many.
Four of us have decided to get the banquet for $46.80 per person with two us getting a la carte dishes in order to maximise sampling opportunities. The banquet includes a trio of dips & flat bread, Greek salad, Pan fried Halloumi cheese, Salt& Pepper squid with ouzo aioli, Chicken souvlakia and Slow cooked lamb served with roasted potatoes & vegies. We also order the zucchini, whitebait & 3 cheese fritters with ouzo aioli; chicken, feta, ricotta & dill pastries with skordalia and macaroni pie with beef mince, béchamel, mizuna & kefalotiri.
Trio of dips: clockwise from front Feta & Chili, Taramasalata and Eggplant dip
They lay down the dips and bread first and we ahh at the feel of warm, fresh lebanese bread. There are 3 dips: a Taramasalata, a feta dip and an eggplant dip. The feta dip is the table's favourite, with it's light chili hit, the Taramasalata is good but the eggplant is way too smokey for us and mostly left behind. The serving size of bread is very generous and we can't finish it.
Kolokythokeftedes: zucchini, whitebait & 3 cheese fritters with ouzo aioli $12.50
Our Kolokythokeftedes arrive and they consist of zucchini, whitebait & 3 cheese fritters accompanied with ouzo aioli.  We are told that there are three kinds of zucchini in the mix and they are indeed deliciously crisp and moist inside.
Kotopita: chicken, feta, ricotta & dill pastries with skordalia $12.50
The Kotopita arrives next - the three filo rolls are filled with chicken, feta, ricotta & dill with skordalia. These are particuarly good and are met with raptures, like a delicious chicken pie.
BBQ Octopus $14.90
The large BBQ Octopus tentacles are served with a side salad and is ever so slightly chewy. The dressing is a slippery mix of oil, lemon juice and vinegar.
Halloumi: banquet course
Two plates of Halloumi arrive, with 6 pieces which is quite thoughtful as we've only ordered the banquet for four. The Halloumi, dressed with olive, oil, tomato and mint is a little too salty. We realise Halloumi is a salted cheese but this is a tad too salted.
Greek Salad: banquet course
The Greek Salad, often done badly is done well here. The creamy Greek feta in a large simple slice on top of fresh salad leaves, olives, tomato and Spanish onion with the dressing not too vinegar-ey.
Salt and pepper Squid with Ouzo aioli: Banquet course
Two large plates of the squid arrive and again we're impressed with the serving sizes. In fact, if anything that was our main worry as some readers on eatability questioned the serving sizes but perhaps they weren't dining from the banquet menu. The squid is beautifully tender, particularly the tentacles and perfectly seasoned once the lemon is squeezed over it. The Ouzo aioli is not particularly strong in Ouzo, in fact I can't really taste the aniseed liquer.
Pastitsio:macaroni pie with beef mince, béchamel, mizuna & kefalotiri $22.50
The Pastitsio is like a Greek version of Lasagne, without the tomato sauce. The macaroni pie is layered with beef mince, béchamel, mizuna & kefalotiri. It's not bad and very creamy and cheesy although it's not quite as exciting as the other dishes and it is also slightly cold in temperature.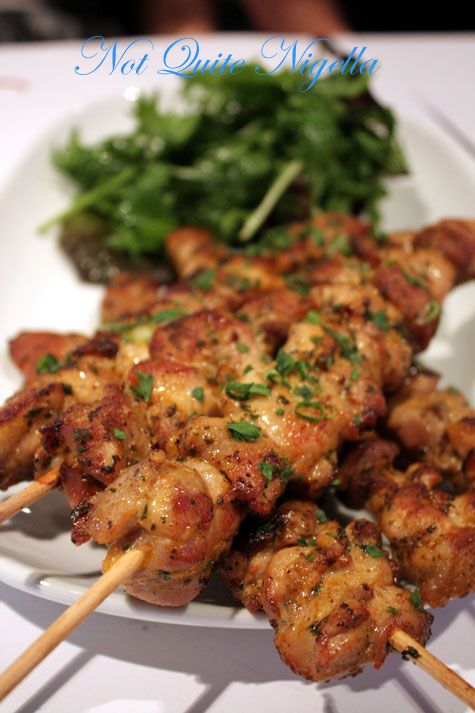 Chicken Souvlakia: banquet course
We're given 12 skewers of this chicken souvlakia and despite an impending satiety, we gladly indulge. The skewered meat is soft and tender, not at all chewy or dry. Tthey're freshly cooked and juicy and perfectly seasoned with lemon and parsley. I gobble down two of these before realising that we have the slow cooked lamb course to go (well ok I admit I knew that but I just liked these and wanted two).
Slow cooked lamb with lemon potatoes: banquet course
The slow cooked lamb is fall apart tender and delicious although at this stage, I can barely fit any in. The slightly crispy potatoes are also good accompaniment and I would be over the moon happy if I was eating this by itself but after so much food, I can only manage to fit a bit in.
We take a look at the dessert menu and it's full of tempting goodies but we can't really fit any more in. However the kitchen has a surprise for us -they give us slices of chocolate tart. The tart is made up of a rich dark chocolate ganache on a buttery crispy thin base. Hot Dog loves a freebie and is impressed.
If that wasn't enough, he also receives a plate of Loukoumades aka Greek Doughtnuts with Happy Birthday written in chocolate on the plate. The doughnuts are light and crispy and drenched in a pistachio syrup. And the birthday boy? He is grinning from ear to ear.
Ouzo88
88 Crown Street, Woolloomooloo NSW
Tel: +61 (02) 9326 0888
http://www.ouzo88.com.au
Open: Tuesday to Saturday 12pm til late