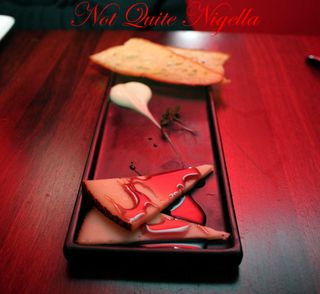 It's a cold, cold Winter's night the evening we head across the bridge for Emmilou, a Tapas style restaurant in Surry Hills. It seems that no matter how many layers I wear (four), the wind penetrates to my core and when we see something floating down softly from the sky my husband and I say to each other in unison "It's probably snow".
When we reach the warmly lit Emmilou on Bourke Street, we rush straight past the covered outdoor section into the warm centre of the restaurant. Doors are closed to keep us warm and Chris and Joel from Emmilou are welcoming hosts. Chris Cranswick -Smith, the owner and head Chef had emailed me earlier extending an invitation to dine at Emmilou and having walked past this place only a few weeks ago I happily accepted. The difference between Chris and other Head Chefs? He spends a lot of the time on the floor getting to know the customers and seeing their reactions to meals.
I have a quick browse of the cocktail menu and a couple of things catch my eye there including "Hot Buttered Rum" and "Vote for Pedro" which has Pedro Ximinez Sherry, Dark Cacao, Grand Marnier warmed & served with Turkish Coffee Ice Cream. I figure I'll go for those at the end. For now though I leave myself in the hands of Chris, who you may have caught on Ready Steady Cook which plays on Channel 10 at 2pm on weekdays. He has just finished filming 29 episodes so no doubt he'll be on again. He asks if I have any allergies or dislikes and I tell him that apart from kidneys and tripe, I am fine.
The walls inside are scrawled with French sayings cataloging the propositions from one staff member to the other. One such phrase translates to "Before you leave, will you sleep with me?". On one wall plays a black and white movie and above us, music plays although it's still easy to talk. Diners sit in Philippe Starck Ghost chairs and I take this opportunity to convince my husband that we need some in our new place. They bring out a large bottle of Cabreiroa Spanish mineral water.
We start with the amuse bouche, a delicate cauliflower beignet with mushroom foam. It's a delicious start to the meal with the cauliflower aroma strong and the bite sized beignet is nice and crisp. Accompanying this is a soft, spongey house made raisin bread with a spicy tomato chutney - and it's spicy with a nice kick. "I like chili" confesses Cranswick Smith says. His dishes are mostly Spanish, with many from the Basque region as well as having French influences as he has lived and worked in all areas.
The _Pinchos y Picas _part of the menu is the Basque section and from this we start with slices of Queso Manchego cheese with a sweet cherry syrup and crispy croutons. There's also a streak of garlic alioli (similar to aioli) which provides a savoury contrast to the sweet cherry syrup.
Gilda: White Anchovy, Olive & Pickled Pepper (pic above) with Cured Wild Boar (pic below) and _'Alioli' _
"Curing is a bit of an obsession of mine" says Cranswick-Smith and indeed this Wild Boar takes 10 weeks in total to cure. It's deliciously soft and smooth with the expectant saltiness. There's a smidge of the tomato chutney and alioli and if I were to say anything negative it's that I wish for more of these to spread on the little toasts with the cured Wild Boar. The White Anchovy is a creamier, milder version of the brown anchovy and combined with the pickled pepper it is salty, briney and crunchy.
I'm usually ambivalent about sardines, having had some previous bad experiences. Mr NQN is also not a great cooked fish eater, particularly of "fishy tasting" fish but we both agree that these small pop in the mouth morsels fall into the very good category. Not too fishy, it's balanced by the sweetness that doesn't become too sweet. If anything the sweetness just offers balance as opposed to a sweet taste.
The Bacalao is traditional Salted Cod, Roast Tomato Sauce and Sourdough Wafers. It's thinly sliced instead of the usual mince and it's salty (of course) and placing a little on the garlicky toast rounds with some of the tomato chutney and alioli (again I'd love more of these) it is a tasty, salty combination.
One thing Mr NQN likes much more than me is sweet flavours in savoury dishes. I don't dislike them but I'm not as taken. So he likes this goat's cheese stuffed pepper. I like the creamy, almost souffle like goat's cheese stuffing but for me there are a few too many flavours including the sweet and spicy almonds which I feel lend an almost Asian taste to the dish but my husband loves it.
_Calamar Relleno $21 _
The item that I am in love with is the Stuffed Baby Squid with Sweet Breads, Pumpkin Puree and a Smoked Bacalao Sauce. The sweetbreads (pancreas) are dipped in a light gluten free Tempura batter and fried until light and crispy and then cut in half. It's stuffed with a delicious pumpkin and raisin filling and the squid is so tender and soft, I've elbowed Mr NQN out of the way in a quick "You don't want this do you? OK I'll finish it..."
_Chorizo Asado $22 _
The rich tomato based House Made Spiced Chorizo Sausage and Baby Octopus usually comes with mussels but they are out tonight. It's a nice sauce to go along with the tender octopus and peppery chorizo although a piece of the soft bread would be great to mop up the sauce.
_Ceviche de Salmón $23 _
The ceviche of Blackened Salmon, Spiced Beetroot and Apple Cider Vinaigrette is Mr NQN's forte with the sweet pickled beetroot giving the dish a sweetness which is too sweet for me but just right for Mr NQN.
_Carne Coccido con Castanas $27 _
The last item is the Braised Beef Brisket which is braised in a gorgeously rich sauce. With an Asian flavour to it courtesy of the Star Anise and Cinnamon, there are 3 fat pieces of delicious, unctuous beef brisket sitting atop a bed of shredded brussel sprouts, chestnuts and fried onion. It's a great end to the savoury courses and ensures that the diner leaves with their belly stuffed to ward off the cold Winter winds.
_Canutillos Rellenos $12 _
We didn't think we had room but then the mention of Stuffed Cigars with Toffee Apple Foam and Burnt Orange  immediately makes room via the emergency dessert tank.  The stuffed cigars are filled with a pureed apple so foamy I can't tell where the whipped cream ends and the apple begins. It's soo appley (I have a particular love for apple desserts) and the entire time that I am eating it, I'm looking for the apple pieces which I don't find of course as it's been made into a foam.
We roll out of there, on this cold Wintry night happy and stuffed full and warmed up. And I didn't even need a Vote for Pedro cocktail to help me!
So tell me Dear Reader, what's your favourite taste? Sweet? Salty? Sour? Hot & Spicy or a combination of these? And why?
NQN and Mr NQN dined as guests of Emmilou Lounge and Tapas Bar.
Emmilou Lounge and Tapas Bar
413 Bourke Street, Surry Hills NSW
Tel: +61 (02) 9360 6991
Opening hours: Fridays and Saturdays Lunch from 12pm, Monday - Saturday 5pm to 1am