Yes, not the El Bulli (where I hope to make it one day) but the Surry Hills version. This was our third  attempt at securing a table at El Bulli. The first went wrong when I tried to book for Mr NQN and I. They told us that they don't take bookings but if we want to come by around 6pm-7pm we could get a table. Not wanting to eat quite that early we didn't. The second time we turned up at 7pm only to be told they were fully booked yet they could take booking for tables of more than 2. This time we managed to secure a booking but a) it would have to be at 6:15pm and b) we would have to give the table back at 8pm. Apparently during a Saturday night, they do three sittings!
Mr NQN and I walk in on time mindful of the 8pm pumpkin time when Cinderella has to give back her glass slippers.  Inside it is all warmly lit with orange tones. Candles with huge wax drippings underneath them glow and there's wood all around (and I've kept the light in the photos as is to convey the lovely orange shade). There's even a wooden menu at some tables and when I enquire about this the maitre'd jokes that is is for naughty customers with a wink. When I drop it and make a kerfuffle (ok you knew clumsy me would do that didn't you?) he wags a finger at me. My phone beeps and it's Teena and Philippe and they're running 10-15 minutes late. Then a minute later Gina and Hot Dog text us and tell us they're 10 minutes late. Arrrgh Cinderella!
We take a look at the menu which tells us how tapas originated in the South of Spain as a result of a glass of sherry accompanying an outdoor meal. To keep the fruit flies out of the glass they placed a small plate (a tapa) over the top and added some small tasty morsels of olives, ham etc on top of that. The menu is quite detailed with the usual tapas items (there's nothing experimental a la Bodega). Fittingly given the story of the origins of tapas, the alcohol list is extensive and much larger than the food menu with five Spanish beers and one Argentinian beer.
Service is charming and friendly and smooths any edges or ruffles you may have for getting a table for a limited time. We order something to nibble on while we're busy counting down until they get here. The almonds are seasoned and salted with a buttery oily coating.
The bread comes with a small pot of delicious garlic alioli (just like aioli), a garlic mayonnaise.
_ Sangria jug $21.50_
The slender croquettas arrive. There are usually fewer in a serve but the waiter asks us if we would like six so that we can all try it which is thoughtful (good as it's a pet annoyance of Teena's). They're lovely and soft inside with a very light crunchy coating on the outside and a drizzle of alioli on top. The filling is made of ham and white sauce which gives it that softness inside.
We've upsized this to get six of these empanadillas too (there are usually four) and when it is set down we are first reminded of curry puffs. The first bite yields deep fried puff pastry and inside there is very finely minced beef. There is also said to be olives and egg but as these are smaller than other empanadas we've tried I don't see the egg or olive in the centre.
Gina and Hot Dog love chicken wings and this is a generous serve which allows most of us to have two each. They're surprisingly bland in flavour, we thought that they'd be strong in garlic but considering the flavour of the previous dishes, it ends up tasting unseasoned and not very garlicky at all.
Patatas El Bulli-Deep fried chat potatoes served with emulsion of fritas and bravas dressing (house favourite) $10.50
The potatoes are cut into little bite sized morsels and dressed with a creamy garlic tomato sauce.
We're getting into more serious garlic territory here (which is what we want really) with the chargrilled baby octopus. It's not quite as tender as we've had but there's strong garlic and lemon with the Chimichurri sauce.
Huevos a la Flamenco $16.50
The eggs a la Flamenco come with finely chopped chorizo and a blanket of tomato sauce and two sunny eggs side up up. It's more of a breakfast dish and there is possibly a bit too much tomato sauce so we ask for some bread to mop it up and they bring us a generous serve with some delicious alioli.
This plate comes steaming hot to the table and keeps sizzling and steaming away for a good few minutes afterwards. The meatballs are covered in a thick tomato salsa, like a concasse that has been reduced down (rather than perhaps the uncooked tomato salsa we are familiar with). Once we wait the requisite tongue burning time, I split a meatball open. The meat is soft, well seasoned and delicious. We are not disappointed at all.
The serve of prawns is generous again and gets us about two prawns each but perhaps lacks a bit of vibrancy when preceded with these dishes.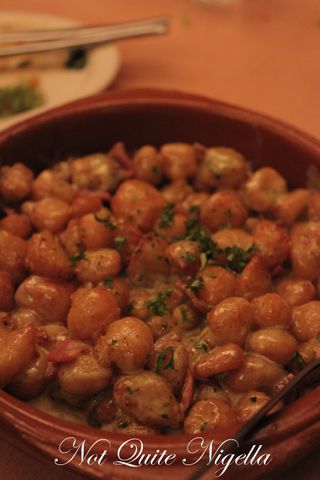 The one dish that had Hot Dog running away (blue cheese makes him nauseous so he had to have some time out outside) was the one that had the rest of us swooning. Small morsels of gnocchi that were slightly crispy on the outside but beautifully soft inside are coated with a creamy white wine blue cheese sauce. The small pieces of serrano ham are a little firm but the gnocchi are heavenly.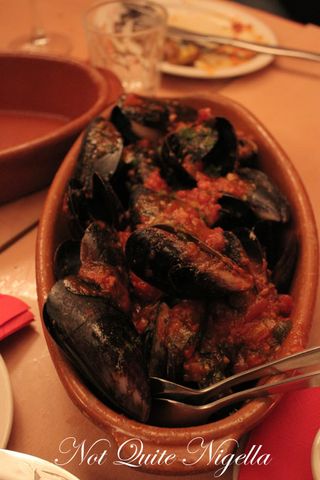 Mejillones en Salsa Picante: mussels cooked in a traditional Spanish salsa with escahllots, basil, chilli and garlic $17.50
Our last dish was a large one with a bowl of spicy tomato mussels. Surprisngly we notice that the other dishes weren't particularly spicy but this one gives a light tingle at the end. The mussels are good and we enjoy picking out the sweet briney morsels inside.
As the clock strikes 8pm we Cinderellas have to give back our table and forego the churros!
So tell me Dear Reader, do time limits on tables bother you?
El Bulli
501 Elizabeth Street, Surry Hills, NSW
Tel: +61 (02) 9319 5199