If my life were a film it would be called "Desperately Seeking Sandwich". As a Dexter fanatic (and how stomach churningly good is season 6?) I remember seeing Dexter frequently stop at a food truck to have himself a Cuban sandwich or a ham and cheese filled sandwich that would have me wondering whether I was drooling over the food or Michael C. Hall. So when I see it on the menu I have to suppress a squeal-I'm at a business meeting after all. "Do you mind if we try the Cuban sandwich?" I ask my dining companions trying to keep a straight face.
We're at the Carrington Hotel in Surry Hills where I've walked past swans on the bar counter and risque paintings past the kitchen with charcuterie hanging to find my way to the back of the pub at the restaurant Beba Y Cene. By the same people that have revamped The Norfolk and Flinders there is a similar quirky design vibe in each.
The walls are shiny and black contrasted with red and the feel is Spanish. Pintxos or pinchos are small snacks typically served in bars the word meaning spike to signify the toothpick. The menu is divided up into pintxos, salads, bigs, tapas and cured meats with desserts on the blackboard. Chef Jamie Thomas formerly from Fergus Henderson's St John restaurant is behind the glass on this quiet Monday lunchtime.
Mushroom and manchego croquettes $12
Our food arrives in a timely manner. I take a bite into a mushroom and manchego croquette and it has a gloriously soft, smooth filling with a hint of mushroom and the unmistakeable flavour of manchego cheese just liquid and oozy against the crunchy outer. It is served with a golden saffron mayonnaise.
Bull's tail empanadas $12
The empanadas, blistered and crunchy on the outside are filled with a rich, soft braised ox tail or bull's tail slightly sweet and served with a creamy mayonnaise.
Grilled paella onigiri $4.50 each
As soon as I saw this on the menu I had to try it. They are three triangles of baked squid ink rice topped with saffron mayonnaise and calamari tendrils, piment d'espelette with the trademark pintxos toothpick. It's paella inspired rather than actual paella on top and it's a nice contrast in textures. I had to eat these with a  knife and fork though rather than risk picking it up by the toothpick (just in case I got it all over myself-that happens to me a lot ;) ).
Calamari and black eyed peas $14
The calamari and black eyed pea salad had a fresh flavour from parsley, mint and lemon juice and although not my first choice, it ended up being a wise choice when eating some of the richer offerings.
Media noche (Cuban midnight sandwich) $15
Ahh the sandwich we were waiting for. A large triple decker sandwich it came out cut into four rectangles, stuffed with "all sorts of pork" our waiters tells us, it is filled with jamon, roast pork and Swiss cheese. One wedge is filling and rich and it is comforting although I would have loved some mustard or pickles on it just to give it a bit of acidity and break through the richness. It comes with some golden potato wedge bites.
Morcilla stuffed squid $18
This was a recommendation that came from the waiter. It was a morcilla or black pudding stuffed whole grilled squid sliced up Dexter style with precision and bathing in a pool of blood red cooked tomato salsa which has a nice heat to it. The squid is a little resistant and has a slight chewiness to it but the rich morcilla is good against the spicy tomato.
Braised chickpeas, spinach, sherry and nutmeg $14
Another hearty legume dish this was redolent in fragrant, fresh nutmeg and had a pat of butter in the centre. The chickpeas have a good texture to them are lightly flavoured with the sherry although the predominant flavour is of nutmeg.
Salt cod fritters $12
One last plate, the salt cod fritters come as three light, airy cod fritters puffed up high and kept anchored onto the plate by a romesco sauce (a flavoursome capsicum, tomato and almond based sauce).
Sherry trifle $12
Do we have room for dessert? OK twist my arm then! The waiter's recommendation of sherry trifle is a moist soft, soaked sponge deconstructed on the plate. There are crumbs, a Pedro Ximinez ball of creamy foam plus some fat soaked raisins and segmented blood orange deep in purple. It is very nicely balanced with all of the flavours and once I finish I wish I had more.
Churros
The churros, a gift from the kitchen come out looking as perfectly straight as rhubarb sticks, coated in a light cinnamon sugar with six to a serve. They're crunchy on the outside and very soft on the inside and it is served with what appears to be a delicious whipped thick chocolate dip, sturdy enough to spoon onto the churro.
If only all business lunches were like this!
So tell me Dear Reader, what is your favourite midnight snack?
I think Dexter might have approved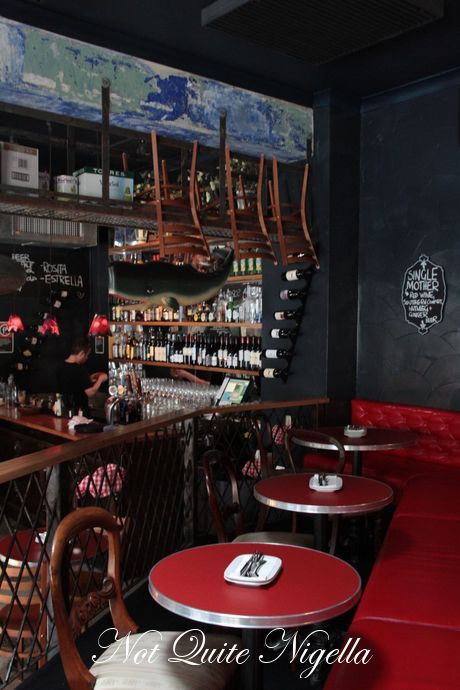 The Carrington
565 Bourke Street, Surry Hills NSW 2010
Tel: +61 (02) 9360 4714