Man About Town Ed from Tomatom was in Sydney this week and I had promised to take him to Plan B to try their famous Wagyu burger. However as good food bloggers do, when I asked him whether he was up for another meal at nearby Kushiyaki Azuma, he readily agreed. Allow me to briefly translate: Kushiyaki=delicious things on skewers. As much as Australians love sushi and sashimi, things such as Kushiyaki and other Izakaya (pub) food is more what the actual Japanese eat day to day. I had read about Kushiyaki Azuma on Herecomesthefood and Eatshowandtell and armed with a list of things to order in my trusty Moleskine, we were off!
We walk the short distance to Kushiyaki Azuma and past Bonta Vita (the scene of my infamous legal incident). It looks like they're closed down judging by the notices from their landlord in the window...
Walking in, we take a seat at a table and Ed whispers "Did you notice Tetsuya on the table there?" and lo and behold, sitting only a few feet away is Tetsuya Wakuda. Now I don't go gaga for many people but Tetsuya is one that has me recalling the line from Little Miss Sunshine "Everyone act normal!" which means that a bout of acting completely abnormal ensues on my part. I busy myself with the menu - there are sticks, sticks and more sticks. We share a few of them plus the platter. Sadly the Kurobuta Pork Jowl Kushiyaki isn't available.
I look down at my chopstick holder. Oh my, what an unfortunate pattern!
_In front, from left to right: Sansho pepper, Mandarin Salt and Curry salt. At back Chilli flakes and lemon wedges
_
Soon after we are given our trays of salt . All of the salts are made on the premises by the chefs. There are also two pieces of lemon and a chilli powder in a shaker.
Spatchcock Platter $16.80
Our Spatchcock platter arrives and it has three sticks with grilled white breast meat with a tangy light pink mayonnaise; two skewers with tender dark thigh meat; two grilled wings and two breaded and deep fried drumsticks. At first bite we find it bland until we squirt the lemon over it and dip it into the salt and as soon as we do, it comes alive. It's fantastic, and I particularly like the mandarin salt which is strong and heady in mandarin scent and the curry salt which gives another dimension to the delicate, gamey quail. The grilled quail wings and drumsticks are incredibly tender and juicy.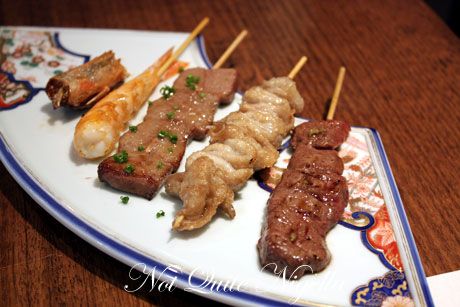 From left to right Prawn with head $3,  Wagyu Beef Tongue $4, Chicken skin with salt $3,  Baby Beef Tenderloin with soy and butter (18 month natural Organic Grass fed beef from Cape Grim in Tasmania $4.50
The menu does say that some of them come with the salt on them although these seem to be unsalted so you can use the menu as a guide or just sample the salts to see which flavour combination you like the best. The whole prawn with head is delicious-if you've never eaten a prawn head you should when it's fried crisp and the shell crunches easily without risk of sticking in the throat. The prawn is juicy and tender and again the shell gives it a nice crunch appeal.
The Wagyu Beef Tongue is divine. Tongue fearers, don't let the idea put you off. It's incredibly tender and soft and juicy and ends up being both of our favourite Kushiyaki of the day.
The chicken skin is interesting, Herecomesthefood reported it being overly salted but this time they've left the salt off entirely and it benefits from a definite sprinkling of salt and lemon otherwise it would be too bland.
The Baby Beef tenderloin is quite tender and I do love Cape Grim grass fed beef for a steak but somehow with Japanese food, I always prefer Wagyu.
_From left to right: Wild Scallop $3, Duck Breast $4.50, Tsukune (chicken mince) $3 and Quail egg $3.00
_
I used to eat so many quail eggs when I lived in Tokyo and so I have a soft spot for a hard boiled quail's egg. This is simmered in a soy sauce and is quite good. The Tsukune is not quite as moist as the ones I've had in Tokyo. The Duck Breast is juicy with an edge of fat and tender pink meat and the wild scallop is unusual-it is in a square shape and is well cooked so that it retains juiciness.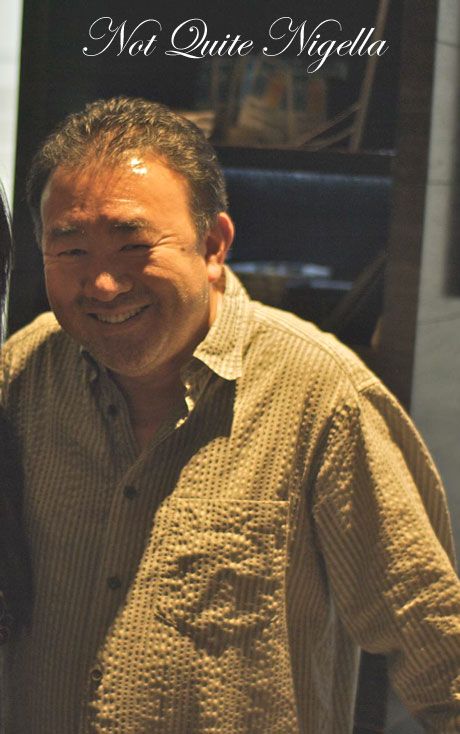 Tetsuya Wakuda (and yes I cropped myself out of the pic, bad hair day). Photo by Ed from Tomatom.
When Tetsuya's dining companion leaves the table, Ed introduces us and Tetsuya is warm and lovely. Here is a man whose restaurant is ranked #17 in the world and he couldn't be more approachable. His arm envelops my shoulder and he poses for a photo and we chat briefly about Azuma "It's like comfort food to me" he says and recommends all the types of fish here (damn, we didn't order any!) especially the mackerel.
Mont Blanc $9.80
Ed begs off dessert (understandable given he has had a burger too) but I am tempted by the Mont Blanc dessert. I adore chestnut anything and it's a spectacular looking dessert with a Mont Blanc tart with ribbons of chestnut puree, raspberry sorbet and perfectly cut pieces of fruit to the side.
The lovely Yas from Hungry Digital Elf and his peeps always get their birthday cakes from Azuma so if that's not a recommendation for their desserts I don't know what is! The Mont Blanc tart is a mound of plain, lightly sweetened whipped cream surrounded by coils of a beautifully flavoured chestnut puree. If you've ever made Marron glaces or chesnut puree (as I've done in several moments of madness) you'll know how good sweetened roasted chestnuts are and the puree is strongly chestnut flavoured (some purees are not as strong in chestnut). The raspberry sorbet is good and very strong in raspberry. I admit I didn't partake of the fruit though.
We pay and get up and leave and who is sitting in the chairs at the door but Tetsuya who is talking to someone else. He gets up and warmly shakes our hands grasping our hands with two hands. A class act he is indeed.
And before I leave, the amazing Chantelle from fatmumslim (I love Mummy bloggers, they're so friendly and lovely!) asked me about what I thought the Secret of a Happy Marriage was for her series. I can't say that we know anything earth shatteringly new but it was a fun thing to do and the photo I gave her is my favourite photo from our wedding.
So tell me Dear Reader, what do you think are the secrets of a happy marrriage?
Kushiyaki Azuma
Ground Floor, Regent Place
501 George Street, Sydney, NSW
Tel: +61 (02) 9267 7775
Open: Monday to Friday Noon-2:30pm
Dinner: Monday to Sunday 6pm-10pm