I recently asked a question of my readers that read "have you ever toyed with or have become a vegetarian or vegan?" and I was amused to read that a couple of readers had but that a cheeseburger was the item that they clearly remembered had broken their resolve. It's understandable really - a good burger is hard to resist and I rarely do. This afternoon we were in need of a burger and I had heard that there was a Hamburger place that had been churning out delicious old skool burgers since 1957.
I admit I don't visit the Shire very often. So much so that I tweeted "Going to the shire...I don't venture there often!" and people tweeted back things such as "Good luck with that!" ( @fionalaughton) and "Make sure you get your vaccinations first!"(@TudorGrrrl) and "got your passport?" (@vitav). Then there were people that grew up there like @OohLookBel and @pathologic_kt.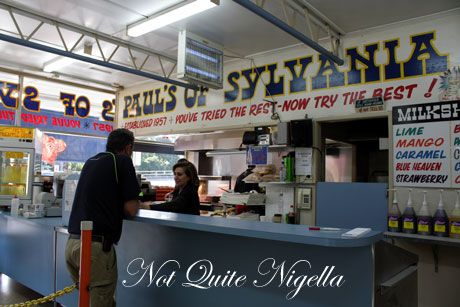 Paul's Famous Hamburgers is located on the Princes Highway in Sylvania and if you're coming by car, it's slightly tricky to get to in that there's only a short merging space so if you miss the merge, you can turn left at a later stage and loop back around. Inside, it's pure retro with the painted text menu with a list of variations but essentially it's what you add what you want to the beef burger i.e. egg, bacon, cheese and pineapple. All burgers comes with tomato, lettuce, sauce and onion. As for the thoroughly Australian addition of sliced beetroot? You have to specifically ask for that.
They're all made and assembled fresh to order and there's also traditional milk bar milkshakes as well as their equally as famous Pineapple Crush drink. On a wall and outside there are plenty of framed newspaper clippings acclaiming these as the best burgers in Sydney. We decide to split some burgers and grab a 2 litre bottle of the Pineapple Crush ($6.50) from the small fridge on the counter. They give us 4 cups for the drinks even though we've only ordered 2 burgers to split among us which is nice and the servings are enormous. If you put the burger next to those incredible shrinking burgers of the well known burger chains, it would dwarf them.
Hamburger with The Works $7.20
We try out hamburger with The Works which is needless to say, huge. When we ordered it, they asked us if we wanted raw onion or cooked onion. We asked them which was more popular and they tell us that they sell a lot with raw onion so we go for that. They offer to cut these in half for us which is good as lifting a whole one to your mouth would be perilous. It's filled with egg, bacon, cheese and pineapple as well as tomato and lettuce. It's luscious and filling and very good indeed and the raw onion is never too strong.
Hamburger with egg & bacon $6.20
Rose and I enjoy the burger with egg and bacon and we've added BBQ sauce to ours which I prefer. Whilst we are eating, Paul's owner Nick comes over and asks us if we are enjoying ourselves. We nod, our mouths full of burger and then he asks us which burgers we ordered. We tell him and he asks us if he can make us a burger - it's one with caramelised onions and I ask for a slice of beetroot to be added and then he also suggests a combination of BBQ and chili sauce.
Hamburger with egg, bacon, cheese, pineapple, beetroot with BBQ and chili sauce and caramelised onions
We're instantly sold, it's our favourite, the spicy chili giving it a bit of a tingle and the caramelised onion giving it a much sweeter taste and aroma and of course I adore beetroot on a burger.
Small chips $3.50
Our order of fries comes with thank heavens chicken salt. That yellow tinged fantastic salt that reminds you of trips to the beach when young. The freshly cooked chips are moreish with a light dusting of the salt.
Pineapple crush 2 Litre $6.50
Cups of Pineapple crush can be had for around $2 each but the 2 litre is a better buy. The juice is as the name suggests, a thick pineapple crush with chunks of pineapple which are sweet but not overly sweet and the pineapple is without any acidity. It's made fresh daily and is refreshing and filling.
Who I'm assuming is Nick's son is a dead ringer for Adriano Zumbo but with a different haircut. He tells me that they usually win most burger competitions but in the past few years have come second or third only being beaten by the likes of Rockpool Bar & Grill where burgers retail for $22 and not the $4.80 they do here. I ask about the "Paul" who the shop is named after and Nick laughs and says that Paul himself never actually made a hamburger in his life and I later read on their website that it was the doing of his wife Katina who also didn't like to use beetroot as it would stain her white benches.
I ask Nick what makes a good burger and he says simply" Good, fresh ingredients all the time". The generous serving size and the retro price points can't hurt either. And bring wipes for your hands, you cannot help but dive right into these old skool burgers and emerge out the other hand stomach full, a grin on your face and sauce covered fingers. And make sure you buy another 2 litre bottle of pineapple crush to have at home.
So tell me Dear Reader, what is on your ideal burger? Is it a beef burger? A chicken burger? A fish burgerer or a veggie burger? And do you like beetroot on yours?
Paul Famous Hamburgers
12 Princes Highway, Sylvania, NSW
Tel: +61 (02) 9522 5632
Monday & Tuesday Closed
Wednesday - Friday 11:30am - 9:00pm
Saturday & Sunday 11:30am - 7:00pm
Daylight Savings 11:30am - 8:00pm
http://www.paulsfamoushamburgers.com.au/