From:  "Not Quite Nigella"
To: "Queen Viv"
Sent: Mon, 13 Feb 2012 10:04:48 +1100
Subject:  Valentines Day tomorrow
Hello!
Are you still ready for our Valentines Day adventure tomorrow night? What time suits you best? The earlier the better as they don't take bookings-and I should warn you, it's not a dress up sort of place ;)
Lorraine
x
Queen Viv as the Stuffed Beaver
From: "Queen Viv"
To: "Not Quite Nigella"
Sent: Mon, 13 Feb 2012 18:37:40 +1100
Subject:  Valentines Day tomorrow
"What have you got in mind, you little devil? Not a food fight I hope!
I'm psychologically prepared this time... I think"
From:  "Not Quite Nigella"
To: "Queen Viv"
Sent: Mon, 13 Feb 2012 18:42:55 +1100
Subject:  Valentines Day tomorrow
"No, no, it's quite civilised and no jelly wrestling I promise..."
She's a trusting soul at times our Queen Viv. The last time we kidnapped her for Valentines Day we took her on a social experiment where we wanted to see who on earth visits Hooters on Valentines Day. We were treated to buxom waitresses shimmying in tiny orange hot pants and industrial strength shiny pantyhose and doing  "The Nutbush" on chairs.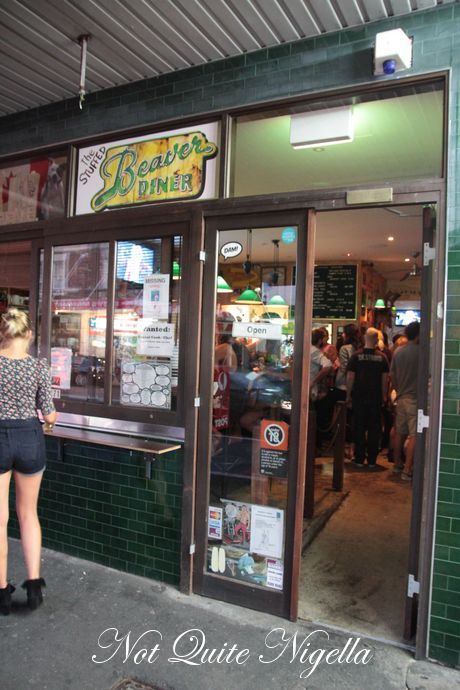 Thankfully, Queen Viv has a short memory. When Mr NQN and I walked past The Stuffed Beaver a couple of months ago our eyes met and I said to him "I have to investigate this place on the name alone!"  It turns out that this Bondi Beach favourite is a bar and dining parlour serving Canadian goodies and rumour had it that it serves poutine. Not familiar with poutine? Well it is a delicious calorific concoction of piping hot fries smothered in gravy and then melted cheese curds.
On the drive there Queen Viv laments that romance is dead. Oops and she doesn't even know that our Valentines Day dinner is at a place called The Stuffed Beaver... We walk into the bar and it's already busy-the waitress shows us to a booth in the back room. When I rang to make a booking a few days ago I was told that there were no bookings but that if we showed up before 7:30pm we should be ok. The woman also added "We're not really a Valentines Day kind of place" but there are plenty of couples dining here. To the left of the back room there are timber booths and to the right are tables for two. Murals adorn the walls and on the table there's a bottle of hot sauce as well as ketchup, mustard and napkins as well as laminated menus, a beaver on one side, food on the other.
Everything on the menu is "Dam nachos!" "Dam pommes frites!" etc and the beaver and Canadian theme carries through to the menu items. A hot dog is called Celine Diog and my eyes dart to the one item that I was looking for. There it is: poutine in all its glory and not only that, but in two variations: classic or lumberjack, the latter with bacon pieces on top. Queen Viv, Miss America and I are delighted to see that there's a Whitney Houston tribute on of each of the many tv screens on the wall and a sign says that whoever has the highest tab gets to choose the channel.
Frickles $6
The food comes thick and fast and we barely have enough time to contemplate Whitney's brilliance before the food soon covers our table. First up is the "Frickles" aka battered and deep fried long green chilli pickles, tangy and juicy on the inside with a piping hot crunchy batter with spongey layer inside. These are served with a ranch dressing although I like these even more with the Mexican hot sauce provided.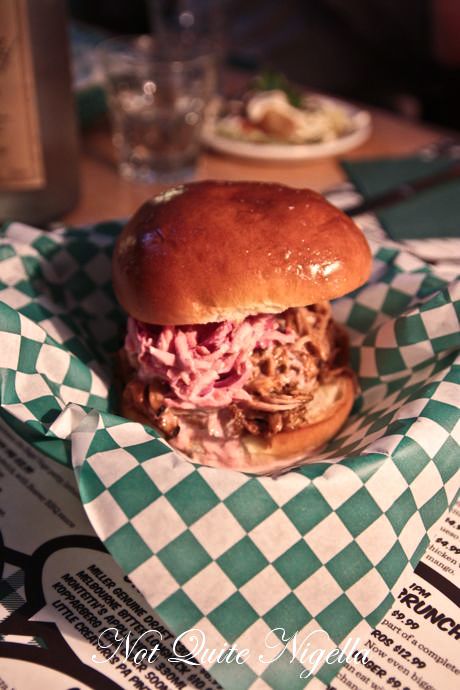 Happy Pig burger $13
The Happy Pig burger comes out on a high burnished shiny bun. Inside is a layer of sweet, saucy pulled pork cooked long and slow and on top of this is a creamy pink coleslaw. The bottom half of the bun somewhat disappears under all of the sauce and makes it hard to pick up but it's clearly won the heart of Queen Viv who murmurs about what a delicious burger it is.
Fish tacos $5.50 each
Unbeknownst to us, it was Taco Tuesday so you get two tacos for the price of one. The fish tacos remind us of the ones that we had in Vancouver at the hugely popular Go Fish. The soft corn tortillas are filled with a deep fried piece of white fish fillet, coriander, cabbage, Pico de Gallo and Salsa Valentina and have a nice hit of lime juice for a fresh, crunchy bite.
Hot Wings $12
I don't think any of us were taken with the hot wings but for different reasons. Queen Viv and Miss America thought that they were too hot (oops, it was I that ordered them hot rather than regular) whereas I didn't find them very juicy and the sauce was a tad too vinegary. And usually with hot wings you get a blue cheese sauce and crudites to take the edge off the heat numbing chilli whereas this was served with a tangy ranch sauce.
Lumberjack poutine $16
Ahh mighty poutine, how I fell for you. OK so they can't do poutine with cheese curds as there is raw cheese in the cheese curds which we aren't allowed to have here. You can easily get these cheese curds in Canada where they are kept at room temperature and sold in little bags at convenience stores and they are  firm in texture until they melt. Poutine originated in Quebec and Mr NQN and I tried all sorts of poutine while we were there.
Here the chips are glorious specimens, crunchy on the outside and soft and creamy on the inside. They've covered with gravy and mozzarella type of cheese and then scattered over this are squares of fried bacon. It's the kind of item that you know is really not that good for you (and is really meant for -20C temperatures like that of a Canadian Winter) but you may just find yourself devouring it. Or perhaps that was just me and Miss America.... ;)
Celine Diog $13
"Oh dear" we said when we saw Mr NQN's photos of the Celine Diog. "There's no flattering angle for that one" said Queen Viv as most of the pictures of the foot long hot dog look vaguely pornographic. All of the hot dogs have the same bun and sausage but the toppings are different and we chose this hot dog for the kitschy name. The Celine Diog is topped with caramelised onions and cheese with the explanation "everyone loves cheese and onion...everyone loves Celine." I admit I wasn't very taken with Celine Diog and there was a bit too much cheese sauce for me and I felt like I needed some tomato sauce.
Vanilla lace ice cream $6
For dessert, there are just the ice cream sandwiches from Pat & Stick's. I'll admit I have sampled their entire range and the one that stands out for me is the Vanilla Lace one which has a different type of cookie than the others. It has a crunchy, buttery toffee biscuit that stays crunchy and reminds us of a brandy snap. These cookies are sandwiched together with creamy vanilla ice cream.
"I Wanna Dance With Somebody" starts and as if a flash mob had descended everyone at their respective tables starts crooning "Oooh I wanna dance with somebooody" including us. Sure it's not your usual Valentines Day location but when you have your close friends, fun food and your favourite diva signing then there can't be any more lovely a Valentines Day than that!
Mr NQN's Valentine's Day card to me-sent via email no less! ;P
So tell me Dear Reader, have you ever tried poutine or Canadian food? And do you think romance is dead like Queen Viv does? And I know that this doesn't have anything to do with food but were you as upset about Whitney passing as I was?
The Stuffed Beaver
271 Bondi Road, Bondi, NSW
Tel: +61 (02) 9130 3002