It was Father's Day and I needed to take my Hong Kong born father somewhere good for dinner. His favourite restaurant was one we all despaired of but he steadfastly requested it every year. It had a 3 course set menu for $15 and sometimes we'd get a case of food poisoning after it. Despite this, he asked for it every year and we all breathed a sigh of relief when it closed down (we couldn't even feign surprise). My father has always mourned the loss of his favourite place silently and I always kept an eye out for Hong Kong eateries. When Eve Loves wrote a story on Ching Yip Coffee Lounge and mentioned that it was a Hong Kong style of place, our dinner plans were suddenly derailed and we pointed ourselves in the direction of Ching Yip, two floors up on busy Sussex Street. And a place you wouldn't know about unless someone told you it was there.
The centre piece is the glass cake display case that now holds a variety of fruit-an eye-catching display yes but one that I'm sure for which the fridge was not intended. Inside, it's all muted pink decorations from the 80's - I believe the term is salmon pink but as it's a bit grungy it has a grey tinge. Carpets are worn and disturbingly darker in patches near the kitchen. A woman in gumboots hauls wet  boxes of food across the carpet and the obvious drips ensue. Ahh the grey patches...
We have a look at the menu. Eve mentioned the afternoon special where for $5,$6 or $7 you can get a special afternoon meal with a tea or coffee. The set menu doesn't look quite as thrilling as Eve's option (it's chicken wings today) so we don't go for that. Instead we choose the pork knuckle for $7 with a coffee. They ask us whether we want it with noodles so we ask for egg noodles. We choose a few other things, mainly based on the food my father used to eat in Hong Kong and the pink laminated menu is a curious mix of Western style dishes like omelettes and spaghetti as well as grilled items and an endless list of drinks.
Warm Horlicks $3.20
I'm a bit of a Nanna in training as far as Horlicks goes and I love it. When I taste it, I'm reminded of when I used to drink this as a child to help me sleep and go into nostalgic mode.
Fresh honeydew milkshake $4.50
Mr NQN loves milkshakes and he also loves fruit and it's not often that you're presented with a honeydew milkshake. This is quite good indeed with the taste of juicy, fresh honeydew.
_Pork Knuckle Soup $7 with coffee (afternoon tea special)
_
The pork knuckle special soup arrives and it is a fatty pork knuckle with not a great much meat. The soup itself isn't bad at all, like that flavoursome broth that has soaked many bones. The egg noodles are spindly and thin and not as soft as I'd like. Mr NQN loves this dish although most of the pork knuckle goes ungnawed.
_Braised chicken with mushroom in white sauce with spaghetti $8
_
The cream spaghetti, a classic Hong Kong dish was one item I remember having in Hong Kong when young. In fact the first I tried a cream based spaghetti was when I was little and on holiday in Hong Kong and I thought that it was the bet food in the world. The thinly sliced mushrooms are very lightly cooked and not cooked through and the onion slices are thick and also need a few more minutes. Still the amount of chicken on this is generous and  we go back for seconds and thirds (although having had creamy spaghetti many times since, it doesn't quite feel as revelatory or exciting as when I first ate it so many years ago).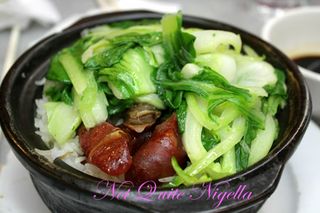 _Assorted Chinese sausage on rice $10
_
I adore Lup Cheong, that fatty Chinese sausage with plain rice and this dish has two types, the regular as well as the darker hued liver sausage under a canopy of green vegetables. It's not bad although it's the kind of dish we could easily make at home. When Mr NQN tries to scrape the remainder of the rice from the bottom the owner comes over and tips some water into the bottom. "Wait for 3 minutes" he says smiling and we do and he eases away the rice easily and slurps it up.
Grilled Pork Chop with Onion Sauce $14
This dish was a bit disappointing as we tried to order the same thing as Eve did which looked all lovely and browned and gooey. This was a grilled pork chop with onion sauce and when we got over the initial disappointment that it was not what we were expecting we tucked into it and the pork chops were soft and gristle free and the onion sauce went well with the chips.
Russian Borscht $4.20
I know it's a mistake to order a dish that diverges drastically from the main cuisine and curiousity was probably the primary reason for it. As you can see it's nothing borscht like at all and there's no beetroot, just the taste of tinned tomato soup combined with stock and chunky pieces of cabbage and carrot.
We ask the owner about the cake display and he tells us that when he took over the restaurant 22 years ago, they had cake for the first two years but then realised that it wasn't popular with the mainland Chinese clientèle and soon after they stopped stocking cakes. Fair enough we say and we pay our bill. We walk past the sign at the front and have a little chuckle, it says that the coffee lounge sells cakes and pancakes.
So tell me Dear Reader, do you like the same kinds of places to eat as your parents?
Ching Yip Coffee Lounge
2nd Floor Dixon House
413-415 Sussex Street, Haymarket, NSW
Tel:  +61 (02) 9281-1591