It's a thrill to meet some fellow food bloggers, for I feel like I've "met" them or gotten to know them through their sites, but the final piece to the puzzle is of course putting a face to the name or the words. So when Christie from Fig & Cherry put a call out to us to join her at East Ocean for Yum Cha, I was only too happy to come along. Who else did I get to meet? Well Suze from ChocolateSuze; Howard and Quinling from EatShowandTell; Helen from Grab Your Fork; Jen from Jenius; Belle and William from Ooh, Look; Kathryn from Limes & Lycopene; Lisa from Spicy Icecream and Reem from Tummy Rumble. A rowdy,food lovin' photo taking bunch if I ever I imagined one indeed. Thankfully we were seated in a corner where our copious photo taking was less obvious than if we were dining in the centre of the restaurant.
The conversation ranged from all topics food to more topics food. Here is the huge selection of food that we enjoyed. At first, it's a full on Dumpling assault, with a take no prisoners attitude. Dumplings of all shapes and flavours are piled on our table.
Out come the cameras much to the amusement of the staff and dishes are photographed from every angle.
My absolute favourite dumpling, the prawn filled Har Gow is delicious, full of large prawns and a slight ginger flavour.
My other favourites are the garlic chive dumplings. Having once tried to make the delicate translucent skin on these and failing miserably, I can appreciate how hard they are to make.
The Chicken's feet, something that people either love or hate is tried for the first time by Reem and Lisa. I adore these but don't order them much as my husband and friends refuse to eat them so I am stuck eating the whole thing,. Not ordinarily a hardship but then there is less room for dumplings-you do understand...
I love the prawn rice noodles but find them too fiddly to break up so I leave these behind today ._
_
Tofu skin wrapped spring rolls are ordered for Kathryn as she is a vegetarian.
We spot some Xiao Long Bao (soup dumplings) so we order 3 lots of these so that everyone can have some. They're not bad at all, the skin not breaking on these and they're flavoursome.
The Braised tofu is soft and pillowy and topped with fish paste has a similar sauce to the Chicken's Feet.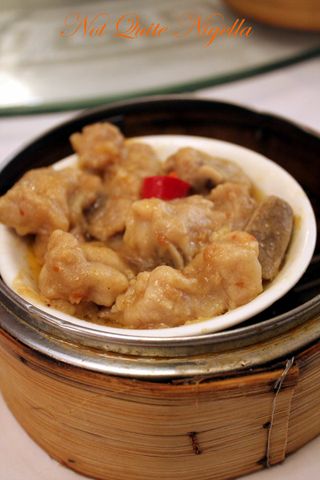 By the time the Ham Sui Gok comes around I am getting very, very full so I leave these although from all reports, they're well received. I recall reading that these are a favourite of Helen's.
Christie's favourite dish was the rice noodle rolls with a combindation of Hoi Sin sauce and peanutty sesame sauce, served Yin Yang style. The crispy outside of the rice noodles was great with the soft inner and sweet sauce. It's the first time I've tried this dish.
We have to take a break before dessert is consumed, after all what is a meal without a sweet ending? After fortifying ourselves with Chinese tea, we plunge into the weird and wonderful world of Yum Cha desserts.
I couldn't resist taking a photo of this huge scooped out Watermelon which houses a fruit salad in syrup. After all the photo taking the trolley lady is surprised that we don't actually want to order any fruit salad. But like a child, I am more interested in the packaging than what is inside. To the right is the huge container of sweet sago
Sago soup with melon balls with some hand modelling from Reem, thankyou :)
Mango pancakes are one of those things that I've never tried. I put it down to the fact that I stuff myself with dumplings and by the time dessert rolls around I'm no longer interested save for a custard tart. These vividly coloured spongey crepes are filled with mango and whipped cream and are cooly refreshing.
Egg custard tarts are one of those things that I grew up loathing and then one day I woke up and just loved them. I think it coincided with the first time I tried making pastry and I've never attempted to make a pastry and layered and buttery as Chinese egg custard tarts. I love the look of the uber glossy custard, as shiny and vividly yellow as a fresh egg yolk.
One of my husband's favourite is the Mango Pudding, alas he couldn't make it today. I keep promising him that this summer, I'll make him a big pot of this as soon as Mangoes are in season.
The Thousand Layer cake was Suze's mission to try again after a separation of 10 years. It was good, the white topping not cream but the same as the slightly sweet doughy outside of a steamed BBQ pork bun, the layers were a thick eggy custard that I thought might have some lotus in it and there was a hint of the salted egg yolk that you get in Chinese New Year cakes.
These honey topped buttery buns were filled with a thick eggy, lotusey custard. I wanted an oozey custard so I cut it open but was momentarily disappointed. Until I ate some of course, it was rather good. We do a fairly good job of finishing the food, there's one a few morsels left on the Lazy Susan and all with a tiny bill of $20 per person. No wonder Yum Cha has taken over the world.
](https://images.notquitenigella.com/images/east-ocean-yum-cha-for-sydney-bloggers-meet-october-08/foodbloggersback.jpg)
Photo from Suze
And of course no expedition is complete without a group photo-this one is of course taken from the back (we're a shy lot). Our waiter, who I think had a previous career doing wedding photography directs us to move and pose although he stops short of telling us to "pout" or "work it baby". Although having a look at the photos his direction did result in some great group shots.
As we leave I notice this little boy and girl having Yum Cha seemingly by themselves. I'm sure some parents were involved as the number of settings indicate that but it seemed sweet that this could be a young Yum Cha date.
East Ocean
421 - 429 Sussex Street Haymarket NSW 2000
Tel: +61 (02) 9212 4198
Open 7 days