Sometimes I think that fate has arranged for it that I am my age and without a license. You see I can be a very distracted driver. This is a habit borne out of many years as the passenger always gawking at the passing shops. One such time where I was glad that I wasn't driving was when we drove past Nookie Cafe in Surry Hills. It's rather eye catching amongst the industrial looking warehouse types of buildings with shuttered windows. Literally a tiny room, a sign and 2 milk crates. Yet still, the lines come in waves and at any time you go past on a week day there could be 5 people waiting in line for their coffee.
This morning, my dining companion and I need sustenance before a day's shopping so we stop by Nookie on busy Cleveland Street to partake of a coffee and whatever else they may have to offer. We walk up to it and it's tiny - adorably so, and it's like peeking into the room of someone's house. The friendly barista Tom straightens his hair for the photo "Oh no, I don't know if I'm quite photo ready. I had a big night for my birthday". "That was 2 days ago" remarks another customer. I get the feeling everyone is a regular down this end of Cleveland street where there are many hidden offices and few places to get a good coffee.
Swear Jar
All of the food is brought in from places like Bourke Street Bakery as there's nowhere to bake on the premises and the range is limited but there are items for lunch such as soup, filled half baguettes, frittatas and croissants as well as muesli, biscuits, brownies and tarts. Owing to the tiny space, cups are takeaway (with two milk crates, there's not much point in getting china) and any items bought are given in paper bags with napkins.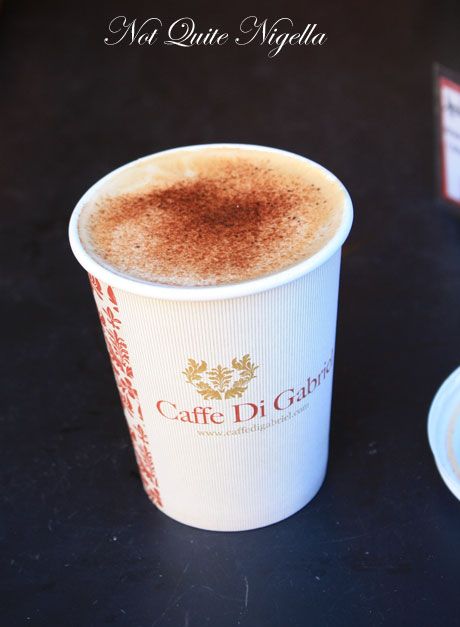 Cappucino $3
The coffee is by Caffe di Gabriel  and is wonderfully smooth. I usually have my coffee milky and sweet but in my order paralysis (i.e. not knowing what to order) I forget to ask for sugar but it's very smooth and very drinkable without it.
Strawberry tart -$4
I finally decide on a strawberry tart and the tart shell is baked very blonde and it's very short pastry, in fact it's so short it's almost impossible to pick up and eat so it ends up falling apart in my hands and collapses into a pile of thick vanilla custard and shell and jellied berries.
Gluten Free Cheesecake Brownie-$3.50
My dining companion's gluten free cheesecake brownie is lovely and soft as there is no flour used.
My new Hat!
We perch on our cushioned milk crates and take in the view. Being Cleveland Street it isn't much but it was a pleasant pit stop on the way to some shopping. As for my purchases, I longingly stroked a Chanel Calfskin Ikon handbag and bought myself a hat from Alannah Hill. Do you like it Dear Reader?
Healthy Balls!
Nookie Cafe
268B Cleveland Street, Surry Hills
Tel: 0401356072
Monday - Friday: 7:00 am - 4:00 pm