This restaurant is now closed.
We appear to be having a problem with certain names. And by we, I mean my friend Celia. "Don't mention the 'B' word!!" she says to me dramatically feigning nausea. I'm having lunch with Celia who I've known for years and Tania and I'm only learning now that she can't stand bananas and even the mere mention of them are enough to transform her into Greta Garbo.
A couple of weeks ago, Tania suggested Cowbell 808 on the quieter end of Bourke Street in Surry Hills. The quieter end means that there is free parking, somewhat of a miracle in the Surry Hills area and it means that on this week day we don't have to queue. I'm always curious about names and we find out that Cowbell 808 is named after a Roland TR-808 drum machine with Cowbell being one of the sounds that it made.
The music theme is echoed all over this one month old cafe with a graffiti style image of a drum machine, a collection of vinyl - yes vinyl, under the register. Customers are welcomed to leaf through it and select a record to play. Even the Cowbell 808 logo incorporates a vinyl record. The bathroom looks like my bedroom as a teenager with 80's record covers covering the walls. Recognise any from your collection?
Some eateries in Surry Hills are a bit too cool for school but there is a friendly, genuine greeting when I walk in. Tania is already there and Celia follows soon after. We take a look at the menu which has food on one side and drinks on the back and a separate tea menu featuring Rabbit Hole Teas. There's a rich chocolatey smell of brownies perfuming the air.
Root Beer and Sugar Cane Cola $4.50 each
Celia and I go for some 'soda pops' and I choose the root beer by an American brand called Jones which is sweet and heady with vanilla while she goes for the sugar cane cola.
Bananacolada $7
The 'b' word item is the banana yogurt that scared Celia so. The bananacolada is pieces of roasted banana and lime juice on top of a house made coconut yogurt served in a mason jar. The yogurt is thick, creamy and rich in coconut cream and is made with a regular dairy yogurt base. It's on the tart side as it is unsweetened and also has a squeeze of lime. I prefer sweeter yogurt so I would have loved a palm sugar caramel on the side to go with it but if you're a fan of tart yogurts, this would be for you.
Fried chicken and cauliflower slaw $16
The fried chicken came as three pieces of boneless chicken coated in a crunchy besan flour batter and a pool of lightly spicy house made harissa which gives it a nice kick of spice. With it is a delicious cauliflower slaw with red onion, toasted sunflower seeds and celery. The spicy chilli powder seems just on one piece (we're not sure why) and isn't particularly hot but we all enjoy this dish.
Cowbell 808 burger $18
The Cowbell 808 burger is a classic burger on a soft house made made bun. The beef patty was well seasoned with a covering of melted cheese and soft lettuce. Tomato sauce, mustard and pickles completed the burger as well as a serve of fantastically crunchy onion rings.
Fat stacked hotcakes with mascarpone, espresso syrup and bacon ice cream $14. Taken on a Sigma 17-50mm F2.8 EX DC OS lens, focal length 35mm, ISO 250, 1/60s.
We asked for the pancakes to be served as dessert after the savoury dishes. The ricotta hotcakes are moist and less floury than pancakes, with a soft, spongey eggy interior. On top of these two are an espresso syrup which had a molassey taste to it as well as a scoop of ...wait for it...bacon ice cream! Actually they were nice enough to give us two scoops as they saw that we were dividing everything into three. So what is bacon ice cream like? It's delicious! There are small cubes of salty bacon that are really like the salt in salted caramel except there is more flavour and texture with bacon cubes. The ice cream is indeed sweet and the whole shebang is rich and indulgent and quite madcap which is why we all liked it. And you can bet I'm going to have a crack at bacon ice cream now that the weather is warming up ;)
Chocolate frownie
Not a typo, they call their flourless brownies frownies. Not made with almond meal but instead a gluten free mix of flours, it is somewhere in between a brownie and a rich, chocolatey cake. They use Callebaut 70% chocolate in it which gives it a rich dark chocolate flavour.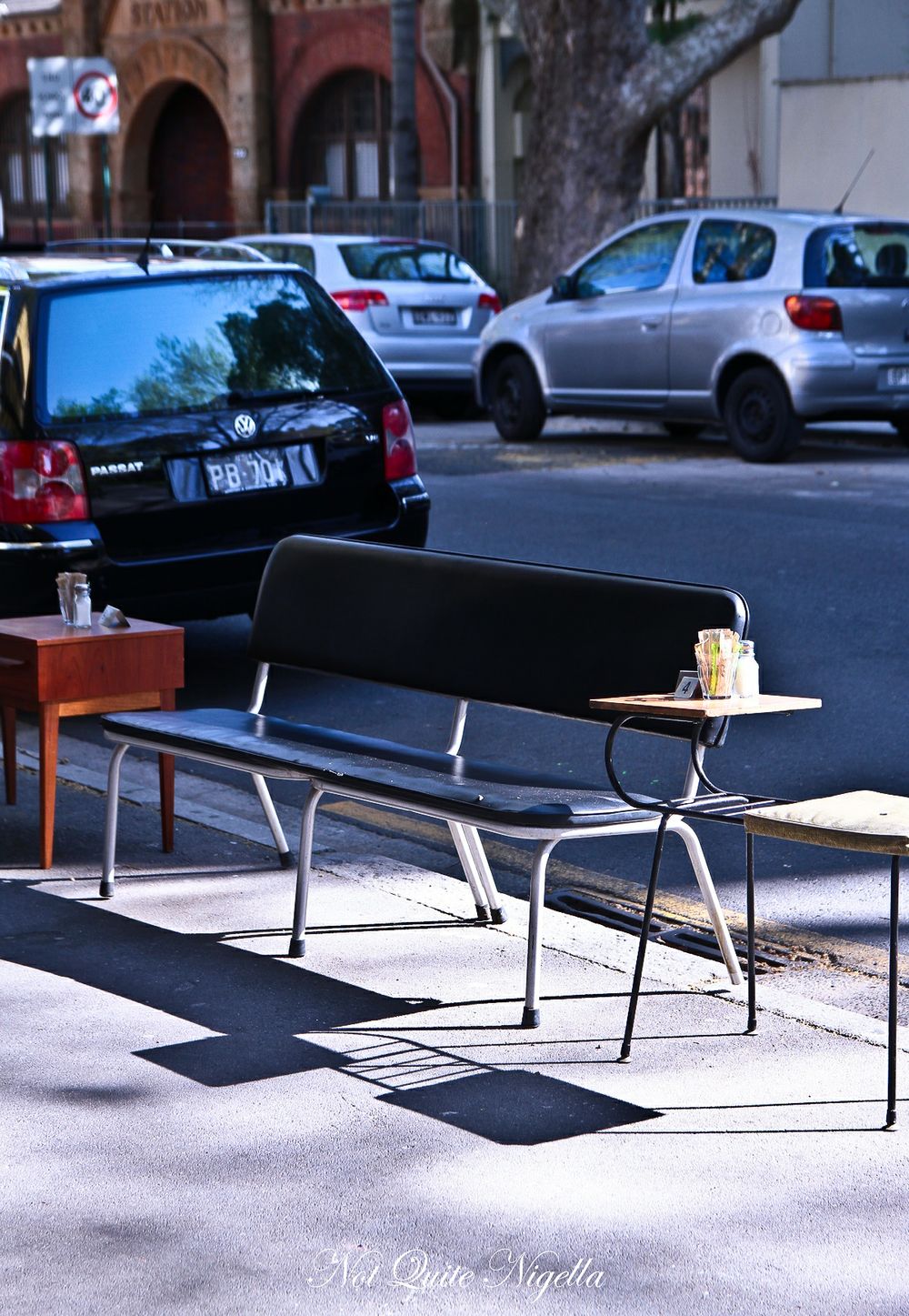 I cant resist one last visit to the facilities to snap a picture of their shrine to the 80's music wall and then the three of us go off on another adventure. The bill comes with some Starburst lollies and we chew them and feel like teenagers again.
So tell me Dear Reader, is there a food that you cannot stand or cannot even utter the word? And what decade do you like best for music? And who was your favourite artist or song?
Cowbell 808
This restaurant is now closed.
616 Bourke Street, Surry Hills, NSW
Tel: +61 (02) 9698 5044
Open 7 days from 7am-3.30pm