Mr NQN was picking me up from the airport and I turned to him with a familiar cry.
"I'm hungryyy" I said, having missed the cookie on the plane. To me, starting off the day eating a cookie sets a dangerous precedent.
He countered with "I'm starving, do you know somewhere to go?"
With a green light like that, I immediately thought of St Jude's in Redfern, close by to where we live. It's a small 33 seater cafe perched on the corner of Bourke Street and Thurlow, the hint is the throng of people standing outside waiting for a table. Named after the patron saint of lost causes, chef Dominic Hewitt formerly of Bistrode and Assiette joins the group of chefs that are stepping out of the hatted atmosphere and trying something more casual.
The decor is quirky with vintage framed photos of saints staring beatifically down at diners. Alongside, are vintage dolls, the kind you'd swear came to life at night (or perhaps that's just the way I see them ;) ).
Service is friendly and attentive and we quickly find what to order. The coffee and drinks came out quickly and are brought to us by sweetly smiling waiter with blue nail polished nails.
Sweet corn and pumpkin fritters with avocado cream, soft poached egg, hollandise and shaved zucchini and baby spinach salad $14.50 
The fritters were recommended to us by more than one person and they are certainly worth ordering. Served as three oval fritters, the corn is juicy and fresh inside them and the sweetness in the corn matches the sweetness of the smooth pumpkin puree. There are some Indian spices to give the fritters an extra dimension and they sit on a bed of smooth avocado cream. On top is a runny yolked poached egg and a river of hollandaise sauce and to the side is a fresh salad with zucchini strips and baby spinach. A word of warning: don't share these because you may not want to give it up after one half!
Pulled pork pocket with celeriac and fennel remoulade $15
The sandwich on a toasted quinoa loaf (all of their bread is from Brasserie Bread) comes out looking like a crocodile with its mouth open. It is split partway and filled with soft pulled pork and paired with a creamy celeriac and fennel remoulade. Salt and pepper is also given and it needs a little of both, and the sandwich is satisfying and filling.
Boys or girl's facilities
Our second visit, the next day was a cold and early morning visit. Whilst the outside tables weren't out in full force due to the potential for rain, the inside was warm and cozy. A nice touch is being remembered by some staff and we are sitting in the corner eyeing off the baked goodies on the share table. This time, we're not quite sure what to order so we go for a sandwich again on the waiter's recommendation as well as the soft boiled eggs just because we liked the sound of the dish.
Chai $4.50
The chai comes out in a  teapot, slightly sweetened already with honey and is aromatic and milky.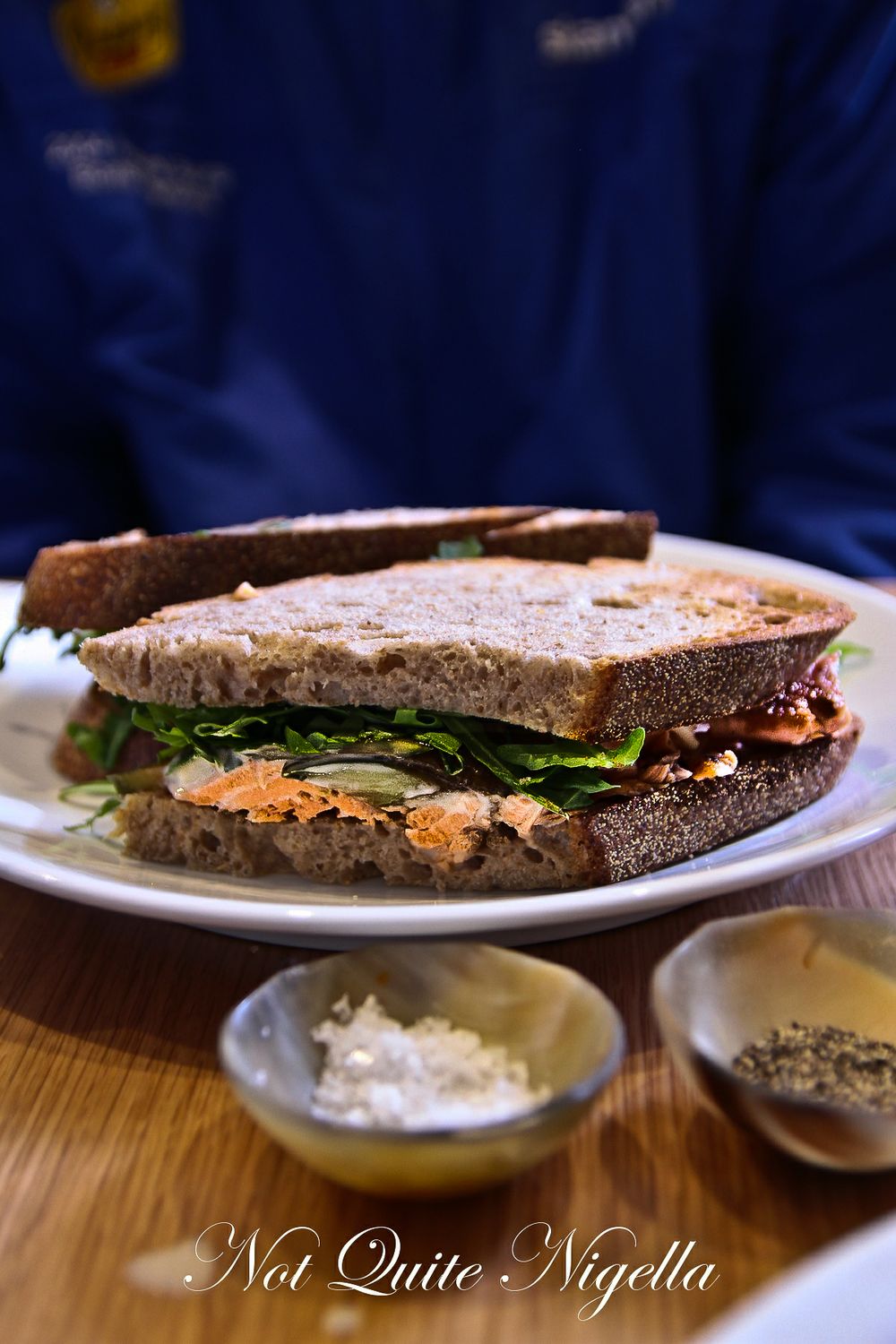 Poached ocean trout sandwich with dill pickles and rocket on rye $13
The poached ocean trout sandwich is served on fresh Brasserie Bread New York Rye bread, with a generous amount of soft, cold, poached ocean trout with slices of dill pickles, rocket and mayonnaise. A bit of seasoning is needed for this and   this is a favourite along with the first egg dish from the day before.
Two soft boiled eggs, rolled in bacon and poor man's parmesan breadcrumbs with toast, butter and tomato relish $8
The two peeled, soft boiled eggs are rolled in a bed of bacon bits and toasted, oiled breadcrumbs, mostly breadcrumbs,  are served with two slices of quinoa toast, a cube of butter and a side of house made tomato relish. Spread each toast piece with butter and then relish and halve the eggs and place on top and you get a satisfyingly simple and tasty breakfast. We saw quite a few of these coming out to tables.
Coconut cake $4 (approximately, I didn't see the price, just the total)
On my way to pay at the front counter, I spotted a pretty display of pastel coloured cakes so I decided to order one. They are also from Brasserie Bread as are the rest of the share table display, and are moist, absolutely moreish little coconut cakes with a tiny splodge in the centre of berry jam and boysenberry icing on top.
So who says that starting the day with cake is a bad thing? I stand corrected...
So tell me Dear Reader, do you ever start the day with cake or cookies? Am I just being too uptight with not eating sweets for breakfast?
St Jude carries a coffee pot and cup
St Jude
728 Bourke Street (corner Thurlow St & Bourke St), Redfern NSW
Tel: +61 (02) 9310 3523
Open: 7:30am until late afternoon 7 days a week