The Golden Ticket! I mean the Green Ticket...
The queue at Milson's Point
Queue entertainment
It's 5.47am and I've already been awake for almost 2 hours. Whilst I'm a mixture of barely coherent and half present, I'm also extremely excited. For this morning, starting at the ungodly hour of 6.30am Mr NQN and I are two of 6,000 lucky residents of New South Wales to be breakfasting on the bridge. Done by ballot, 40,000 people (although in some reports up to 190,000 people) in the state entered the draw to secure a seat to have breakfast on the Sydney Harbour Bridge, the first time ever that such an event has been held. And the cost? Free to the lucky 6,000 (but at a reported cost of $1 million to stage).
The entertainment
The cows!
We join the queue before 6am with the promise of coffee once we walk up to the bridge. Everyone is excited about being a part of it and at about 6.30am the queue starts moving. The lines are reasonably short at the Mocopan stands as there are many stands so we make our orders - there's only time to do two kinds of coffee, black and white and we sip them while making our way across the bridge. There's entertainment along the way and we sniff the air curiously ... cows? It smells like cows? Sure enough, there are cows on the bridge!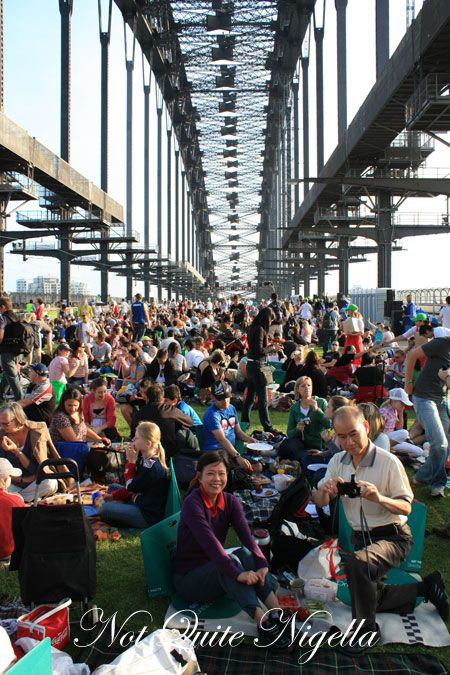 We have our tickets scanned and keep walking. We reach the Northern pylon and suddenly there's an expanse of green. They weren't kidding, there's actual grass laid down on the bridge and it's not astroturf, it's the real deal and soft and feels as if it grew there. They reportedly started laying the 10,000 square metres of Kikuyu grass (a drought resistant grass) at 3am that morning. Some people take off their shoes and walk in the grass.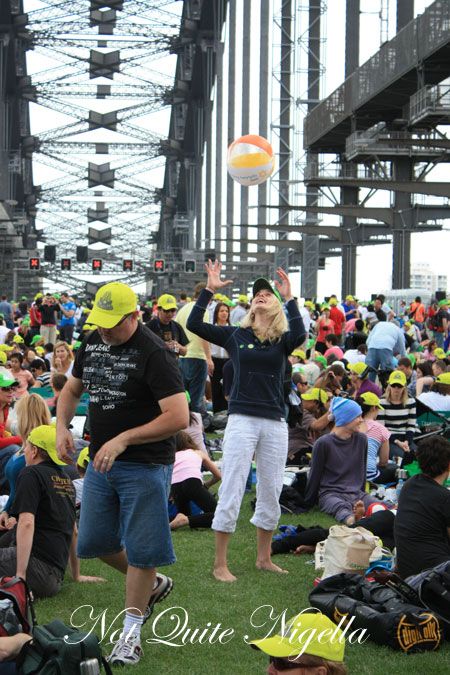 People are having fun and settling in and opening up their picnics. There are helicopters flying all round us like mosquitoes and some get very close and people wave to them. The music selection is... eclectic to say the least. There's a bit of everything including a choir and some birds chirping and a recording of kookaburras and cockatoos. Wandering around there are groups of people from various NSW producers like Yalla dairy, Abbott's Village bakery bread, Batlow Apples and Cuttaway Creek jams.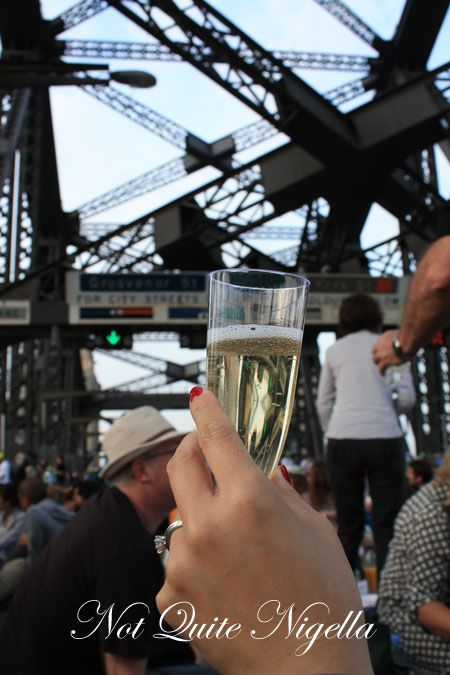 A champagne breakfast!
We then receive our "pod" number which is not as space agey as it sounds, it's simply a section on the grass and we're allocated to pod #4. We sit down on the soft grass and unfurl our picnic blankets. There's a selection of things that have been packed for us but there's also the very generous samples being given out. In fact the following were said to have been given out: 9,500 Batlow Apples from the Snowy Mountains, 7,000 handmade Cuttaway Creek raspberry jam from the Southern Highlands, 4,800 loaves of Abbott's Village Bread, 6,750 Yalla Yoghurt from Riverina and 6,000 cups of Mocopan coffee.
Tower of Yalla Prune and Vanilla Yoghurt!
The Yalla Vanilla and Prune Yoghurt is a hit with the thick and creamy vanilla bean flecked yoghurt. It's so good that when we miss out on ours, we go and flag them down and they generously come back with 13 pots!
Cuttaway Creek Raspberry Jam
The Cuttaway Creek Raspberry Jam is also delicious and we have this with the loaves of Abbott's Village bread as they're literally giving away jars of everything and loaves of bread.
The view from the scissor lift
The Opera House from the scissor lift on the Harbour Bridge
By now everyone has received a yellow or green cap and dons them. Competition is fierce with the photographers trying to capture their shots for their various publications. We finally get onto the scissor lift and take in the spectacular view. It's quite amazing to see and when you've driven on the bridge as many times as we have, slightly surreal too.
At 8:30am, as the breakfast winds to a close, a Richie Benaud-esque voice comes over the loudspeaker and lets us know that our time has come to a close. Everyone picks up their rubbish and packs up and takes the walk back down the Southern exit of the bridge. And the best news? They're planning to hold this as an annual event.
"I think they made a deal with the devil" I say to Mr NQN later that day when we are driving around and the heavens opened to release torrential rains and we witness cars get flooded and stranded. It's amazing to think that only hours before, we were dining on the Harbour Bridge and basking in the sun.
NQN and Mr NQN attended the Breakfast on the Bridge as a guest of Tourism NSW.
Breakfast on the Bridge
The Sydney Harbour Bridge
Held on Sunday the 25th of October from 6:30am-8:30am