When is a pop up lunch, a different definition of a pop up lunch? It is when the pop up lunch actually involves a celebrity chef popping up at one of his restaurants to cook rather than a temporary structure set up as a restaurant to serve food, however fleeting that may be. I'm on my way to check out Rockpool's newest offering, a pop up lunch where chef Neil Perry "pops up" at the Rockpool in the Rocks to cook lunch with their head chef Phil Wood. Rockpool in the Rocks has been, for the last three years, a dinner only venue and opening up for lunch, particularly in the people thick area of The Rocks during Christmas seems like a popular idea. The restaurant is full and even sports stubbly actor David Wenham at the large front table holding court.
Each lunch, and this is the third with the next on February the 24th, has a theme and it is usually based on the produce featured - last time there was suckling pig and there was also Richard Gunner's lamb. The idea was inspired by the California restaurant Chez Panisse. The idea today is that Neil cooks one course and then Phil another and the restaurant is full today. Buxom Wench and I are sitting at the sweet spot, right in front of the pass watching them cook and then watching staff collecting plate after plate of food to give to eager diners.  The price for three courses is $75 excluding beverages.
I've been on a low carb diet so I had to do all I could to not pop this in my bag and run. The butter is house made (there's even a great post on the Rockpool blog on how they make butter) and when you taste the warm, crusty bread and the butter, well you might just hole up with a loaf of it and a ramekin of butter one night.
Buxom Wench asks "What is saba?" I've seen it on other menus but can't recall and a question to the waiter is asked. Saba is an Italian musk vinegar that they've mixed with cubes of roasted beetroot and a light, creamy goats cheese. The saba gives it a tanginess while the beetroot gives the canape sweetness and the goats cheese creaminess-a nice balance.
With soft, plump Spring Bay mussels with no sign of chewiness, tender tendrils of octopus and firm cubes of salt striped trumpeter the seafood was served with a rich, thick tomato based reduction. My undoing was the charred bread with that intoxicating aroma of char and the rouille, like a mayonnaise made with potato was spicy and creamy.
The roasted chicken was well seasoned the chicken breast slices so tender and I think that Buxom Wench and I both contemplated licking the plate. In fact she leaned over to me and said "If I weren't in such a nice restaurant I would lick this plate." You see why we're friends don't you? The vegetables ranged from tiny, itsy bitsy carrots to ones that weren't longer than a finger. There was also a delectably thick pommes puree that was a doppelganger to Joel Robuchon's lauded pommes puree and a slice of chicken which was spongey and soft. This was succulent and layered with three types of chicken-the skin on top and bottom, the leg meat and then in the centre thigh meat.
Buxom Wench and I were smitten with this immediately-there was a layer of buttery shortbread biscuit, expertly cut large strawberries and then a diced strawberry salad and cubes of shortbread adorning this as well as a  buttermilk sorbet. The only criticism was that the shortbread was too thick to cut into with a fork and spoon - I don't like that sound when you slam cutlery against a dinner plate. Because you know, that's what sometimes happens to me when I try and zealously get to food ;). Other than that, I'm sure I don't need to sell you on the concept of beautiful strawberries and cream.
After the food comes out, Neil makes his round and talks to the various patrons who seem eager to talk food with him-including Buxom Wench and I who have questions for him about the strawberries!
So tell me Dear Reader, how do you feel when chefs come out to talk to you? And what do you tend to ask them? And have you ever dined at a restaurant where there has been a celebrity dining too?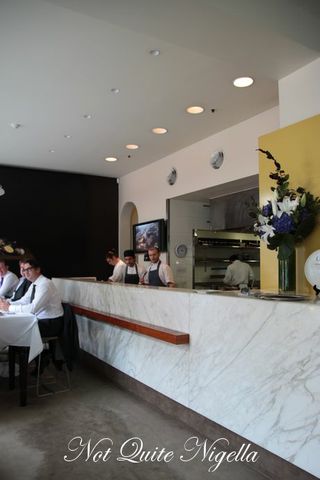 Rockpool
107 George Street The Rocks NSW 2000
Tel: +61 (02) 9252 1888
The next pop up lunch is on February 24, 2012