I've been called Morticia Addams more times than I can remember. As you know, I've always felt an affinity with the dark and unusual and so that is why I embrace Halloween. I'm convinced that I were alive in the dark ages, I would have probably been called a witch and perhaps burnt at the stake so it's rather fortunate that I live in the 21st century and I can carry a Witches Hat shaped umbrella without incident (although let's be honest, people do stare).
So when I make these witches fingers, they are more of an homage to witches. Of course they had to be green after my favourite witch, Elphaba, the misunderstood heroine of the musical Wicked - a character I identify with. I first saw these on Yeah, That Vegan Shit where they called them Bloody Finger cookies and I tried their recipe but my fingers spread out too much and resembled fat Shrek fingers (which my husband thought they were meant to be) so I decided to use a shortbread recipe as that would maintain its shape. As with all of my Halloween recipes, they aren't just a novelty and they actually do taste fabulous at the same time so anyone reluctant to try a finger or two may find themselves contentedly gnawing on a knuckle.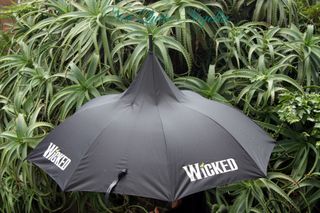 My Witch's hat umbrella
As for my "friend" in the picture, well she's a special treat amongst others for my Halloween party guests. I won't give away what her role is but if you do happen to be coming to my party, don't google it and let her be a surprise to you. For those who aren't coming, google "Donna the Dead" and you'll see that she's the real star of the show come Saturday night!
So tell me Dear Reader, what scares the pants off you?
Did you make this recipe?
Share your creations by tagging @notquitenigella on Instagram with the hashtag #notquitenigella
Shortbread Witch's Fingers
An original recipe by Lorraine Elliott
Preparation time:
Cooking time:
Makes 24 Witches Fingers
200g/7ozs unsalted best quality butter, at room temperature

1/2 cup caster sugar

1 1/3 cups/200g/7ozs plain flour

3/4 cup/135g/4.7ozs rice flour

tiny pinch of salt

a few drops of almond essence (optional)

Green food colouring

Natural almonds

Red food colouring in a tube
Step 1 - Preheat the oven to 190C/375F. Line two baking trays with parchment. First blanch your almonds by placing them in a small saucepan of boiling water for 2 minutes and then removing them and running cold water over them. The skins should slip off easily (if not, put them in the hot water for another minute). Dry on a paper towel and set aside. In the bowl of an electric mixer, cream the butter and sugar together until light and fluffy. Add in colouring and essence and beat until combined.
Step 2 - In another bowl, mix both flours together with salt until combined and then fold into butter and sugar mixture. You may need to knead it slightly so that it comes together. This is the fun bit. Grab a small handful and shape it into a log shape. These do not spread much so you don't need huge gaps between them but you do needs gaps. Repeat with the rest of the dough. Pinch some areas to make the fingers knobbly and emphasising the knuckles. Place one of the blanched almonds as the nail. Get a butter knife and draw in lines on the knuckles. At the end of the "finger" make an indentation as shown so that it looks more like a severed finger bone (I never thought I'd ever write that sentance on this blog!).
Step 3 - Bake at 190c/375F for 5 minutes, then reduce the oven temperature to 160c/315F for a further 10-15 minutes until ever so slightly browned. As soon as they are out, pipe some red food colouring on the ends of the fingers as if they were bloody when ripped off. Then while they are still very hot, carefully lift an almond and draw a pattern of blood in the outline of the nail and press the almond down again to secure. As they are delicate, wait until they are completely cool before removing them from the tray. Get severed head and place beside thee for a truly spooky experience. Cackle loudly.